This post contains Amazon affiliate links. If you click on a link, Filter Free Parents may receive a commission. See our full disclosure policy HERE.
Just like Rudolph the Red-Nosed Reindeer and jolly old St. Nick, one of the most common symbols of the season is the ugly Christmas sweater. Many people own them and sport them with pride- holiday parties are often thrown in their honor.
In fact, when it comes to Christmas sweaters, the official mandate is: the uglier, the better.
We've seen the gamut in Christmas sweaters (has anyone forgotten the infamous "Reindeer Boob Sweater" trend? I never will; some things just can't be unseen.
But there are some lines that maybe shouldn't be crossed on a Christmas sweater… and by "lines" we might mean lines of coke. And no, not the soft drink.
Walmart Canada has pulled several Christmas sweaters from their inventory after they were deemed too adult-themed & offensive to be sold by the chain.
Now granted, ugly Christmas sweaters can be considered offensive in terms of their sheer ugliness, but beyond that, how offensive could a holiday sweater be, right?
The sweaters were apparently controversial enough that Walmart Canada issued a public apology for their inclusion in the superstore's inventory. As a Walmart spokesperson explained to Global News,
These sweaters, sold by a third-party seller on Walmart.ca, do not represent Walmart's values and have no place on our website.
Sweaters that express values that are at odds with Walmart's reputation? Color me intrigued…
We have removed these products from our marketplace. We apologize for any unintended offence this may have caused.
The sweaters in question were swiftly removed from Walmart Canada's website.
But in the spirit of social media, you had to know that this only made the mysterious ugly sweaters that much more appealing; what could be so offensive that Walmart would feel the need to apologize for?
Before featuring the questionable sweaters, the Global News posted a warning as their video clip opened:
Video contains inappropriate content that may not be suitable for all viewers.
Well, that only makes me want to check out this prohibited sweater selection even more now; are you with me??
Show.Us.Some.Dirty.Sweaters!!
Because Walmart Canada quickly pulled these sweater from their website, you (sadly) won't find them there. But as you can see from the images posted below, there are still plenty of places to score one!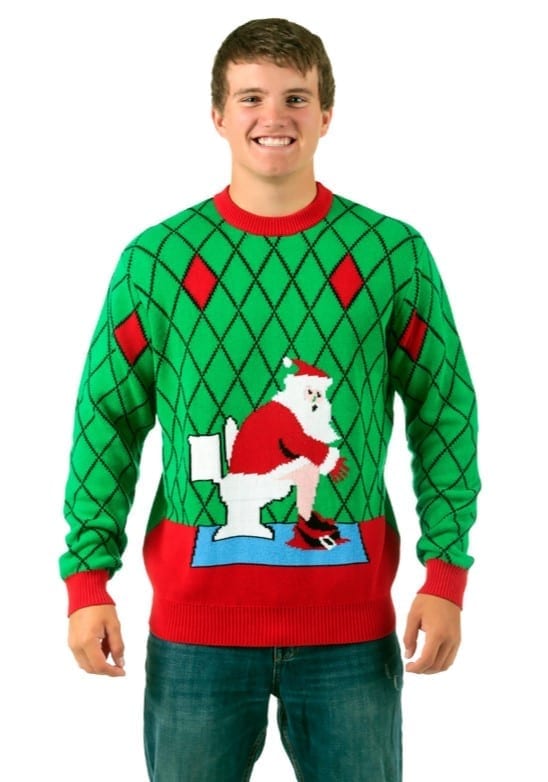 You might be #1 on Santa's "good" list, but not until he's done dropping a big #2.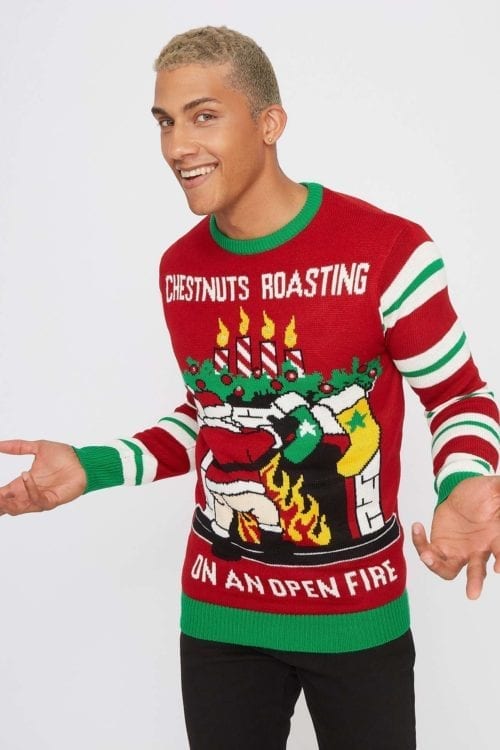 The sweater features LED lighting for the candles & the holly on the fireplace, but I think people will be less focused on the lights & more on Santa's burning balls.
How about Anal-Probe Santa?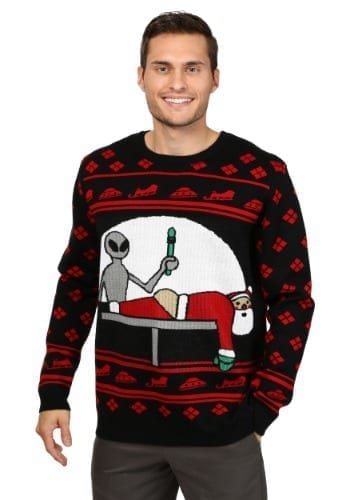 I don't know where Rudolph's red nose guided Santa's sleigh this time, but this alien is about to guide things into the great unknown…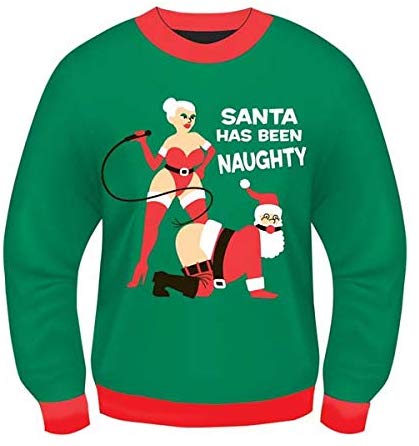 Santa may have been "naughty", but apparently Walmart Canada felt too naughty to sell some S&M Santa this holiday season.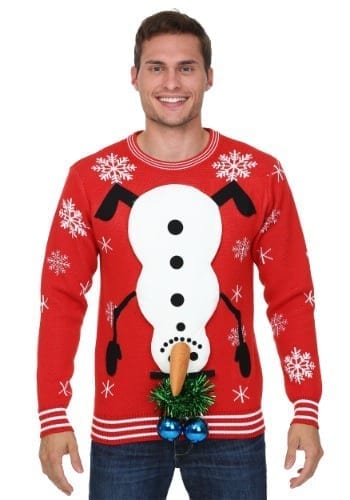 This sweater just screams, "Jingle Balls!"- BELLS. I mean "Jingle Bells". Totally.
But there was one sweater that was considered the "piece de resistance" -the worst of the worst- in terms of Walmart's accidentally offensive ugly sweaters this season.
*drum roll* Ladies and gentleman, I present to you: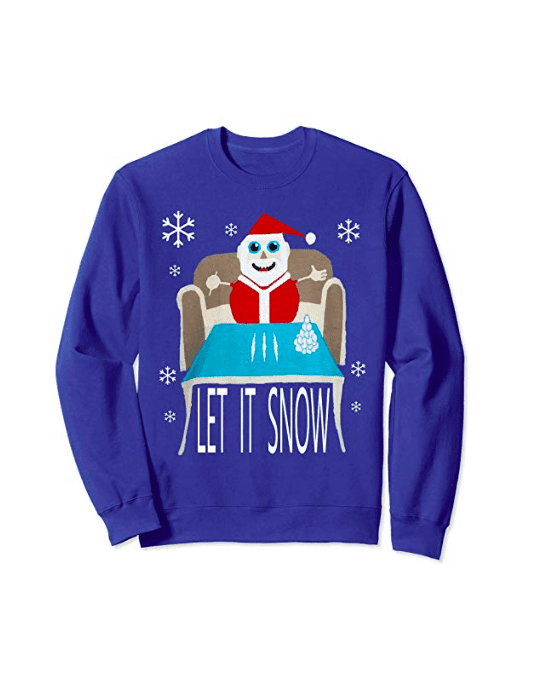 Yup- it's Santa clutching a coke straw, with lines of blow arranged on the table in front of him. Incidentally, this is listed as a best seller on Amazon here.
Fun Fact: The country of Colombia has threatened to sue Walmart Canada over their now-deleted posting. The reason for the country's ire is because in the original product description, Walmart described the sweater as such:
We all know how snow works. It's white, powdery and the best snow comes straight from South America. That's bad news for jolly old St. Nick, who lives far away in the North Pole. That's why Santa really likes to savour the moment when he gets his hands on some quality, grade A, Colombian snow.
Walmart could use a Christmas miracle to avoid this diplomatic debacle….
Although Walmart Canada obviously has a lot of holiday-havoc to deal with regarding their initial decision to offer these items from third-party sellers, it doesn't mean that you can't still score one of these "naughty" sweaters.
Most of them are still on Amazon, besides Anal Probe Alien Sweater.
There's no fear of getting coal for Christmas for wearing one of these sweaters- by the looks of it, Santa's on his own "naughty" list.