The festive season is fast approaching and it can be difficult to come up with the perfect gift.
Well, wonder no more. Because Bras N Things has you covered. Or not. Like, AT ALL.
In a Facebook post that has gone viral with over 42K comments, retailer Bras N Things introduces its latest collection just in time for Christmas, The Hollywood Glam set.
(or should we say, Hollywood Ham set.)
Say hello to the gift that keeps on giving…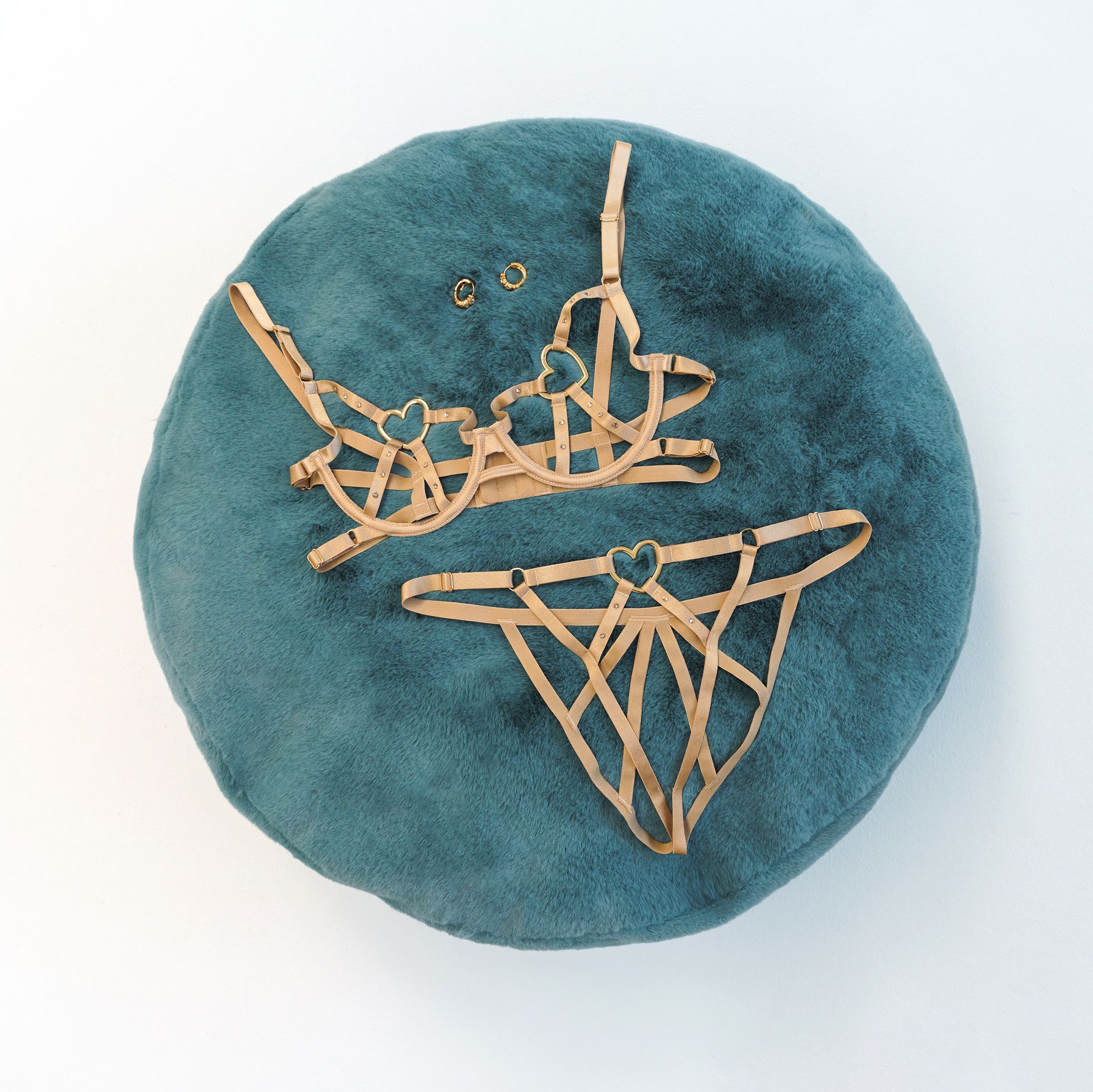 …while simultaneously flossing your flaps and fanny. I mean, who doesn't want this??

The lingerie company captions the post:
Say hello to the gift that keeps on giving: our Hollywood Glam set. She returns in gold with heart shaped hardware in all the right places.
And material in absolutely none of the places.
But what really keeps on giving? Are the comments, which are PURE comedy gold.
But first, a little bit about the bra and matching underwear (if you want to call it that). According to the product description on Bras N Things website:
Our Hollywood Glam Cupless Bra evokes the glamour of everyone's favourite Tinseltown.

Enjoy the ultimate decadence with this fab bra, finely crafted with premium materials. This fashion-forward bra is the perfect way to make a striking statement.
For the bargain price of $59.99, the "premium materials" include hot-fix crystals, underwire cups, heart-shaped hardware, and adjustable straps. And literally nothing else.

As for the underwear, excuse me, "crotchless knickers," take a walk on the wild side for $29.99:
Walk on the wild side and show off your inner goddess in our Hollywood Glam Crotchless gold panties.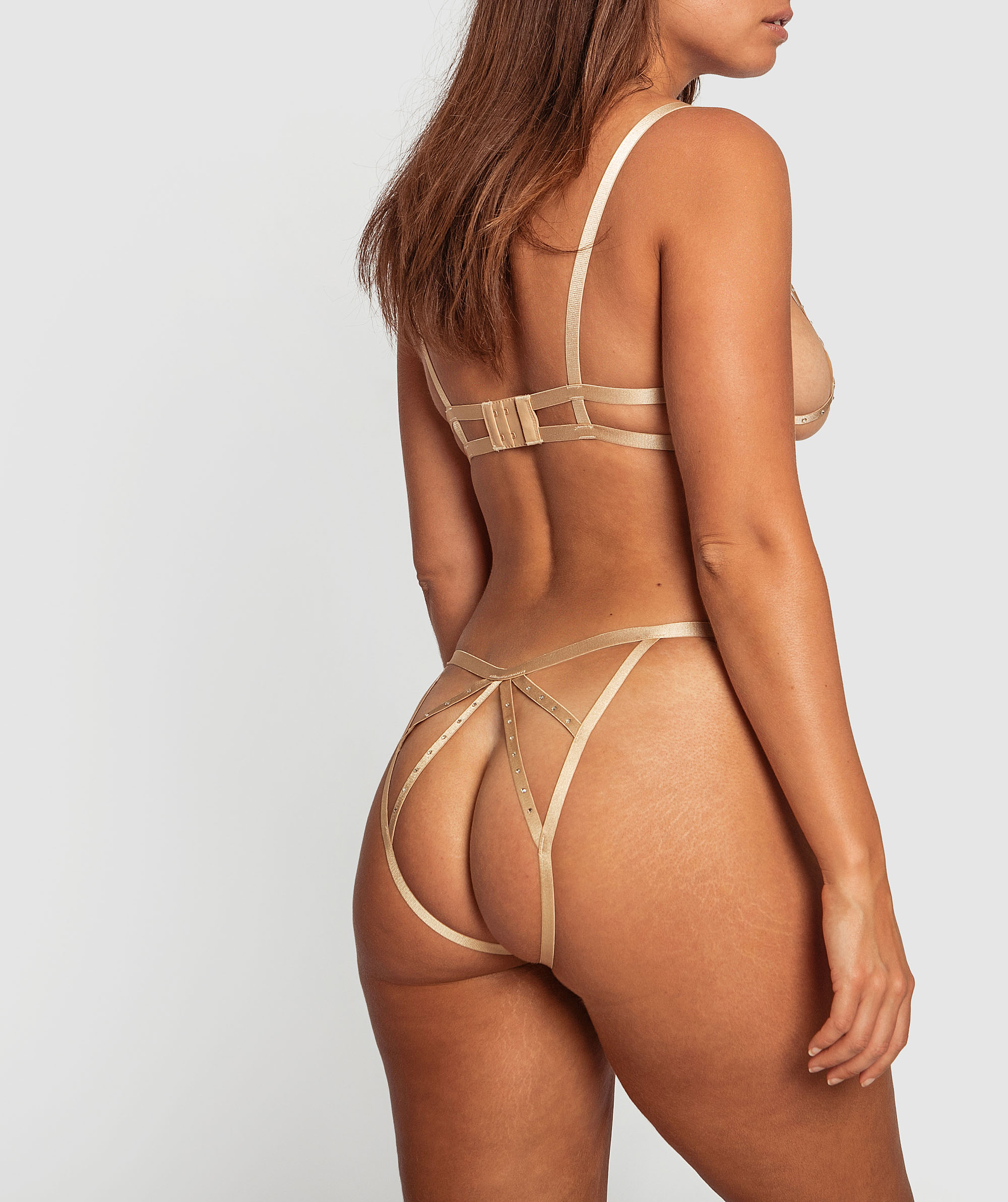 That's right, you can show off your inner goddess AND your ass-ets, at the same time.
Admit it. You're thinking exactly the same thing we allllll are. You just don't want to say it. But that's okay, someone else already has: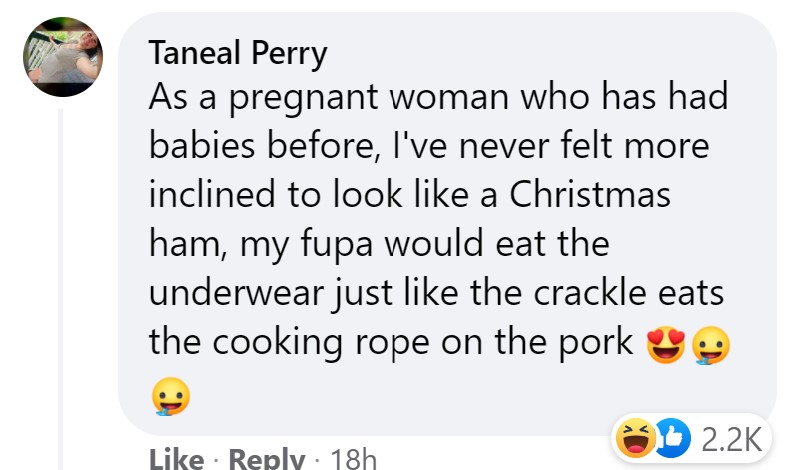 Which brings me to the comments…
Tighten your flytraps ladies, because the comments will have you roll-ing.
Let's start with the obvious. Where oh where do my fanny packs go?: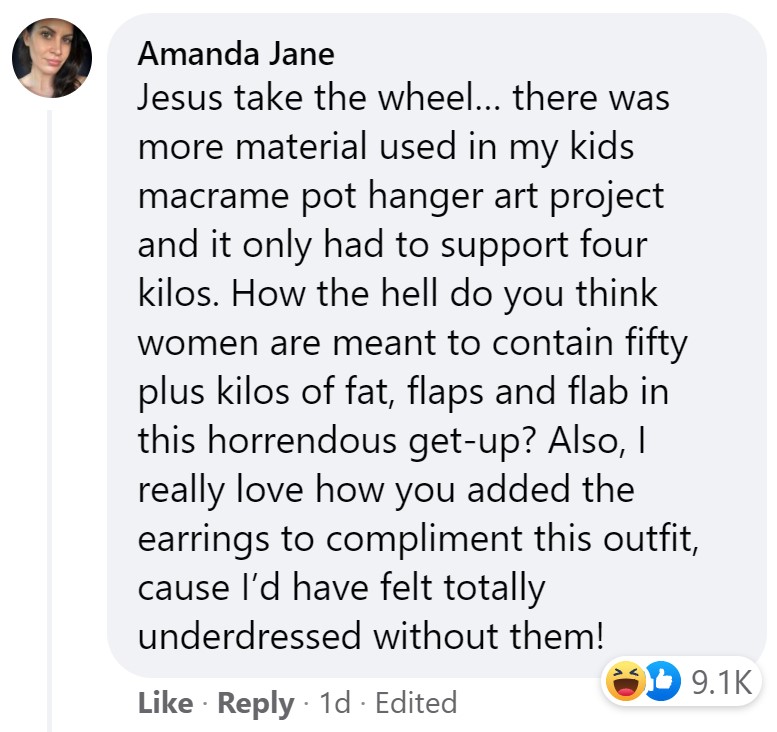 The "ear"-rings are definitely a nice touch.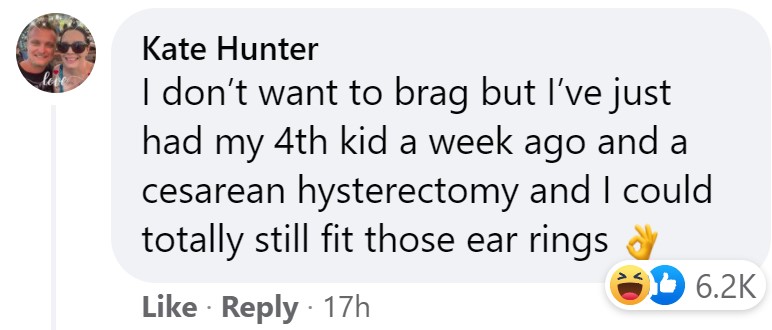 And you can always take it one step further and accessorize with the matching cuffs AND nipple covers.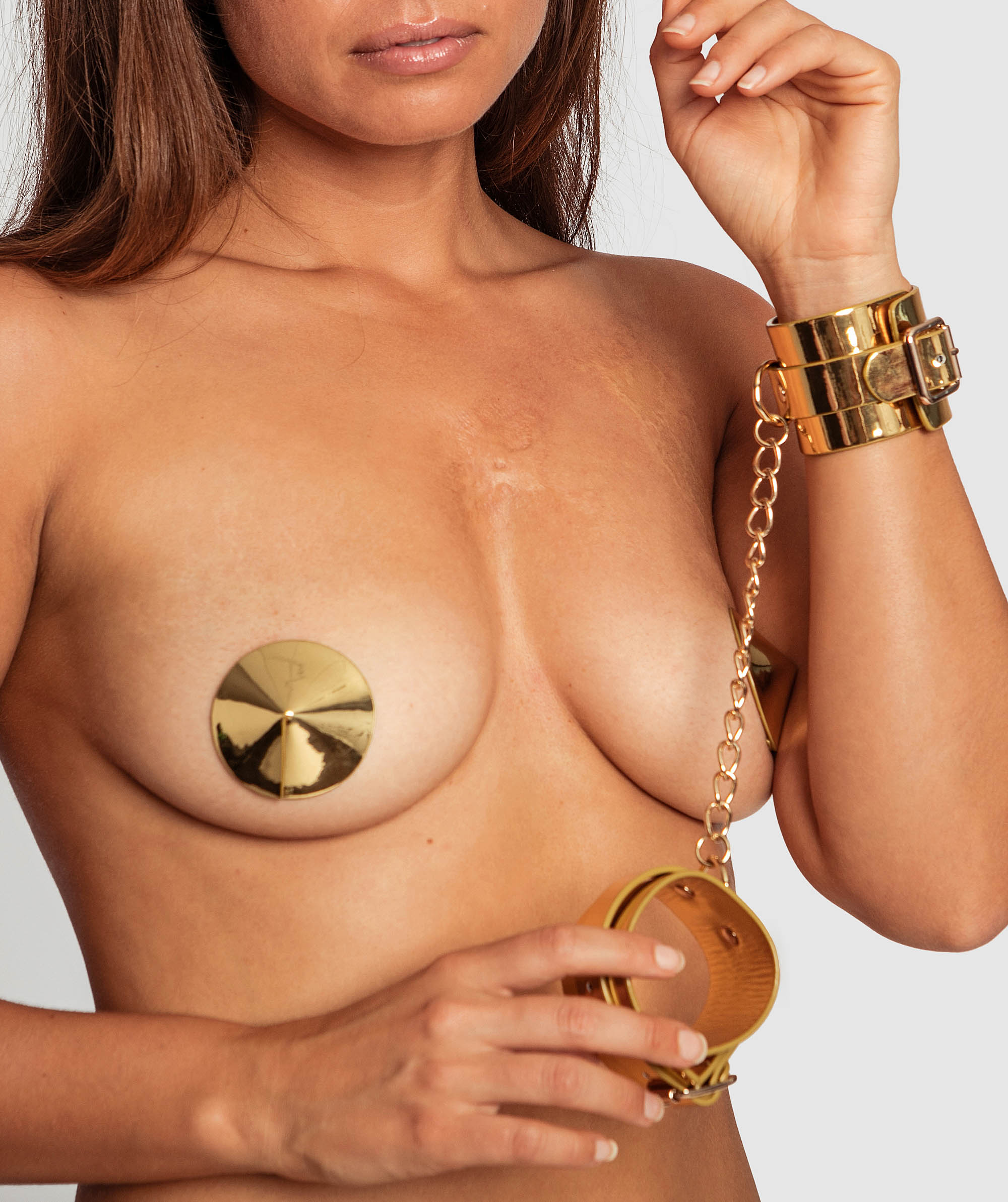 As for the heart-shaped hardware? It's not only pretty but it's also functional as well. Win-win.

Of course, that's a big IF.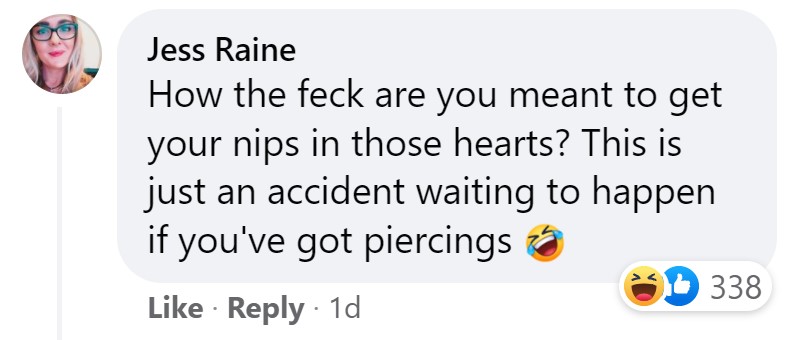 But don't worry, there are instructions for that, apparently.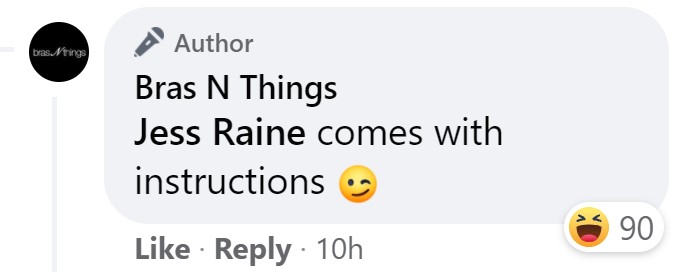 Good thing, because Jess isn't the only one with questions on nipping and tucking: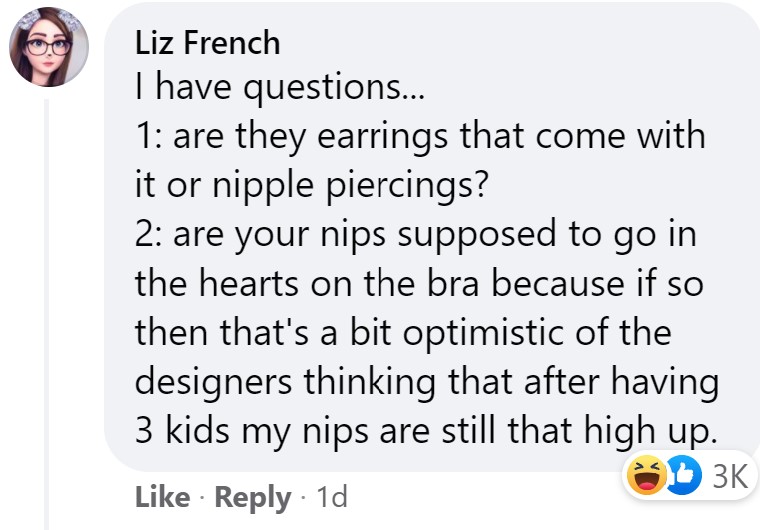 Speaking of where to put things, where DOES one's vag go?

Have no fear, the "V-Strap keeps your clam flaps intact." It's like a muzzle. For your muffin.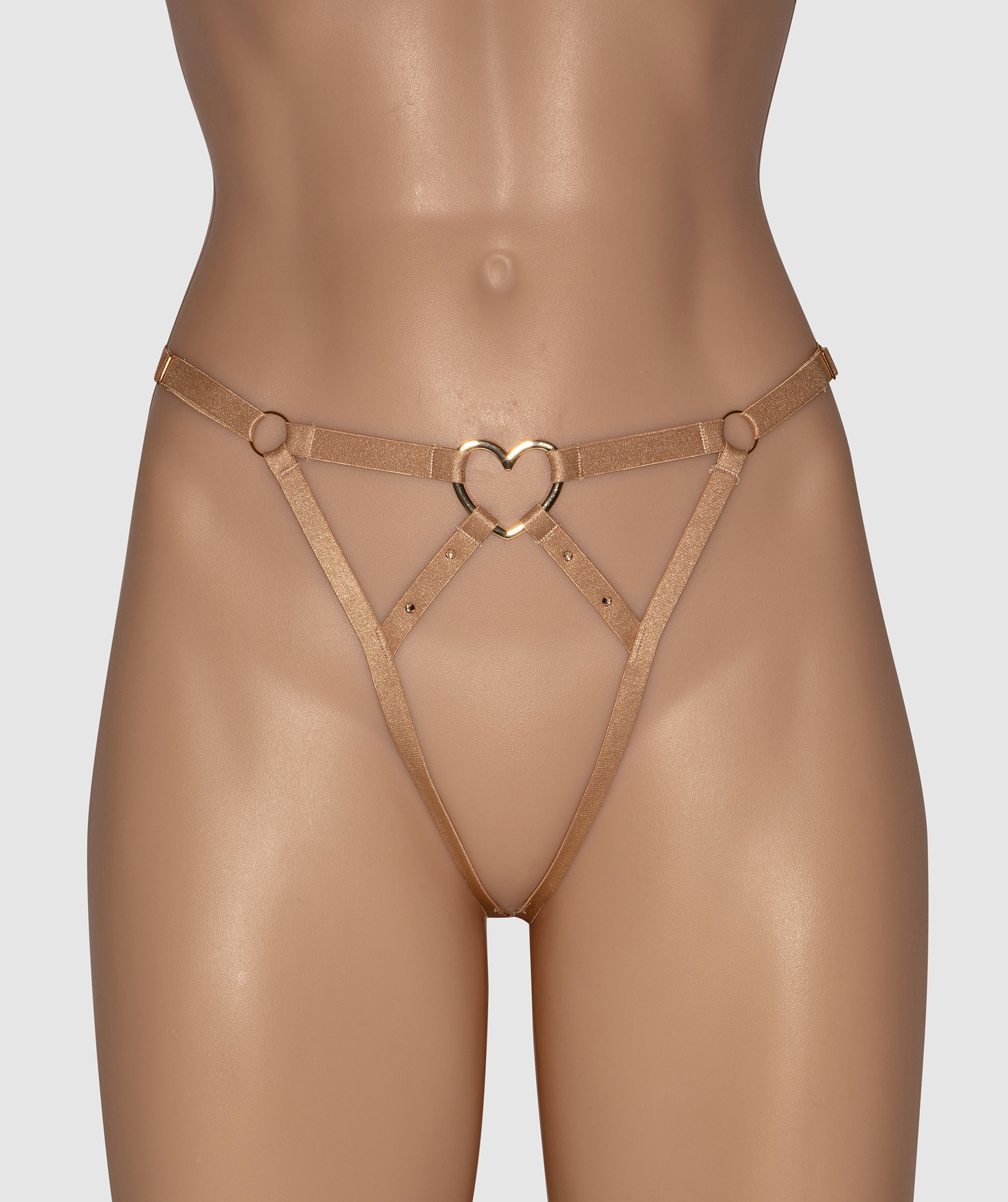 Also, it may be time to put those genital folding lessons to good use. Origami anyone?

Forget the sugar plums, other commenters just couldn't get past the visions of Christmas dinner dancing in their heads.

After all, nothing screams "Merry Christmas!" like looking like ham, or a burst can of Pillsbury dough.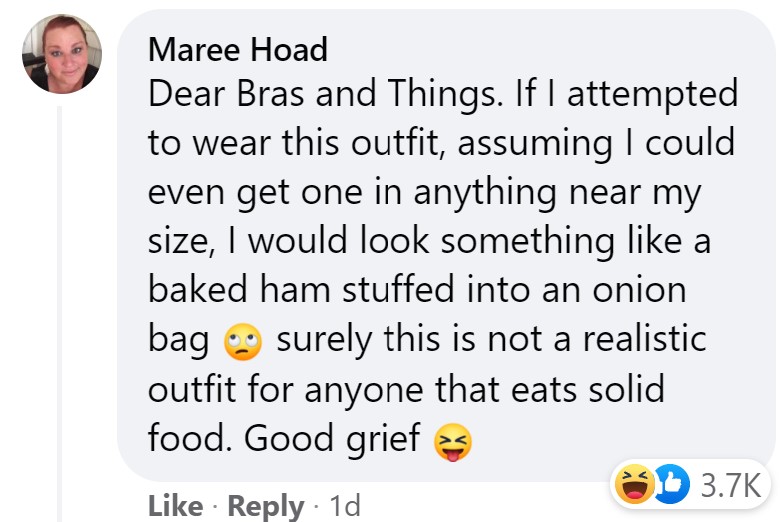 Look, it's obvious this ensemble isn't for everyone (or anyone that eats solid food for that matter).

And it should really come with its own warning label: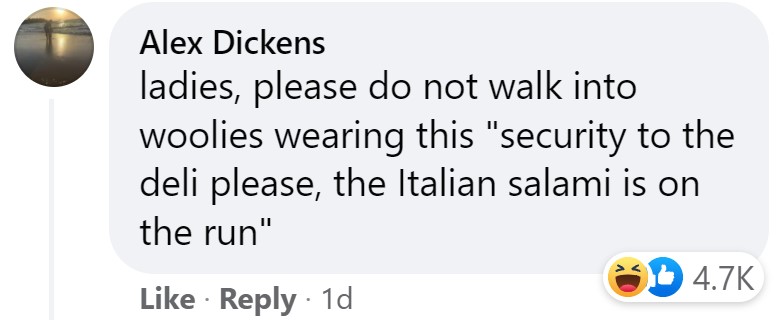 However, as with everything, some people can't wait to get their hands on it and show it off.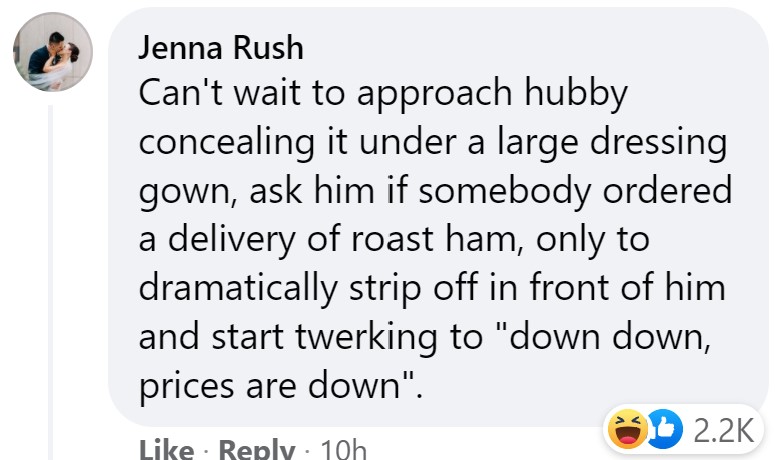 And honestly, if spending $90 to look like a boneless roast is for you, we won't judge.
But you'll want to hurry up and place your orders. According to the website, these are best sellers and are sure to fly off the shelves.
Kinda like your lady wings…
In all seriousness, the comment section is a refreshing reminder that when it comes to ridiculous fashion, we have a lot in common. And it's pretty amazing to see women band together in solidarity over something that is clearly not created with the average woman's body in mind.
You can check out more of the comments on the original post here: