Dear Toddler,
I woke up this morning with every intention of having a great day. Outside the window, playful little birds bounced through the trees. Mother Nature gleefully peeked her yellow face from behind the clouds.
The new coffee I purchased tasted like paradise in a cup. I was so in love, I tried finding the number for the grower in Antigua so I could properly thank him. A day like this … how could anything go wrong?
And then you woke up.
Immediately dissatisfied that a dancing cat graced the television screen instead of a goofy sponge, your lips quivered and your eyes swelled.
A tsunami of noise poured from your pie hole. I'm pretty sure the neighbor's alarm system kicked in when that first temper tantrum of the day erupted.
But it didn't end there. Your screaming quickly escalated to frantic pacing and pointing of rigid fingers, "MAMA! NO! MAMA! NO! NO, CAT!" You reminded me so much of a crazed zombie, I considered giving AMC a shout.
Suddenly your legs stiffened. A one-man North Korean army was now marching through the living room. In an alternative universe, this might be considered great entertainment! Here … you ruined my Folgers' moment, kid.
As any mother knows, when the day starts with a temper tantrum it usually goes south from there.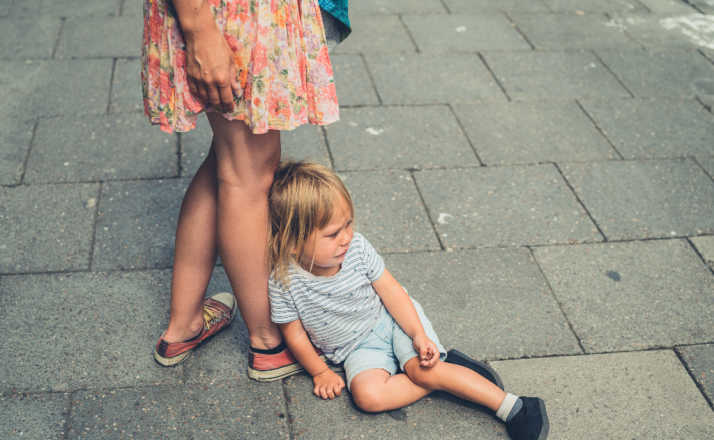 And it did. You had no intention of being a well-behaved toddler. You know … like those seen peppered throughout Facebook … those perfectly poised kids sitting on bales of hay and chilling in old iron washtubs? Oh no. You had other plans.
You'd make me earn the title "World's Most Psychotic Mother."
For a moment, peace returned.
You transformed into a perfect Disney Princess when the words "Whooooo lives in a pineapple … " finally blasted from the soap box. "Soap box?" you ask.
You're too young to understand this reference.
It was used in a time when kids didn't dare strike angry militia poses or complain about ANYTHING. We woke up happy to have the AM radio blasting Elvis tunes and walked complaint-free through miles of heavy snow … off to one-room schoolhouses where every teacher was packing a ruler. How hard things have become.
When lunch time rolled around, against my better judgment, I allowed you to saunter through the pantry.
Surely there was something in there that would strike your fancy. RIGHT?!? Wrong.
Among the one hundred and one cans of chicken noodle soup, endless boxes of macaroni and cheese, and enough peanut butter to feed the occupants of a Carnival cruise liner, there was no Beefaroni. No flipping Beefaroni!
This meant the end of the world.
Before I could call Chef Boyardee and tell him to shove it, you were on the floor doing your best possessed snow angel impersonation.
The ear-piercing screams nearly cracked the windows. Even the dog ran for cover.
Whatever was flailing like a wounded flounder in the middle of the kitchen floor couldn't possibly be human. But it was.
It was you, dear toddler.
A little being who can't quite count to five, yet somehow knows the difference between broth and sauce.
There was no consoling you. You battled through bites of grilled cheese. Slapped my hand when I tried to feed you tomato soup.
In the end, I resembled a walking contemporary painting. Some might call you artistic—a free soul with a strong spirit. I had other words in mind.
The clock ticked and the cuckoo bird reminded me that nap time was only minutes away. Most days you were so tired by mid-afternoon, you'd practically fall asleep standing up.
Today … today you'd prove that sleep was for sissies.
Your little body had every inclination of going and going and going … like a loud electronic toy that seems to operate in lieu of batteries; the ones that belt out obnoxious kiddie tunes at midnight and make animals sound like they're dying.
Two hours and no nap later, things went from "Well this effing sucks" to "Where's the wine?"
You were no longer a screeching, mad zombie. Or a flailing fish.
You, dearest toddler, had turned into an a-hole.
After pitching the fifth hard, plastic toy in my direction and abruptly firing "NO!" for the millionth time, THAT.WAS.IT. It was nap time or else … I was about ready to pack my bandana on a stick and head for the nearest exit.
You fell asleep like an exorcism was being performed. I won't lie. Some little part of me wanted to cave in, to pick you up and soothe you.
My mommy heart desperately wanted to rock you in my arms until you drifted off to sleep. That was until your foot made its way to my jaw, Jet Li style.
Oh, hell, no. Enjoy your nap, dear toddler.
You woke just in time for daddy to return home from work. The sight of a red lollipop in his hand instead of a green one … well let's just say, another tsunami hit that day.
Dear toddler, screw your tantrums.
Daddy's home and this momma's taking a shower.