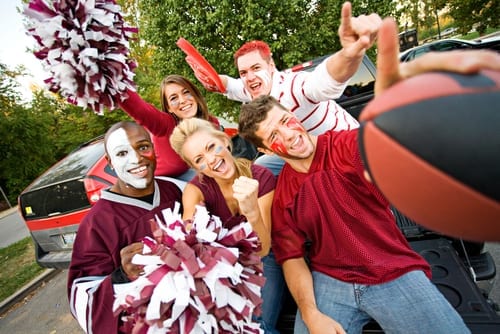 Football dominates the fall sports season in the U.S. And with football comes tailgating. In recent years, the tailgate has been hijacked by people who insist on cooking Kobe burgers on artisanal breads, drink pricey microbrews and lug large-screen TVs. It's high time to take tailgating back to its humbler roots. Grab your father's battery-powered black-and-white portable TV and read on.
Cheap Recipes Taste Good at Tailgates
Tailgating doesn't have to feature fancy food, but if you want to make a good impression, make your food fancy. MyRecipes.com has a list of tailgate foods that cost less than $1 per serving and include items like potato salad, dips and spreads like cheese and Guinness, and deviled eggs. That last one is really cheap: a single egg costs about a dime, and you get two servings from it!
However, there is an expectation for cooked food at tailgates. Sites like LivingontheCheap.com feature how to eat well without spending a ton of money:
Buy whole roasts and slice them into steaks yourself; this can cut your bill by as much as 65 percent.
Beef brisket and pork — barbecue's crown princes — are actually really cheap. Plus, the more you shred, the more food you have, too.
Buy cheap alternatives to buns like taco shells and tortillas, which can also double as chips for dips.
You know what looks fancy? Kebabs! Kebabs are half meat, half inexpensive grilled vegetables.
Shop Costco with a Favorite Moocher
If you're already a tailgating veteran, you probably know a moocher or two. (You may be one yourself but trying to reform.) Moochers usually show up at tailgates just as the host is passing around a second plate, and they don't leave until all the food is gone.
If you aren't familiar with moochers, this guide from Dish explains how to mooch at tailgates. It should help you recognize the type.
Now you've identified your moocher(s), contact one or two and ask to meet at Costco. (If you have any doubt about their mooching cred, this should clear it up.) If you don't have a Costco card, offer to pay a card-holding friend to buy you a gift card.
Gather your moocher(s) after they've satisfied themselves with free samples and ask them to look for deals on whole roasts and chickens. If you're expecting kids at your tailgate, tell them hotdogs are okay, too.
Spend your Costco time thus:
Check out the bakery section to select cheap dessert items like mini chocolate-chip muffins and cookies.
Inspect the beer aisle for specials. Costco also sells cases that feature different Mexican beers.
Be sure to buy a case of water.
Buy a collection of spices for guests to douse over all your hard work.
Invest in a Few Cheap Grills
You don't need a fancy grill for tailgating. If you want to impress a crowd, buy three or four cheap tabletop grills you can stack in the back of your truck or in the trunk. The cheapest ones listed on Google start at $20. Together, they can cook more than the bigger, more expensive patio grill the guy next to you lugged in his Mercedes SUV.
These little grills work hard but don't eat a lot. The gas ones run on those short, fat propane twist-on bottles that come in two-packs at hardware stores and most grocery stores. You can get a charcoal tabletop grill, too, but they can make a mess of your vehicle interior if you don't thoroughly clean them.