By now, everyone's aware of the horrible condo collapse of the Champlain Towers building in Miami. But not everyone has heard the story of one amazing mom, Angela Gonzalez.
In the wee hours of the morning on June 24, as their 12-story condominium building collapsed around them, Angela and her daughter, Deven, were sleeping.
As CBS4 in Miami reports, they fell from their 9th story unit all the way down to the fifth floor. Angela sustained a broken pelvis, among other injuries, but still, she managed to pull not only herself, but also her 15-year-old daughter to safety.
As a mom, I can't help but think: Of course she did.
From the moment a mother learns a baby's on the way, she's overcome by the weight and responsibility of caring for her child.
And once that baby is born? Well, that natural instinct to protect her child is so strong, so undeniable, it's primal.
I consider myself a reasonable, generally even-keeled kind of person. But once my son was placed in my arms, I realized I wouldn't hesitate to rip apart someone who threatened him.
I now have four children and I would risk my life, even lay it right down, for any of them. I don't know any other mother (or parent, for that matter) who doesn't feel the same way.
So, when I read that Angela somehow managed to pull her daughter from the rubble despite a crushed pelvis from the fall, I was awed by her strength and determination.
I was overwhelmed by her perseverance and resilience.
But I wasn't shocked.
Angela was doing what she'd undoubtedly done since her daughter's arrival: the very best she could for her baby.
In the midst of unbelievable tragedy, I honor and celebrate this mom for all she endured to save her daughter.
At the time of the collapse, Angela's husband and Deven's father, Edgar Gonzalez, was also at home. He is currently still missing. I know everyone reading this joins me in praying for his safe recovery.
The Gonzalezes also have an older daughter, Taylor, who was not in the building at the time of the collapse.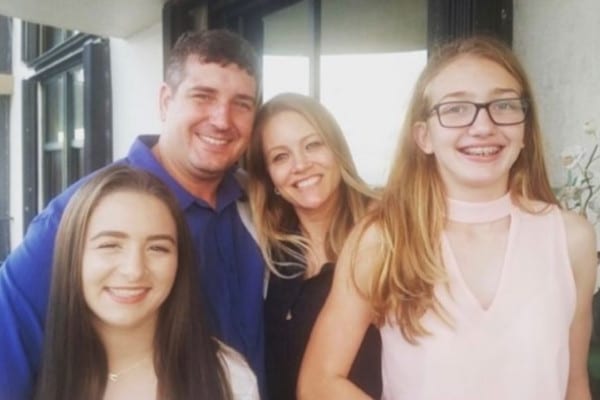 A GoFundMe has been set up by Deven's volleyball coach, Ashley Woods, to support the Gonzalez family during this incredibly difficult time. She said of the family,
They are the type of family to roll up their sleeves and do whatever is asked to help anyone in a time of need or crisis. We want to show them how much we care, and love them back.
Currently, Angela remains hospitalized and has had surgery to repair her broken pelvis. According to the family update on the GoFundMe page, she is expected to make a long but full recovery.
Deven is also hospitalized, having undergone one surgery already and awaiting one more to repair her leg. She is also expected to make a full recovery.
According to their GoFundMe page, it sounds like these are two incredible women that survived a horrible tragedy. It states,
Deven is a talented junior volleyball player with high hopes to continue her career in volleyball at the collegiate and professional level. Her mother, Angela is a mental health provider who works with underserved communities in Miami and surrounding areas…
Our hearts are broken for all who've lost loved ones in this tragedy.
We wish those injured a complete recovery and we celebrate this mother for her incredibly heroic actions. According to their gofund me page, "Both Deven and Angela have suffered multiple injuries and are currently recovering. Taylor, Deven's older sister was not in the building at the time of the collapse and has been by their side while the family waits for news on Edgar's recovery."
We hope and pray for everyone involved in this horrible tragedy.