I'm a mom of three kids, two of whom are in elementary school. Last night, our town sent out texts and emails alerting parents that schools have closed for the next two weeks in the wake of new cases of the coronavirus inching ever closer to our town.
OMG FML.
Like other mothers across the country facing multiple weeks of quarantine with their kids, I have been looking high and low for daily routine schedules that will help us get through.
YOU GUYS. I found a few that I am pretty sure will work great.
Like this hilarious (and real AF) schedule by Jen Fulwiler who gives us a terrifying glimpse into what this is going to look like: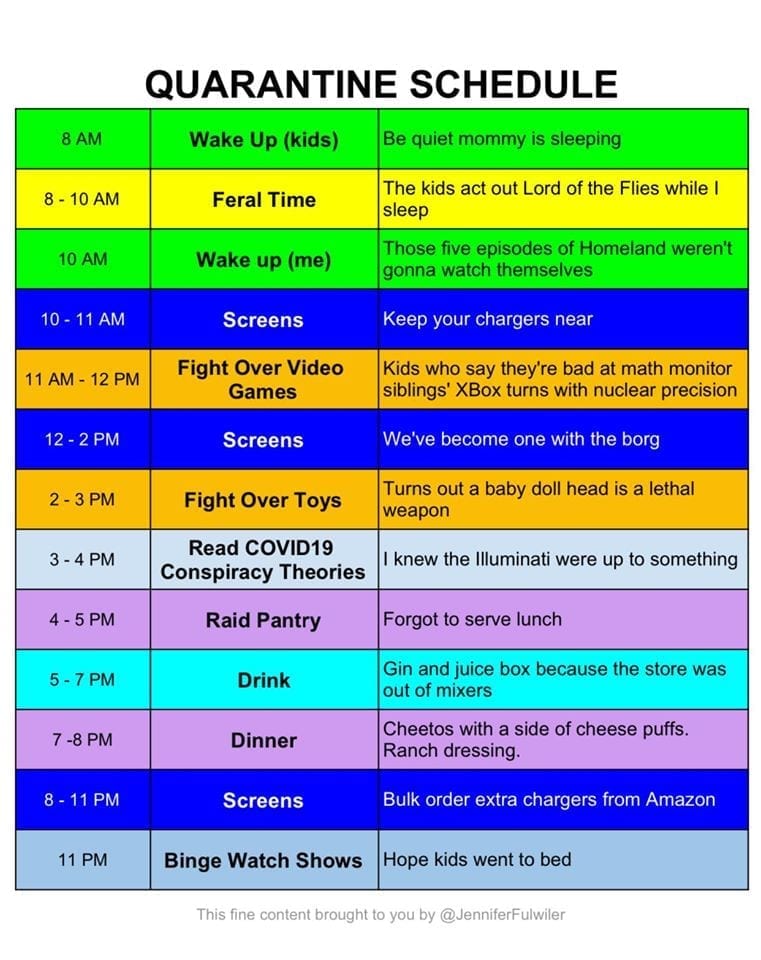 But if you're looking at this schedule and thinking, "Sarah, this is wonderful but what about enriching my child with actual EdUcAtIoNaL aCtIvItIeS? Hmmm?"
Well, Karen, I'm glad you asked because LOOK AT WHAT I FOUND:
This list of educational activities rivals Waldorf and will definitely give your kids a leading academic edge when they return to school. I'm talking advanced shit here, people.
Just look at the offerings – and they are free!
For Language Arts, kids can "dissect and interpret the poetry of Ludacris, Missy, and Usher," talk about deep existential stuff.
Your kids will be waxing poetic fo shizzle.
They also recommend that for social studies that kids get the real up close and unfiltered historical low-down by watching Drunk History.
Amen to that! But don't worry, they also cover math,
"help mommy look over all the bills, and try to figure out how we hold everything together."
But not theatre appreciation because that has been canceled "your drama and attitude is going to get old quick enough, and I don't appreciate it."
And, then in one of my work from home mom groups, I found this delight from Dawn Allcott, a freelance content writer and co-founder of Geek Travel Guide. I especially like the extremely accurate "hear vague arguing sounds" and "loud crash" scheduled before breakfast.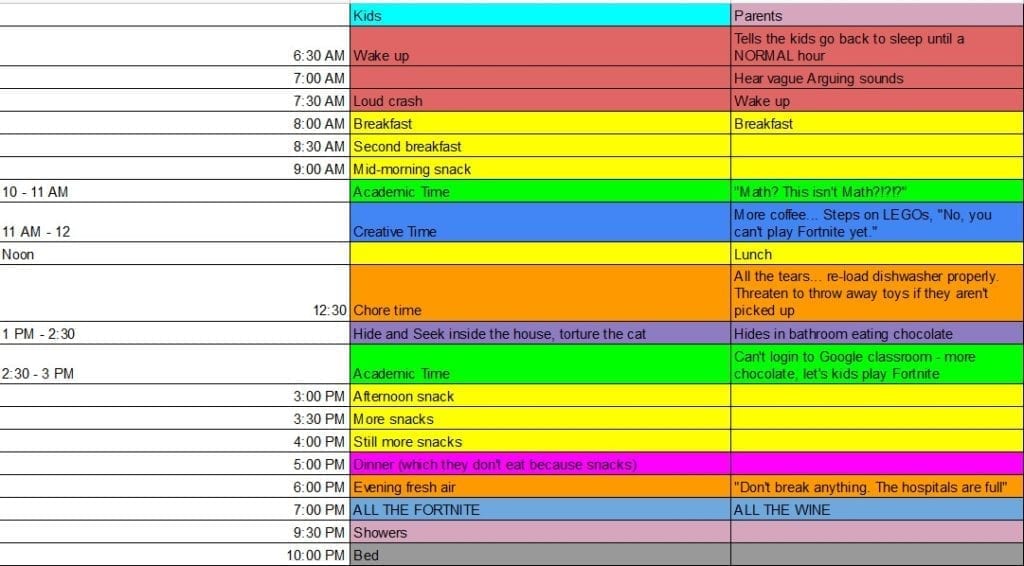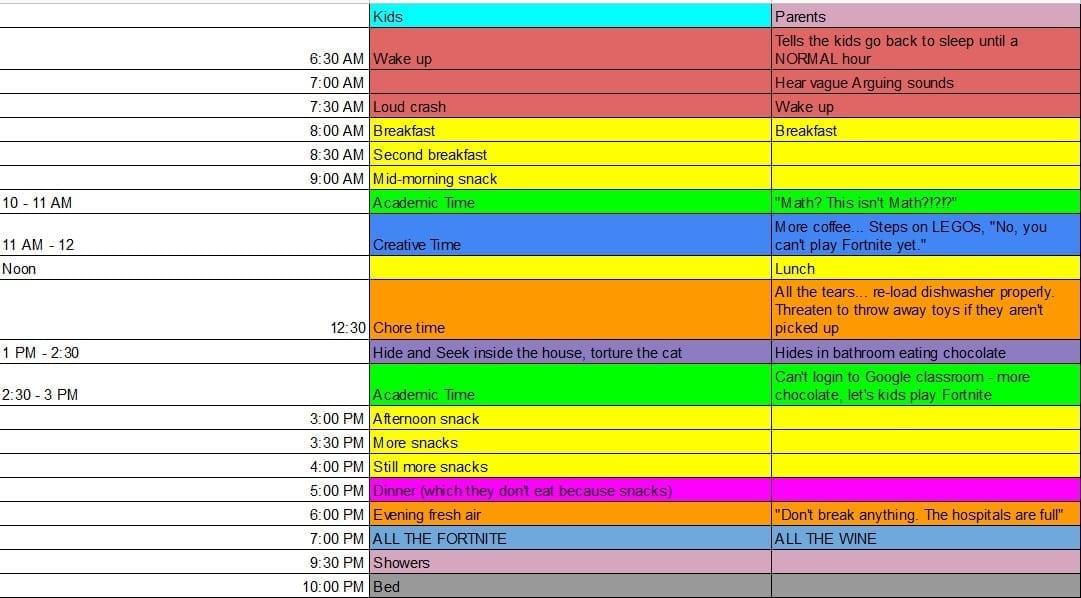 We all appreciate this tweet from Dr. Jennie Weiner on Twitter. She knows what's up. Carbs and TV. That's how we will really survive.
I'm just going to say this and judge me all you want. We are not planning anything educational for our kids. Homeschool will not happen. We will survive and watch too much tv. We will eat cookies and carbs and hope for the best. We will love and try not to go insane.

— Dr. Jennie Weiner (@jennieweiner) March 12, 2020
But all kidding aside here, if you're looking for a more structured, educational list, here is a brilliant daily routine that can help you stay sane and keep your kids' brains and bodies busy.
Found over on Quirky Mama, this schedule was the first one to start making its rounds online. And, it's actually useful for us overachievers.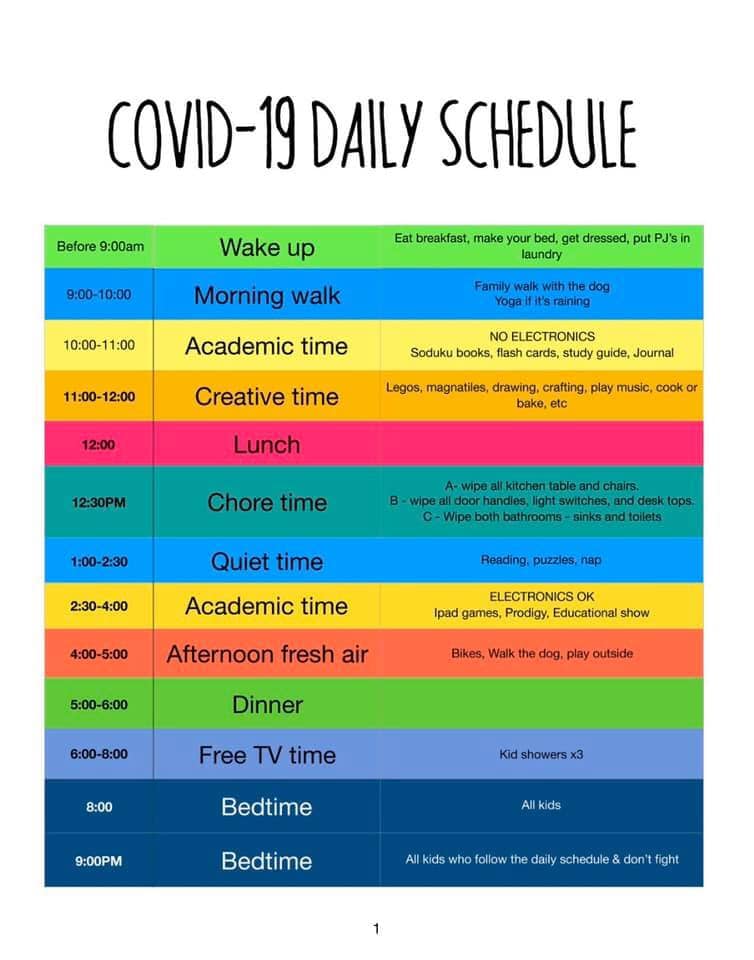 For parents looking for online resources to keep their learning and their bodies working, there are tons of amazing, high-quality educational sites that cater to kids K-12.
From dancing and silly rhymes to advanced math and even astronomy, there is something for everyone. These are a few favorites that may already be familiar to you or your kids.
Remember, as tempting as it is to schedule a full day for your kids during a quarantine, your self-care is important too.
Scroll those sweary AF memes on Instagram and tweets on twitter, eat that chocolate you have hiding in a fake bag of frozen broccoli in the freezer, put yourself in time out, and reach out to friends for some adult convos.
We're in this together.
More helpful resources on the Coronavirus Outbreak:
CORONAVIRUS DASHBOARD WEBSITE CREATED BY 17-YEAR-OLD GIVES UPDATES IN REAL-TIME
WHAT YOU REALLY NEED IN YOUR CORONAVIRUS HOME QUARANTINE KIT
CONFUSED ABOUT SOCIAL DISTANCING DURING COVID-19? HERE'S WHAT FAMILIES SHOULD DO.
A BIG LIST OF KID ACTIVITIES TO DO WHEN YOU ARE STUCK AT HOME BECAUSE OF SOCIAL DISTANCING
HOW TO PREPARE FOR EXTENDED SCHOOL CLOSINGS (AND NOT LOSE YOUR MIND)