It's been a rough winter here in Maine. With over four feet of snow on the ground and more expected in the next twenty-four hours, we're all ready to find Mother Nature and beg for her mercy.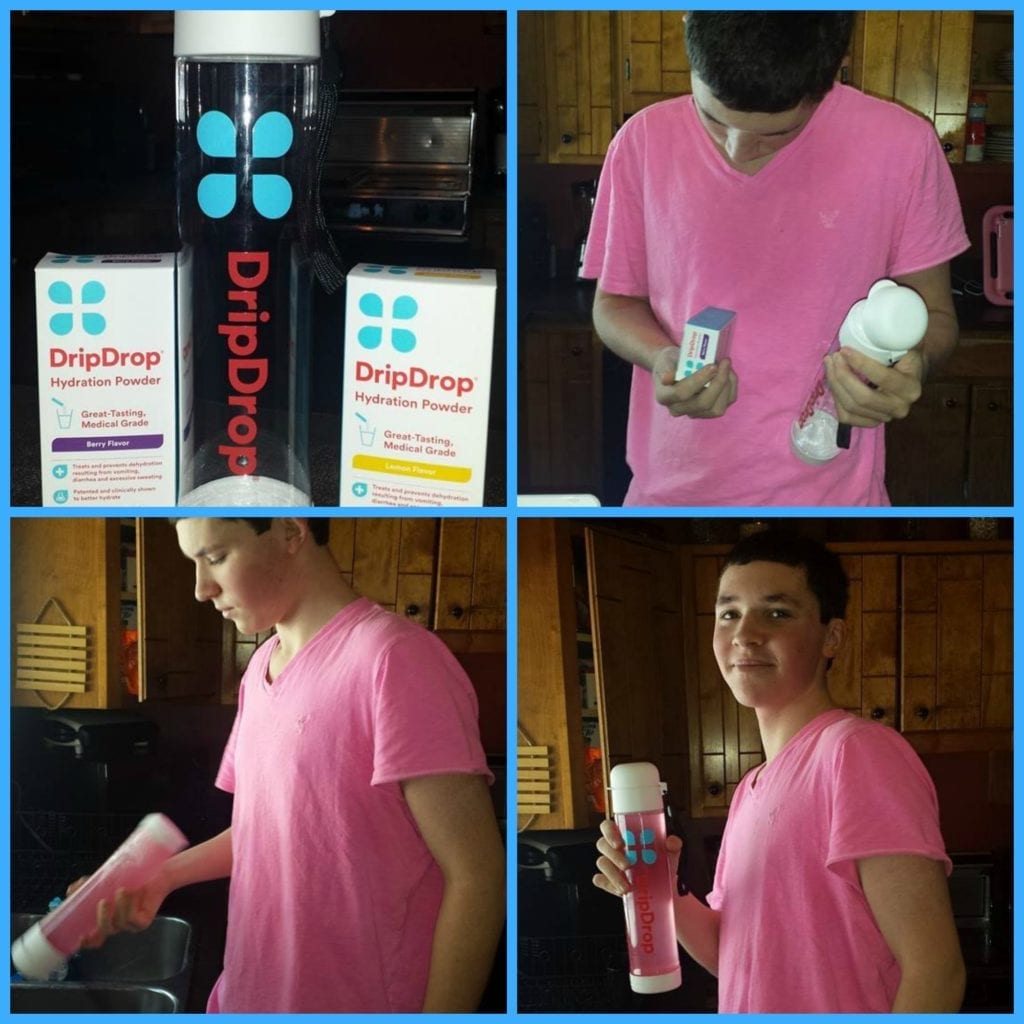 Not only has it been a cold, snowy winter, but there's also been a lot of sickness.
The schools in our area have seen many cases of the flu and everyone appears to be suffering from a relentless cold. We've been lucky to escape the bugs and viruses until last week.
As soon as I took one look at my 15-year-old, I knew. I could tell in his eyes and his pale skin that someone was sick. The cough that escaped his mouth next was all the proof I needed that it was back to bed and time for rest.
Ironically, I recently received a shipment of DripDrop to review.
It could not have come at a better time.
My son was eager to drink some fluids and immediately mixed up a packet of the berry hydration powder. It was easy on his stomach and he was able to drink it despite having a sore throat. The flavor was mild and smooth, not like Kool-Aid or some energy drinks. Later in the day, he came back for a lemonade packet which was equally as good.
After researching the company and product, I felt confident that he was being properly hydrated. I intend on using this if anyone else falls sick and also during the summer when we are on the go and need to stay refreshed. It's really a great product.
About DripDrop
DripDrop provides a simple, cost-effective solution that empowers everyone to treat mild to moderate dehydration with a safe, medical-grade solution.
Their hydration powder packets fit easily in the medicine cabinet, travel kit, purse and gym bag, so it's there when you need it. Simply mix with water and consume.
Developed by a Mayo Clinic-trained family physician, DripDrop contains a proven ratio of ingredients – including sodium, sugars and potassium –which absorb quickly and help you recover faster than any other hydration product on the market.
In fact, DripDrop has been shown to hydrate 34% faster than water alone, and 20% faster than pediatric solutions and sports drinks.
Feeling under the weather? Just need to get hydrated? Use DripDrop to keep you and your family properly hydrated during cold and flu season.
Simply mix a packet of DripDrop into your water, and you're all set. Get yours at Amazon.
Disclosure: This is a sponsored post for SheSpeaks/DripDrop.