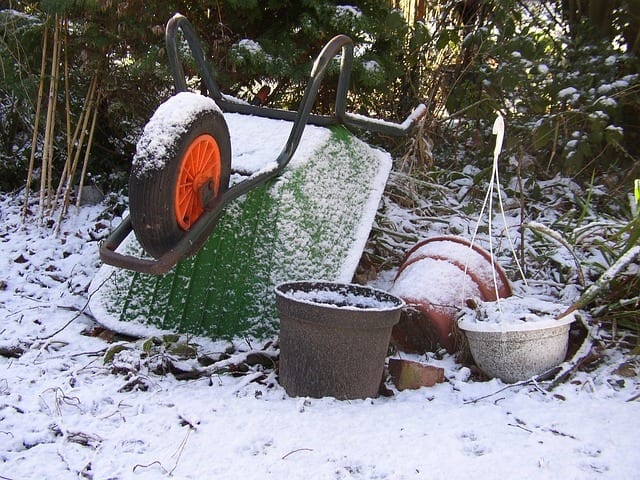 Maintaining your garden before and throughout winter is a highly recommended practice as it remains healthier come spring and you will also have an easier time keeping things in order afterward. However, unlike in the other seasons, keeping the garden neat in winter gets tougher, and the only way to get things done easily is to get the right tools for the season. Here are a few essential winter garden tools that are worth investing in:
Latex gloves/ waterproof gloves
If you are going to be doing anything in your garden in winter, then wearing latex gloves with your normal gardening gloves will give you a double benefit. Latex gloves will keep you dry and extra warm throughout. They will also help you prevent mucky hands plus you can still answer your phone or do less mucky jobs by just taking the normal gardening gloves off.
A wheelbarrow or a garden cart
Apart from helping in transporting your other garden tools and garden supplies from one area of your garden to another, a garden cart or a wheelbarrow also helps in transporting any dead plants, weed, cut branches and any other waste that you need out of the garden, maybe to the compost. With a wheelbarrow, you become more efficient as it is highly versatile. And, if there are places that your wheelbarrow or cart won't reach, just add a bucket and load it up with anything you need to be transported then transport to the wheelbarrow.
Chainsaw
You might have a standard saw already but trying to tackle big branches and large logs with it could be tough. A chainsaw comes in handy when chopping trees as it helps you accomplish the tasks quickly and efficiently. However, be careful to invest in a quality chainsaw to enjoy its services for many years to come.
Leaf blower
Leaving leaves and other debris on the grass over the winter will damage because they starve the grass of light while encouraging disease. However, raking can prove tedious especially when dealing with a huge garden. Thus, investing in a leaf blower will greatly help in your winter garden preparations, and you can still use in other seasons as well. There are good leaf blowers on the market, both corded and cordless, electric and gas, so you can just purchase the best choice for your needs.
Border sheers
Winter makes the best time to tidy up borders. However, the process becomes easy when you invest in a good pair of border sheers. They help you achieve neater appearance on the trimmed edges after you have gotten rid of the dead plants. And, in the process, they also help you get rid of snails and slugs as overgrown borders make great hiding places for them and will attack your plants even before spring sets in.
A good garden tool sharpener
Over time, our garden tools seem like they have reached the end and cannot seem to get anything done. But, most of the time all they need to come back to life is sharpening. A good blade sharpener is all you need to keep your bladed garden tools in good working order throughout winter. Before you throw any of them away, try sharpening them and see how they will perform.
Pruners
One way of preparing your garden for winter is to prune all the plants or bushes to allow the winter overgrowth to take the brunt of the frost resulting to healthier and stronger new growth in spring. Therefore, every gardener should invest in high-quality handheld pruners to get this done easily and perfectly.
Snow blowers
You can have all the traditional gardening tools but if you have a larger property, adding an electric snow blower could make clearing heavy ice and snow from large driveways easier. The good news is the market has a variety of snow blowers and you will easily find one that fits your property and budget.
Finally,
Once you have all the essential winter gardening tools, the next important task is to look after them and always use them for the right tasks. After every use, you will want to brush any garden debris or dirt off them and add a quick wipe using an oily cloth to prolong their performance. And, when shopping for your tools, avoid the cheapest tools as they are most likely cheaply made thus forcing you to replace them within no time. Again, ensure the weight is right for your hands as heavier tools will slow you down and they might not be worth the purchase even if they are durable.
———-
Oliver's home is at WonderlandGardens. As a DIY enthusiast for more than 10 years, he writes about various garden and home improvement techniques, along with reviewing the top brands in the garden/home improvement industry.