At first glance, Las Vegas may not seem like the best place to take a family holiday. With a reputation for its vibrant nightlife and casinos, and a nickname like "Sin City," it's no surprise many parents don't think of planning a getaway to Las Vegas with kids.
But, this all might change when you see what Las Vegas has to offer for everyone in the family. Aside from their adult-only attractions, Vegas is full of things to see and do that will keep both you and your kiddos happy.
Hershey's Chocolate World
Who doesn't love chocolate? If you're planning to visit Las Vegas with kids, then a visit to the flagship Hershey's World of Chocolate at the Las Vegas strip is definitely in order. This 13,000 square foot flagship store is full to the brim of Hershey's delights!
You and your kids will be able to explore all the exclusive products and magic the store has to offer. With over 800 products to choose from, the Las Vegas strip Hershey's store makes for a great afternoon family stop.
Whether you're looking for something sweet for yourselves or want to take home some great souvenirs for family and friends, you'll find it all at this store.
Cowabunga Canyon (Formerly Wet 'n Wild Las Vegas)
A family trip to Las Vegas would definitely not be complete without a visit to one of the great water parks the area has to offer. With tons of fun for all the family, Cowabunga Canyon is a water park which simply has to be enjoyed.
Cowabunga Canyon was well-known for being the most family-friendly option when it was Wet 'n Wild, and still holds that honor.
It boasts slides and water rides of all sizes to suit differing ages and preferences. With adult rides, rides designed for teens, and plenty of fun things for toddlers and little ones to do, a day (or two!) at Cowabunga Canyon is sure to complete your Las Vegas trip.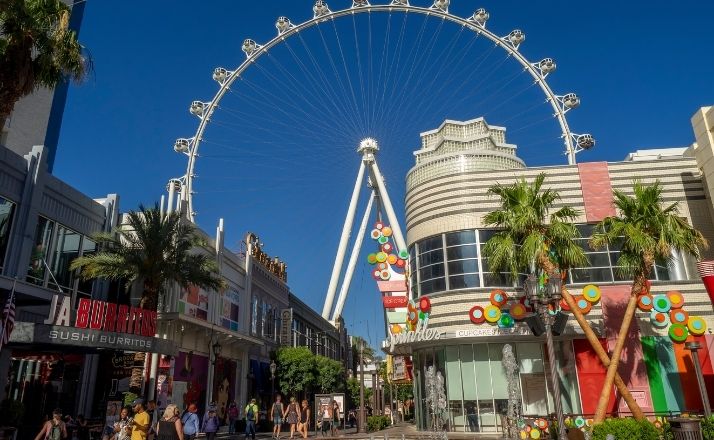 Observation Wheel
Offering a 360-degree view of Las Vegas and the surrounding areas from 550 feet high, the High Roller Observation Wheel is a fantastic experience for kids and adults alike. You can ride the High Roller in the day for stunning views of the city and its surrounding areas. Or night rides are available for those who want to see the sights of the city lit up and alive.
Offering pods which hold up to forty people at a time, it's definitely a comfortable ride for the whole family where you'll be able to take some great photographs and make some awesome memories.
On top of that, kids under the age of 12 are welcome to ride the High Roller free of charge. If you visit on a Saturday you'll be able to take advantage of their family-friendly ticket. This includes entertainment and snacks for your little ones.
Discovery Children's Museum
For hands-on fun, head to the Discovery Children's Museum. Give yourself plenty of time to explore all the floors. There is even a water area (they provide raincoats, but you might want to bring a change of clothes). A giant play structure, arts and crafts, pretend play, and science activities are some of the fun waiting for you and your family.
Additionally, you are able to bring in your own food and enjoy lunch at their designated snack area. The museum is a great all-day entertainment locale and gives you an indoor break from the heat of Las Vegas.
The Big Apple Coaster & Arcade
Travelling to Vegas with older kids or teenagers? Be sure not to miss out on a ride on The Big Apple roller coaster. Providing over a million thrill-seekers a year with plenty of fun and excitement, this roller coaster is the first in the world to feature a 180-degree twist and a "heartline" dive maneuver.
The Big Apple Arcade offers a huge selection of games and activities. This might just be the perfect destination for a day out that's full of family fun.
Las Vegas may be well-known for its casinos and nightclubs, but they haven't forgotten about smaller visitors! From roller coasters to water parks to chocolate shops, a holiday in Las Vegas with kids could be better than you thought.