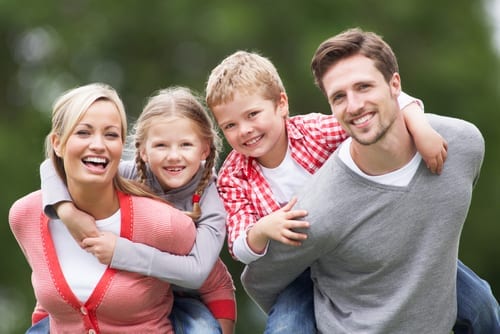 Summer is barely over, but it's time to start planning this year's holiday card if you want to stand a chance of sending them out in time. From finding a great photographer and scouting locations to selecting the perfect outfits for your family and designing the card itself, this process requires plenty of time, which is why it's best to start planning now.
Looking at other people's family portraits is a great place to start culling ideas. Pinterest has ample inspiration for family photos, but if you don't have time to go down the rabbit hole sorting through it all, you need to be more strategic. Here are some tried and true tips to create a stunning family photo shoot that you will treasure for years to come.
Themes
Having a theme beyond traditional styles or typical hobbies like hiking or biking can be tricky to pull off in a stylish and timeless manner. For the most part it is better to have the subjects be the focus rather than a specific theme. Excessively thematic photos can be distracting and take away from the overall look that you are going for. If you really want a theme, however, going with something on the neutral side can work well. A theme based on your setting is the easiest way to make sure that your family stays the subject of the portrait instead of being distracted by some outside element.
Clothing
Embrace each family member's individuality and help them select an outfit that represents them, while also coordinating with the rest of the family's looks to create a dynamic ensemble. Consider setting the following ground rules to make the process a little less painful.
The colors that everyone wears should be complementary but not monochromatic. It's helpful to create a color palette based on the setting before you select outfits.
The kind of shirts everyone is wearing can have a big impact on how the final product turns out. Avoid graphic T-shirts and anything in a loud print. These are distracting and detract from the setting. Instead select button up shirts or even fitted T-shirts in plain colors if you are going for a more relaxed, casual look.
Pants really depend mainly on your setting. On a beach or another warm setting, shorts are perfectly acceptable. If you want long pants, dark jeans are always a good option that can give both an air of class while still being casual enough to not come off as stiff.
Setting
The setting of your photographs is what really sets these portraits apart from the stiff, tacky mall portraits. While they rely on boring backdrops that everyone has used before, finding your own location gives a personal touch that you just can't get in a studio setting.
If you don't already have the perfect spot in mind it's best to do a bit of research beforehand. If you have chosen a local photographer then they may have some places that they are familiar with and can suggest settings that might fit your style. If you do have a place in mind try to find out when the location is busy or maintenance is done. That way you know the location is looking its best and you won't have to wait on people to clear out of your photo because you hit the lunch rush.
One important thing to remember is getting the proper permits and permissions before you go shoot in a public area. This prevents you from potentially being shut down and wasting everyone's time.