My house is abuzz with wish lists and drafts of letters that my three kids are writing to Santa. They don't know this, but my husband and I stash their letters away so that when they grow up and – I hope – have children of their own, we can share their silly and heartwarming notes to ol' Saint Nick.
For one mom, though, this holiday season brings with it an eye-opening letter to Santa from her eight-year-old daughter, Kourtney Wood who didn't ask for toys.
She asked for something much more. Her letter is going viral around the world because it is giving us hardened grownups a peek into how this awful pandemic is affecting our kids. And what her letter shows us is pretty damn heartbreaking.
In a Facebook group called, Family Lockdown Tips & Ideas, UK mom Samantha Dickens posted an image of a handwritten letter from her daughter, Kourtney Wood, on November 22nd.
In the caption, she wrote,
"Is anyone else's children struggling with all the new restrictions? I found this in our 8-year-old's notebook. I wish Santa could make it come true for her."
Below her caption was the letter, which is absolutely the sweetest and saddest thing you'll read all day.
"Dear Santa," wrote Kourtney Wood, "All I would like for Christmas is for the world to go back to normal! I don't know if you can do that but if you can't do that it is OK.

I don't mind if I have nothing, I do have everything, well, I do have everything I need. Thank you."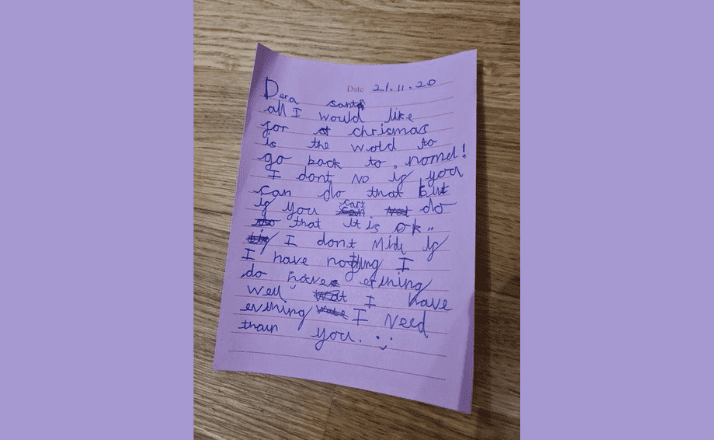 Can you imagine? This sweet child just wants normalcy.
She's not asking for expensive tech or the latest trending toy.
She just wants what I suspect we all want; to live in a world that doesn't have a scary plague shutting down schools and businesses.
Dickens told TODAY Parents that she found her daughter's letter while cleaning her bedroom recently. She explained that in the past, her daughter asked for typical things from Santa like gadgets and craft kits.
"I was absolutely gobsmacked," Dickens, told TODAY Parents.
"I knew she'd been struggling with lockdown and COVID. But it really hit me when I saw it on paper."
The post in the private Facebook group attracted 15,000 likes and hundreds of comments.
Most of the comments in response to Wood's letter expressed a sentiment of feeling sad for children this year but also noting how wonderful it is to see a child expressing gratitude.
The holidays in the time of Covid-19 will certainly be like no other.
The statistics on this deadly disease are deeply worrying no matter how you look at it and so it is no wonder that our children are feeling the anxiety and sadness of an upended year.
The coronavirus has infected more than 68 million people worldwide and has claimed the lives of 1.55 million and counting. Today in the UK, the government has started mass inoculations as the first vaccine from Pfizer has been made available. The vaccine, which requires two doses, is 95% effective and brings with it high hopes of finally curbing this deadly disease.
If you or your child is struggling to cope with the effects of Covid-19 there is help.
SAMHSA's National Helpline is a free, confidential, 24/7, 365-day-a-year treatment referral and information service (in English and Spanish) for individuals and families facing mental and/or substance use disorders. Call SAMHSA at 1-800-662-HELP (4357).