You've finished having your babies. Maybe they're just more independent. No longer babies, but toddlers, or the dreaded 'first day of school.' Maybe you've achieved the impossible, and they've flown the nest.
Graduated, moved on or moved on to college.
But suddenly, you're left with an emptiness, a hole you can't recognize.
Who are you if they no longer need you?
Are you the Mom that quit your job to be home with them. The Mom that chose to work fewer hours to accommodate their needs. The Mom that is pulling double duty to provide for them. The single Mom doing it ALL at the same time.
I'm contemplating this as I go through the transformation, from content and happy wife, caretaker, mother, and teacher to entrepreneur, community leader, and writer, maybe a superhero. I'm just kidding, but in all seriousness, what is this feeling?
Is this what a mid-life crisis looks like for Moms? In a word, yes.
But what may look and feel like a midlife crisis for me, won't look the same for you. I know so many women struggling right now.
They are processing and trying to come to terms with these same feelings. My friends and I are in our late 30's and 40's, and all at different stages of motherhood. It almost feels wrong and 'early' to have a mid-life crisis.
But who am I comparing myself too? Men. It is usually men.
Midlife crisis articles, movies, tv shows, and books are almost always written for men. Typically the "midlife crisis" involves marriage or relationship issues, but also careers and personal struggle. We've all seen the movies and tv shows; you know the ones.
They are so stereotypical and cringe-worthy.
Usually, comical panic sets in as the main protagonist, a man, starts losing his hair and realizing he isn't as virile. It results in a cliche frenzy to reclaim lost youth and unearth their 'glory days.' This scenario leads to a formulaic treatment: he leaves his wife and kids, a scantily-clad younger woman enters the picture, and brightly colored cars.
But what about me, the Mom 'left behind' in that scenario?
It doesn't have to be as dramatic as running away to where ever my checking account will take me, cutting off all of my hair, or even leaving my husband.
I started by talking to my friends.
And I was so surprised that despite my brain telling me otherwise, they were experiencing the same damn thing I was! If everyone feels this way, what if instead of it being a crisis, it is a chance for something incredible?
And so I started trying to figure it out.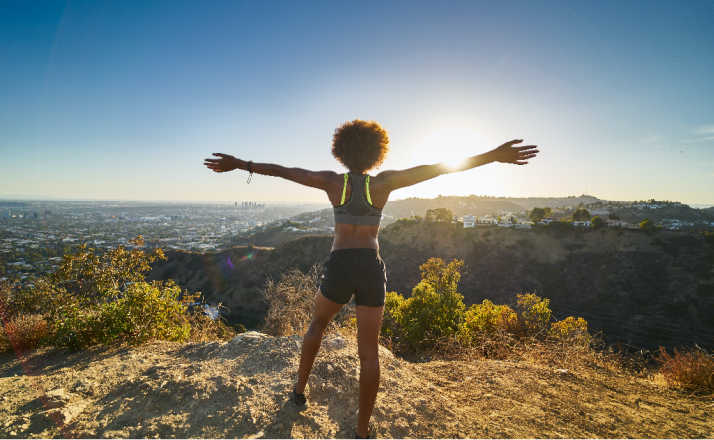 That journey began with my doctor and with the encouragement of my friends, a therapist. And you know what? I wasn't crazy!
I have had long-term chronic illnesses for nearly a decade. But with the doubts and changing view, came new physical symptoms—severe fatigue, pain in new places, hot flashes, hives, and gaining weight.
I FINALLY got a better answer than anxiety and stress.
I have two auto-immune disorders. It was real! Everything I was feeling was real. I was relieved as only someone who is already struggling with complex medical issues can be.
My next stop was to my new therapist. Then I began working on the big life questions. Who am I? What do I want to be? There have been many tears, laughs, and 'ah-ha' moments in that tiny office on a small side street office park.
That lead me to new adventures.
I found passion in giving back and helping my local community, specifically women and girls. It's what I know I want to do, my purpose. I started exercising. I learned to listen to my body (despite its brokenness) and began training for races.
And you know what? I loved it. That lead me to rekindle my love and joy of hiking.
Being outside made me feel calm and centered. I began reading again, everything and anything! And I finished books, I know! When do parents ever get to finish a book, not about monsters, green eggs, or wild things?
Then finally, I began to write with the encouragement of friends.
I've written about everything, my family, childhood, traumas survived, people I love, my health, friends, places I've traveled, volunteering, and books I've read. I felt this overwhelming feeling of being complete.
I found the thing that will allow me to reach out to even more women.
So it isn't all bad, grey, dark, and scary.
If you are experiencing what looks or feels like a midlife crisis, own it. You are not alone. Start the conversation with your doctor, a therapist, or someone in your circle. Begin your journey.
Start eating healthier, exercise, get outside in nature, get medication (if you need it), go to therapy, volunteer, read; it may help decrease these feelings.
But take the time to honor all you have been and done. The woman you were before kids while raising your kids, and now.
And when you're ready, whatever that looks like, begin again. Take the cooking class, enroll in college, write music, run the race, hike the mountain, write a book, or start a business.
This phase in your life, these feelings of being overwhelmed, unfulfilled, and lost, will begin to fade as you learn more about who you are outside of motherhood.
It is NEVER too late to begin again.