I don't know who needs to hear this, but if you're a Stay-At-Home-Mom (SAHM for short) and someone has the nerve to ask you what the hell you do all day, hit them up with this fun fact: SAHMs are so critical to the economy because of all the work they provide — for free — that if a SAHM were to invoice for what she does, it would equal $162,581.00 USD.
You can find out how much YOU are worth too.
Salary.com released an intriguing tool that allows both Stay-At-home-Moms and Work-From-Home-Moms to punch in some basic information to determine with precision just how much their domestic work is worth in their local market.
For example, I am a SAHM with one child under five-years-old and two children between the ages and 6 and 18.
I added my zip code and was shocked to find out that the median pay scale for what I do all day is in the $130K range.
"Parents hold the ultimate hybrid job at home. They're CEOs, judges, academic advisors, and so much more," Sarah Reynolds, Vice President of Marketing at Salary.com said in a blog post on the site.

"The role of Mom requires a diverse skillset that commands serious market value in the talent market, and with new demands on Mom's time arising every day, we only expect their market value to increase in the future."

For most Americans, being a SAHM parent is a luxury that many cannot afford.
Many parents, a majority of them mothers, are scrambling to find ways to make income from home and looking at their daily tasks and wondering what value they might have while chasing kids and cleaning the house.
This tool might help them frame their perspectives, especially when dusting off resumes.
"The immense dedication and work ethic of modern moms does not go unnoticed or unappreciated," Reynolds told Salary.com. "We were not at all surprised at the increased salary we calculated this year (2019), nor do we expect this pace of growth to slow over the next five years."
The tool is updated annually, and the pay ranges have been on the upswing since 2014, when the average SAHM's worth was at an all-time low of $112K since the site began keeping tabs.
After 2014, the average annual value of a SAHM's work rose sharply to an average of $178K per year.
The site doesn't just track moms, though. Dads can also calculate their domestic worth.
Interestingly, parenting might be one of the few "industries" where women are worth far more than men.
For example, when I checked out to see what my husband would make, the national average for SAHD with one kid under five and two kids between 6 and 18 was sad $68K compared to the estimate of my value of $130K.
It appears that even this financial tool recognizes that moms do more than dads.
When trying to determine why dads are calculated to be valued at less than half of a mom's worth, the list of duties attributed to each gender was breathtakingly different.
For example, moms are valued for the following jobs that fall in the category of SAHM:
Housekeeper, cook, daycare center teacher, facilities manager, computer operator, psychologist, janitor, van driver, laundry machine operator, chief executive officer, administrative assistant, bookkeeper, event planner, general maintenance worker, groundskeeper, interior designer, logistics analyst, nutritionist, plumber, and staff nurse.
However, Dads are calculated with a shorter list of jobs:
Daycare center teacher, computer operator, cook, general maintenance worker, van driver, facilities manager, chief executive officer, groundskeeper, psychologist, and laundry machine operator.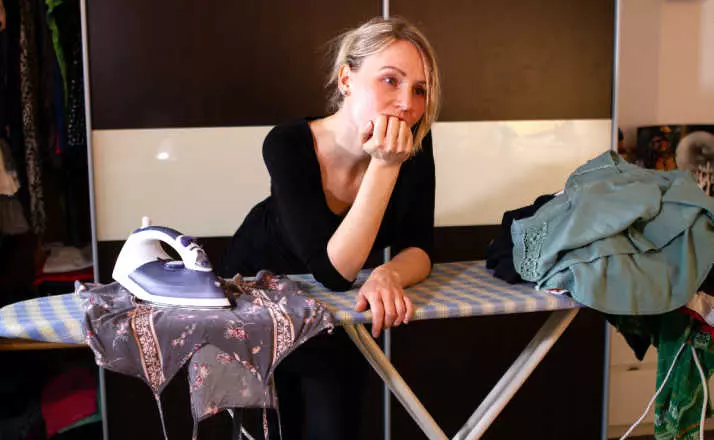 Now, imagine if that kind of paycheck showed up in your mailbox, right?
As far as I can tell, no nation on earth pays mothers or fathers to stay home and care for their children, at least not at these figures. However, if you're lucky to be in Sweden, you get some perks that come pretty damn close.
They enjoy a Family Policy that encourages gender equity, maternity care, maternity and paternity leave, and a family allowance, among other incredible state-run benefits.
As a result, poverty among kids is extremely low. The general economic, physical, and emotional health of families in Sweden is the most well-protected and healthy globally.
To see what your annual pay would look like based on how many kids you have and where you live, check out the SAHM calculator tool here.