If I have learned one lesson while living through a pandemic it would be how few things in life truly require my focus or energy. The list of things that are allowed to take up space in my exhausted mom brain continues to shrink.
Currently, on the very top of that list, are any concerns about my children's academic achievements. In that department I have literally no f@#$s to give.
Neither should you.
Back in March, the last day before our Spring break to be exact, our lives, and the lives of our children, came to a screeching halt.
My husband and I had both booked our holidays for the spring break and we had so many fun things planned for the kids. The usual sightseeing day trips, a dinner and visit planned with family we hadn't seen in nearly a year and even an overnight stay at a waterpark hotel.
We were excited and the kids were so excited.
They would stand in front of our big wall calendar, point at the days and list off the activities we had planned.
In a matter of twenty four hours, it was all cancelled.
Our children were heartbroken and looking to us for answers we simply didn't have.
Then school. Then sports, music lessons and any activities children were involved in. Gone. Friends, grandparents, cousins, any semblance of "normal" life, gone.
We started teaching them not to hug neighbors they would typically run to with arms open wide.
We had to find ways to teach them about a virus that none of us understood, without terrifying them, but seriously. How could they not feel our fear as we smiled and tried to convince them that this wasn't forever? Just for a little while….
A month is quite literally forever for a child. It's been nearly eight.
In those early weeks my husband and I would look at each other in shock over what was happening. Businesses were being told to shut down one after the other and suddenly we were worried sick that we may find ourselves without jobs.
A family already living pay check to pay check, with no savings, no investments and for the first time in our lives worried we may not find toilet paper.
The freaking toilet paper.
And of course we tried to shield our children from these worries, but we share one home. Our worries hung in the air like a thick fog. There is no way our children didn't see it.
When September rolled around and school was being offered again, even that had changed completely.
Children were still at home, talking to their teachers and classmates on a computer screen rather than sharing ideas and laughs in a classroom together.
Other children, like ours, have returned to the classroom to find arrows on the floor, a long list of rules, no library, no sports, no hugs, and no option to move freely around the classroom or the playground and smiles hidden by masks.
Is it necessary? Yes. Is it the twilight zone? Also yes.
After seven months of being home, and able to get up and move around whenever they wanted, they were stuck at desks, wearing masks, all day.
Are children resilient? Yes.
Have children been amazing to adapt and accept this new world we are living in? Absolutely. But they have also had far more taken away from them than any adult I know.
The world has changed for them more than anyone else.
Last week our eight year old started having panic attacks. He would tell us it was "too much pressure." When we asked what he meant he referred to the sitting all day and the writing. After so many months of spending his days running around our yard, he was feeling trapped.
I requested a zoom meeting with his teacher and she was wonderful.
She talked about how hard it was for all of the children to suddenly be expected to sit in one spot for such long periods. I could see how hard she was working to try and keep things fun and keep the kids engaged.
She mentioned that on our son's report card we might notice comments about his writing and how it was taking him a long time to get his thoughts down.
She started to apologize and I stopped her.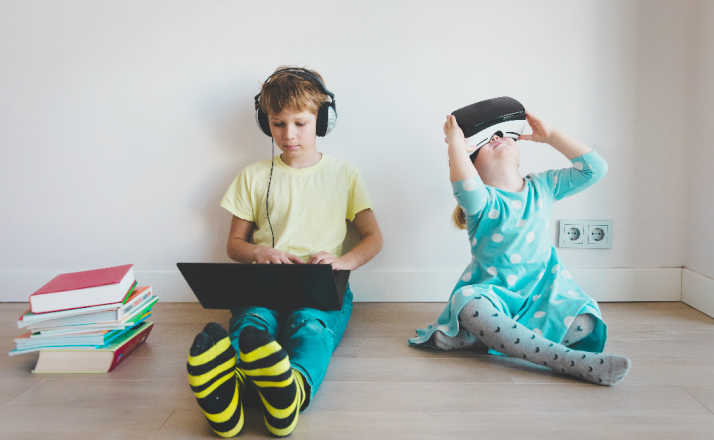 I explained that at the end of this school year, the only thing we cared about was our son's mental health.
We wanted him to feel safe, confident and happy. The academics could wait.
A huge smile spread across her face and she said she was so glad that we were all on the same page.
Our children have lost enough. They deserve a chance to enjoy other children, and people, and learning, without the added stress or pressure of us worrying about reading levels and math tests.
What are we so worried about?
That they will fall behind? Fall behind who? The other children living through a pandemic?
The children with no internet access at home who have no connection to the classroom at all when schools shut down?
Maybe the children living in homes where there are several siblings and one computer available.
Will they fall behind them?
If there was ever a time to let go of our need to push our children to achieve at school, it's now.
Now is the time to each them that their mental health is the most important tool they have in life. Now is the time to praise them for their resilience and their courage while the world continues to change around them at rapid speed.
Now is the time to realize that their report cards only tell part of their story, and at this moment in time, it's not the important part.
Now is the time to decide we have no f@#$s to give, other than making sure they feel good about themselves. Because their brains are pretty exhausted as well.