He felt safe behind the closed door of the night to open up his heart.
After a long day of parenting, some of my favorite moments come on the slow walk to bed. The soft, quiet moments are shared when the world is shut out with closed doors.
Bedtime routines have changed over time as the children have grown.
Starting with small baby cuddles swaddled in new parent unconditional love.
Then to bedtime stories and soft lullabies in the dark. When our children are still small enough to hold, in footy pajamas, tiny heads snuggled into the crook of my neck.
I still have a little time left here with my daughter Nora who has let me know she no longer wants me to sing as I hold her over this week. As I have started signing, she will kick her feet and make cute grunting noises until I stop.
Our time here is fading.
She will grow to independent wants as we move her from her crib to a toddler bed.
I am already longing for it to last a little bit longer.
Nixon is long past this stage. He now chooses books he wants us to read and makes it clear that he would like all four blankets to sleep. I have caught myself many nights looking at him, pushing out the worry of the day's events.
He has opened up to me many times in the quiet of the night.
One night he was sitting close to me as we read his favorite book for the 100th time.
He laid his head on my shoulder and listened to the words.
He turned and looked me in the face. As the character asked his friends to talk, he quietly said, "I can't." I looked at him back and said, "it ok honey, you're still learning." We finished the book, and as I closed the door to his day, my heart ached.
The grief I felt for him for his longing for language. That he had in his way made it clear to me that he understood he couldn't talk.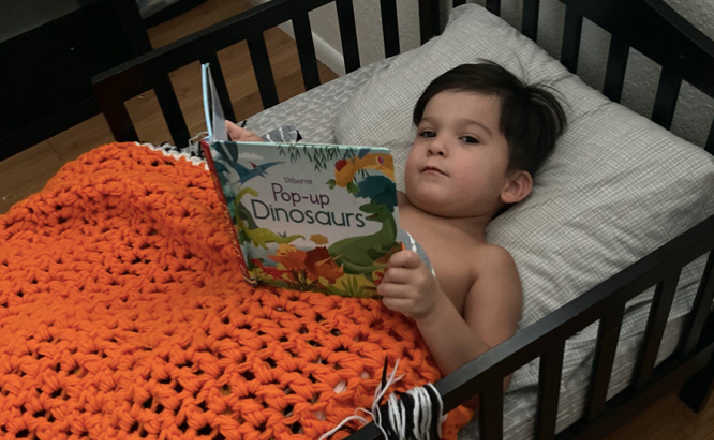 He felt safe behind the closed door of the night to open up his heart.
A few weeks after his fourth birthday, he got into a new routine of three long hugs in the dark over whispers.
He would hold my neck as I bent down to hug him. On some nights whispering in my ear, other times twirling his fingers in my hair. Sometimes just echoing what I was saying to him.
I bent down as he hugged me one night, and he quietly said, "Mom, I love you."
The first time I heard those words.
Four years waiting, I knew he loved me through our nonverbal conversations, through quick looks and hugs in the dark.
But when those four words hung in the air, I got a gift.
Like a candle being lit in the dark. The tears streamed down my face as I left the room.
The grief shifted, it changed, to profound, pure, beautiful four little word sentence. I didn't know how much of that grief I was holding.
His grief, my grief, our grief, the weight of it all became still in that dark room.
I have sat in grief, letting it carry me through my day. I have worked hard to walk through it and look closely at the wins.
I have nodded my head as others talk about the grief they have felt.
I know there will be more grief. I also know there will be a celebration on the other side of the suffering. I will wait and watch for it to shift for it to change.
In this short motherhood journey, I have learned that he will always teach me it is not all grief.
That sometimes, I have to close the door on that grief and walk into those four little words.
That if I linger in the quiet hugs in the dark, there might be light on the other side.
This post originally appeared on Peace of Autism