As a plus-size woman, I don't particularly enjoy clothes shopping- especially for leggings.
My problem is that my thighs can chafe their way through just about any garment, leaving me with threadbare and hole-y leggings after an alarmingly short period of time.
So, when I read an Amazon review from another plus-size person for a pair of leggings that clearly demonstrated just how durable her purchase turned out to be, I was sold. And it's relatable as fuck.
This post contains Amazon affiliate links. If you click on a link, Filter Free Parents may receive a commission. See our full disclosure policy here.
In an Amazon review that has exploded on social media and garnered more than 10,000 reactions, Veronica Ramirez has captivated the world with her, well, unique experience testing out her new leggings. (Note: the review was posted by Veronica under her fiance's name, Cory H.)
Veronica took her new leggings out for a hike, & things went downhill… literally.
She -& the leggings, of course- slid down the side of a mountain. No, seriously.
And just in case the mental image isn't already funny enough, here's an actual image: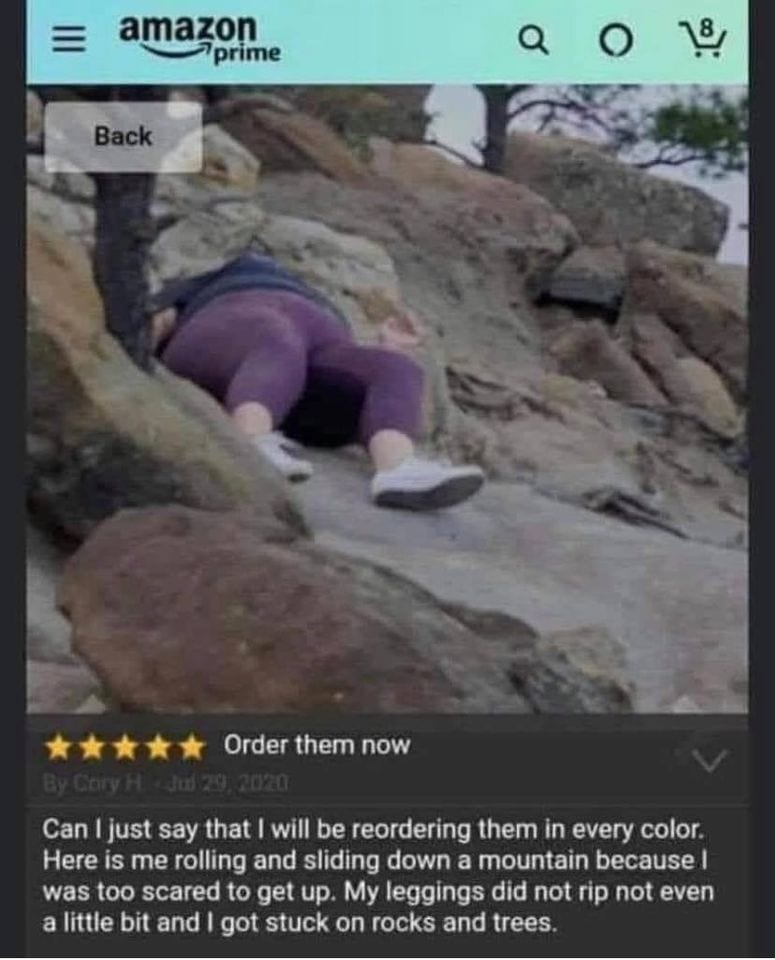 "Can I just say that I will be reordering them in every color," she wrote. Makes sense- green leggings would pair beautifully with the trees Veronica is apparently getting stuck in on her way down.
"Here is me rolling and sliding down a mountain because I was too scared to get up.

My leggings did not rip not even a little bit and I got stuck on rocks and trees," the review reads.
She.got.stuck.on.rocks.and.trees. I already have so many questions, but one thing I'm not questioning is the outstanding quality of these durable leggings!
If a mountain can't rip a hole in these pants, then my thighs might have a great chance of not eating through the seams. Take all my money, Raypose leggings.
In case you didn't take Veronica at her word about her rock & rolling, she's got photographic proof.
The best part of her leggings review is the hilarious images of shimmying her ass down the steep side of a mountain.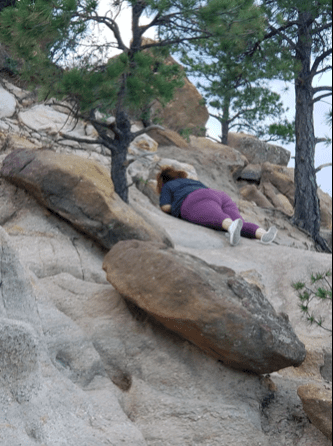 Granted, at first glance we're tempted to dwell less on the leggings, and more on who is watching Veronica slide down the side of a mountain & documenting it through pics INSTEAD OF HELPING HER??
Now, I've never fallen down a mountain –yet, anyway- but my body is…well…very large and round, and I can totally see myself rolling down this incline.
I feel your pain, Veronica. And love your leggings.
People genuinely loved her review– more than 10K found it helpful and hysterical. Veronica's review has become one of the best spontaneous ad campaigns that the Raypose legging company could ever have hoped for.
More than 50 people responded with their own comments, including Raypose.
Reviewer Bai wrote,
"Seriously this is the best review ever! she deserves a lifetime supply of these tights and should be brand ambassador!!" and we hard agree.
Although Raypose was obviously thrilled with the overwhelming response to their leggings, they wanted to ensure that their "product spokesperson" had actually survived her mountain-side slip & slide.
They reached out to her in a public plea, hoping that "Cory's" (Veronica's) body had held up as well as the leggings did:
"Dear Cory, Thank you for your brave and lovely review! We can't send you a private message, could you please contact us so that we can know you are ok?–Raypose service team."
I'm thinking Veronica should get a lifetime supply of Raypose leggings for all the free advertising her free-falling brought in!)
Reviewer CTN wrote,
"I was kind of having a bad day and then I read your review. This is the best review ever. SO relatable. Thank you for your honesty and the pictures.

And I am glad to hear you are safe and sound down from the mountain (at least safe enough to post a review!)"
Clearly these are not your everyday
leggings!
According to their description, these have everything a busy person wants in a pair of yoga pants.
They are Capri style stretch pants with tummy control and a high waist. Sounds good, no??
But also, they have pockets.
(Yes. Pockets!)
And apparently, not even a mountain can take these leggings down (unlike Veronica, who went down, FAST.) They are listed at an affordable price of $21.99, & come in a variety of colors.
So whether you're spending your afternoon lounging on your couch or using your ass as a luge down a steep hill, Raypose leggings are the way to go- just ask Veronica, who REALLY tested these bad boys out, and lived to tell the tale (and to share it on Amazon).