Inside I'm a nervous wreck.
I have no idea who the teachers are, how the school day is going to go, and how much work we, the parents, will have to put in.
The laptop situation is in disarray, and I've never been so disorganized heading into a school year in my life. (The Virgo perfectionist in me isn't happy.)
I haven't had a break from people in the house since March, and never get to exhale and feel that relief.
You know…that feeling when the kids are at school and the silence in your house is deliciously deafening? (Gosh I miss that. Sigh.)
But despite my many
fears and anxiety
, I am faking it friends. I am choosing to think as positive as possible and be as enthusiastic as I can for our girls.
Somehow, we've created this little space shoved between our bar cart and hand-me-down curio cabinet, and filled it with their own cubbies, faux metal lockers bins, & a place to charge devices and store their papers.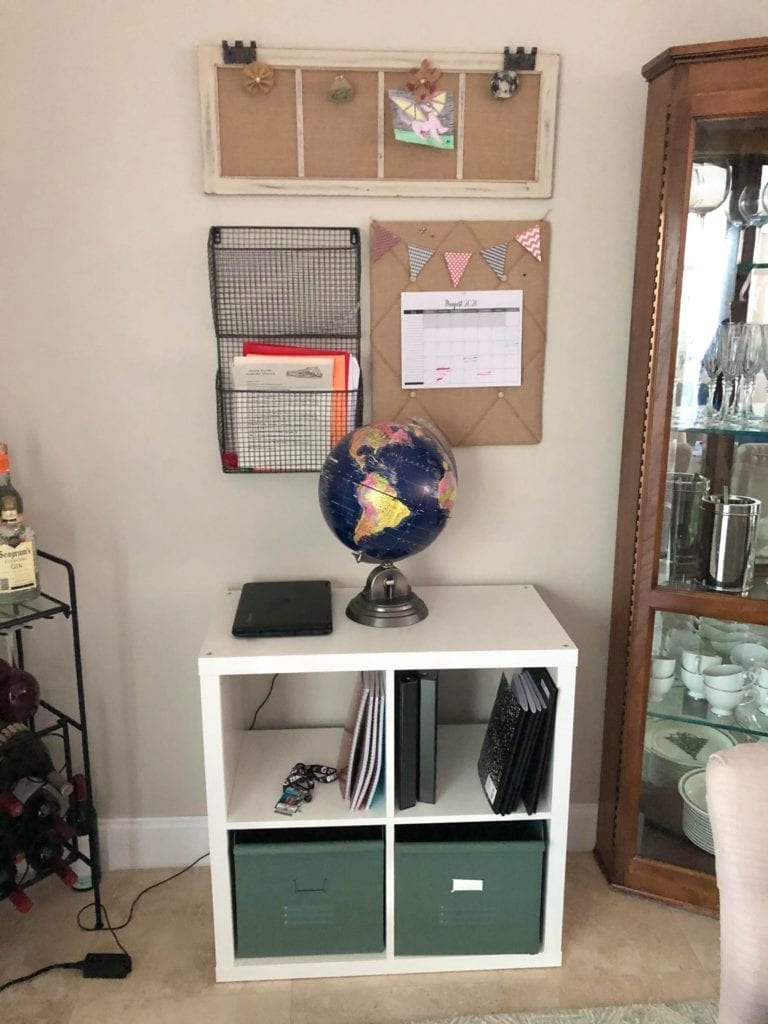 We picked out glittery notebooks and composition tablets, mechanical pencils and a new calculator, and stocked up on the rest of the
school supplies
.
And we even went to Old Navy to grab some new "school" clothes aka a few clearance tees and shorts, to make it feel as back-to-school as possible.
I will print out
first day of school
signs, take obligatory pics, and make them homemade pancakes with sprinkles to mark the special first day of virtual school.
And I will act as if this the most awesome thing in the world, because they need that.
They need to see our smiling faces for reassurance.
They need to feel their new normal. To have a routine again. To have after school zoom activities or a fitness class in the park socially distanced.
They need to talk to teachers on the computer and chat with friends again.
They need their brains challenged a bit and to learn that life happens and we adjust and roll with it.
And they need to see us adjusting right along with them.
Am I excited that we are still stuck in this place of the unknown with no date of things feeling semi-normal again? Nope.
But I AM excited that they are about to start a new adventure, and feel like they have a purpose other than playing Roblox.
I'm grateful that the schools have found a way to give us live instruction, and that we are all getting back into a schedule. It's not perfect, there will be hurdles, but just like everything life throws at us, we'll get through it.
One deep breath and a bag of chips at a time.