Welcome back to our Ladies Only Blog Share Link Party! Did you know that March is Women's History Month? Yep! The Library of Congress, National Archives and Records Administration, National Endowment for the Humanities, National Gallery of Art, National Park Service, Smithsonian Institution, and United States Holocaust Memorial Museum join in paying tribute to the generations of women whose commitment to nature and the planet have proved invaluable to society.
When I think about the women who have in some way made a difference in my life, I of course think of my grandmother, mother, and sister. From a historical perspective, Virginia Woolf, Katharine Hepburn, and Harriet Beecher Stowe always come to mind. Here at LOBS we're joining this wonderful celebration by paying tribute to all the amazing and influential women who have touched our lives. Please link up your posts – old or new – which in some way honor, recognize, or nurture women and mothers. It's a Celebration of Women!
Once again, here are my talented and dedicated co-hosts:




This week we are also welcoming back a very special co-host, Amber from City Girl on Hicks Farm and a guest co-host, Heidi from Heidi's Wanderings! Please make sure to bookmark or RSS feed their blogs and visit them on Facebook, Twitter and so on. They faithfully return the favor!
Bling Out Your Sidebar! Grab Our Button!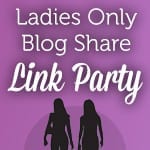 Let's get started! Have fun and visit the links below. We ask that you try to visit at least three. Remember to leave a thoughtful comment on the new blogs you've discovered and let them know you're visiting from the Ladies Only Blog Share Link Party! Feel free to pin your blog post to the Ladies Only Blog Share Pinterest board, too! In the URL field, place the link to your post. The name field should contain the title of your post. And if you'd like to co-host a future link party, give me a shout at mommifried @ gmail.com (no spaces).
Use the hashtag #LOBS when tweeting!