Welcome back to our Ladies Only Blog Share Link Party! Spring is in full fling, although you wouldn't know that here in Maine. We're still covered in the fluffy white stuff. And it's cold…burrrr! Regardless, we all know that warmer weather, the sound of birds chirping, and the first peek of tulips are just around the corner. So we're celebrating here at LOBS with our first ever Spring Fling-a-Link! Feel free to link up anything that radiates spring, warmth, yummy goodness, and more. Happy spring everyone!
A special message:
Have you heard? The authors of The Mother of All Meltdowns (including me!) are gearing up for a HUGE No Mother is Perfect…But Every Mother Is Unique Mother's Day extravaganza! We're kicking off our second blog tour and giving away some amazing prizes (a stay at a top destination spa anyone?)! We're still in need of tour hosts. If interested, please give me a shout. You'll get a permanent link on our new community site (homepage!) and receive a ton of love via our 200k strong social media channels! We'd love to have you on board!
Now onto the party…
Once again, here are my talented and dedicated co-hosts:




This week we are also welcoming back a very special co-host, Amber from City Girl on Hicks Farm. Please make sure to bookmark or RSS feed their blogs and visit them on Facebook, Twitter and so on. They faithfully return the favor!
Bling Out Your Sidebar! Grab Our Button!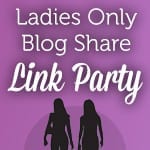 Let's get started! Have fun and visit the links below. We ask that you try to visit at least three. Remember to leave a thoughtful comment on the new blogs you've discovered and let them know you're visiting from the Ladies Only Blog Share Link Party! Feel free to pin your blog post to the Ladies Only Blog Share Pinterest board, too! In the URL field, place the link to your post. The name field should contain the title of your post. And if you'd like to co-host a future link party, give me a shout at mommifried @ gmail.com (no spaces).
Use the hashtag #LOBS when tweeting!