Welcome to our bi-weekly Ladies Only Blog Share link party, where the most awesome bloggers on the planet link up and share posts! Our theme this week is Back to School RULES! Interpret that however you wish <snicker snicker>! Back to school is in full force around many parts of the country. Some parents are eager to see their kiddos return to the educational gardens, while others (like me) get a little teary eyed. I love having my kids around 24/7!
Either way, they're going back and we might as well make them feel comfortable and happy. That's why we decided to dedicate this week to all things education. We encourage you to link up your favorite back-to-school stories, shopping tips and giveaways, ideas for school lunches and anything else that might put a smile on a student or parent's face. Have fun! Once again, here are my talented and dedicated co-hosts:




We also have a special guest co-host this week. Say hello to Kelly from Hoppy Bottoms! Please make sure to bookmark or RSS feed their blogs and visit them on Facebook, Twitter and so on. They faithfully return the favor! In addition to the link share, three really cool bloggers are also being featured. This week they are (in no particular order):
Life With the Crust Off – One of my newer favorite blogs, Life With the Crust Off, is the REAL take on the REAL life of being a mom. Leaving out the fluff and fairy tales, Parrish tells it like it is. Being a mom, a wife, a person is hard work and there is no such thing as perfection. That's why her blog is a place for all moms to go. And I encourage you to do just that.
BrownThumbMama – As the intro says, "BrownThumbMama gives you tips and tools for green, thrifty living along with recipes, a dash of gardening, and lots of humor." One of my favorite recent posts is Squeezing your budget (when it's already begging for mercy), as it gave me a bit of inspiration to rethink our spending habits in light of my recent fall to unemployment. Be sure to stop by and show this thrifty mama some love!
One TIPsy Chick – For the longest time, I thought this was one chick enjoying a little too much wine! Durrr. TIPsy as in tips, helpful hints, and I really need to dig the cobwebs out of my brain. One TIPsy Chick is FILLED to the brim with all sorts of great ideas and advice on everything from beauty and health and fitness to cooking and more. Grab a glass of wine, head on over and get a little TIPsy!
Bling Out Your Sidebar! Grab Our Button!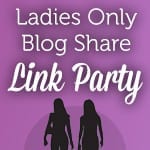 Let's get started! Have fun and visit the links below. We ask that you try to visit at least three. Remember to leave a thoughtful comment on the new blogs you've discovered and let them know you're visiting from the Ladies Only Blog Share Link Party! Feel free to pin your blog post to the Ladies Only Blog Share Pinterest board, too! In the URL field, place the link to your post. The name field should contain the title of your post. And if you'd like to co-host a future link party, give me a shout at mommifried @ gmail.com (no spaces).
Use the hashtag #LOBS when tweeting!