My parents used to have an old converted van. A giant blue monstrosity, the van was complete with a lay-down couch and a CB. (If you don't know what a CB is: it's a way for people to communicate with friends and strangers. Kind of like the internet.)
At the time, my mom owned a blue t-shirt with a cartoon of two pairs of feet sticking out of the back of the van with the caption "Do it in a van" and I had no idea what that meant.
Sleep? Camp out? Do WHAT in a van, Mom?
The big van was replaced by a sleek, bullet-shaped Caravan.
Even now, lots of people pretend to hate the minivan, but guess what? These family haulers are better than ever. While SUVs and trucks are the kings of the road right now and will probably continue to trend upward, you can't beat the multi-generational usefulness of a minivan.
Oh, the old minivan gets a lot of grief, but the truth is that it's a stealth luxury ride.
Minivans are the Inspector Gadgets of invention, the MacGyvers of necessity, and the Swiss Army Knives of functionality.
Today's swagger wagons offer the sliding side doors we know and love, driver assist features aplenty, and much more. Depending on the trim level and brand you choose, you can get a minivan that can take on the snow, ice, rain, and all the Cheerios you can stuff inside.
Three things you may not know about the mighty minivan:
1. It's a great vehicle not just for you to drive, but for your kids to clamber into the back row and your parents to easily slide into the captain's chairs.
SUVs are built to be higher off the ground, so your parents and grandparents find them more difficult to enter and exit. Sedans, on the other hand, may sit too low for the 60+ crowd and getting up and out is not as easy. Minivans are squarely in the center, just like most parents are as the middle of the sandwich generation.
2. Minivans are a DIY and home improvement fan's dream come true.
The whole interior is generally designed to lay flat, which means that you can transform your passenger van into a cargo van. Planks for your deck? Slide 'em in. Paint, plants, patio furniture, and more; the minivan can take it.
3. They're road-trip ready.
The driver's seat of a minivan is upright, which means that you have good visibility of the road and of your passengers. Each brand offers different amenities, but you can be sure that a minivan includes a ton of cup holders, storage space, and USB ports.
And the windows are big enough to play the old-fashioned road trip games like license plate bingo.
Maybe you're not convinced yet, but you're van curious. These three minivans might seal the deal:
2021 TOYOTA SIENNA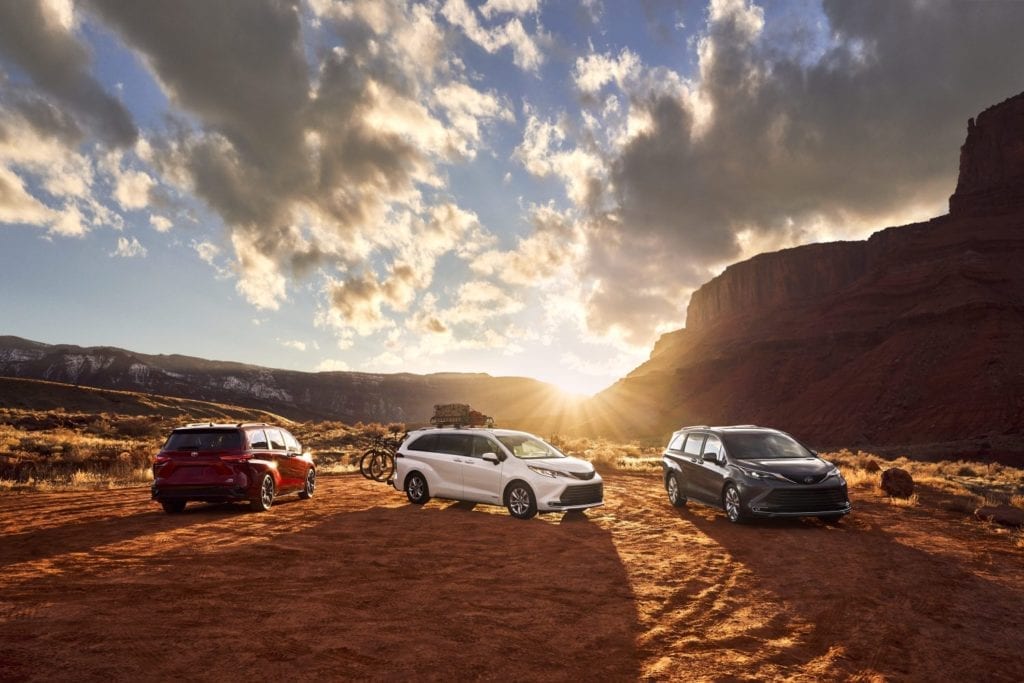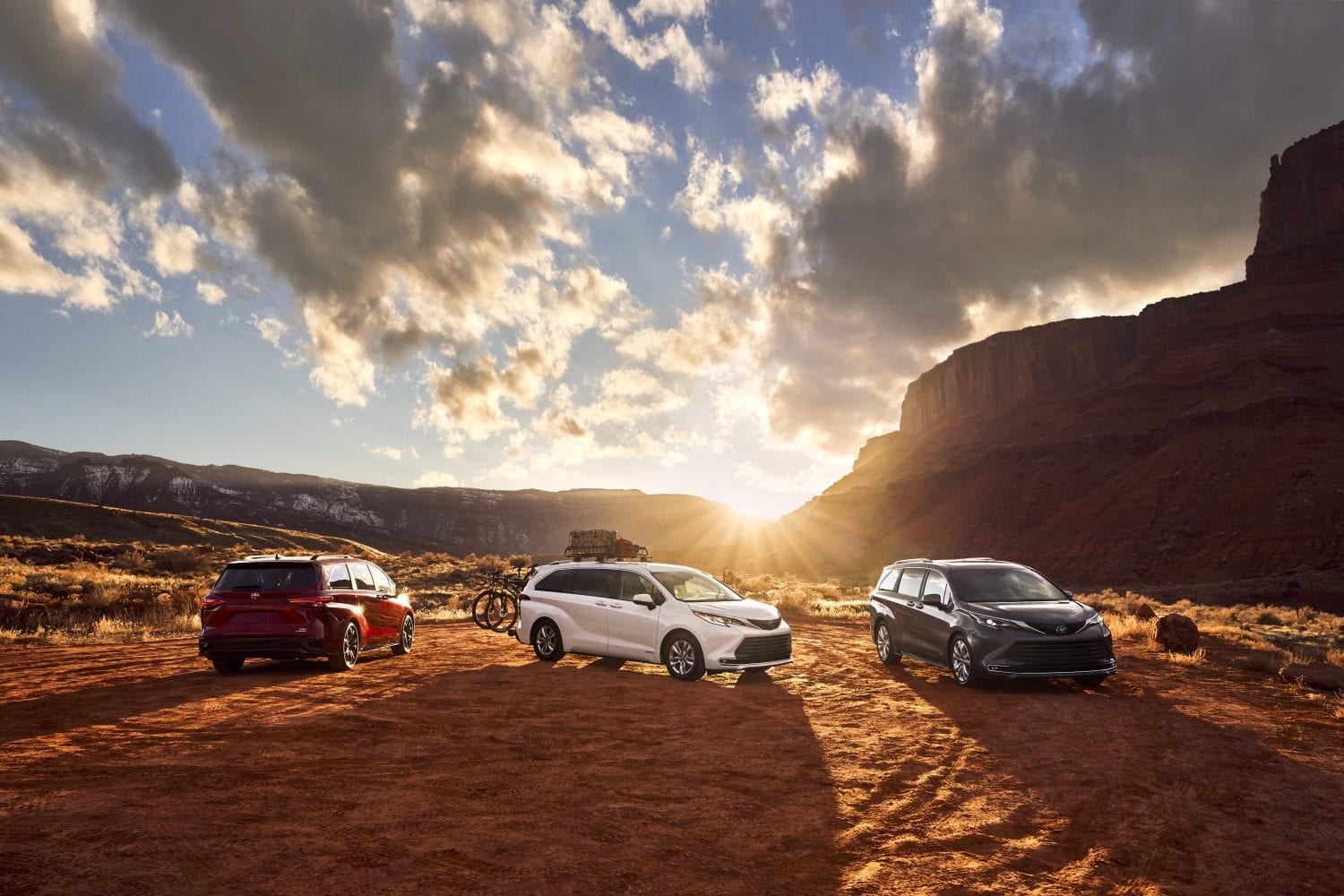 Toyota launched its minivan back in 1997 and not only built it on an extended version of a Camry chassis, the company riding the wave of its sedan's exploding popularity by calling it the "Camry of minivans." Over the years, the Sienna has evolved and continued to improve, but the 2021 takes the cake.
Let's be shallow and talk about the Sienna's looks, first. To start, the front-end design was inspired by the Japanese Bullet Train and the wraparound headlamps give it a sleek and elegant quality. Its beauty is not only skin deep, however; the platform is built for comfort and every Sienna includes as standard Toyota's Safety Sense 2.0 package. That means you don't have to pay extra for safety, and that's the way I think it should be.
What sets the new Sienna apart are three things: one, it is a full-time hybrid with an all-wheel drive option, which is unique. Two, the dual sliding doors can be opened with a quick kick to the space under the minivan. And three, a built-in vacuum and small refrigerator compartment are standard on the Platinum trim.
Verdict: Looking at a Sienna? With an estimated 33 MPG and the hybrid powertrain, the 2021 is exciting.
2021 CHRYSLER PACIFICA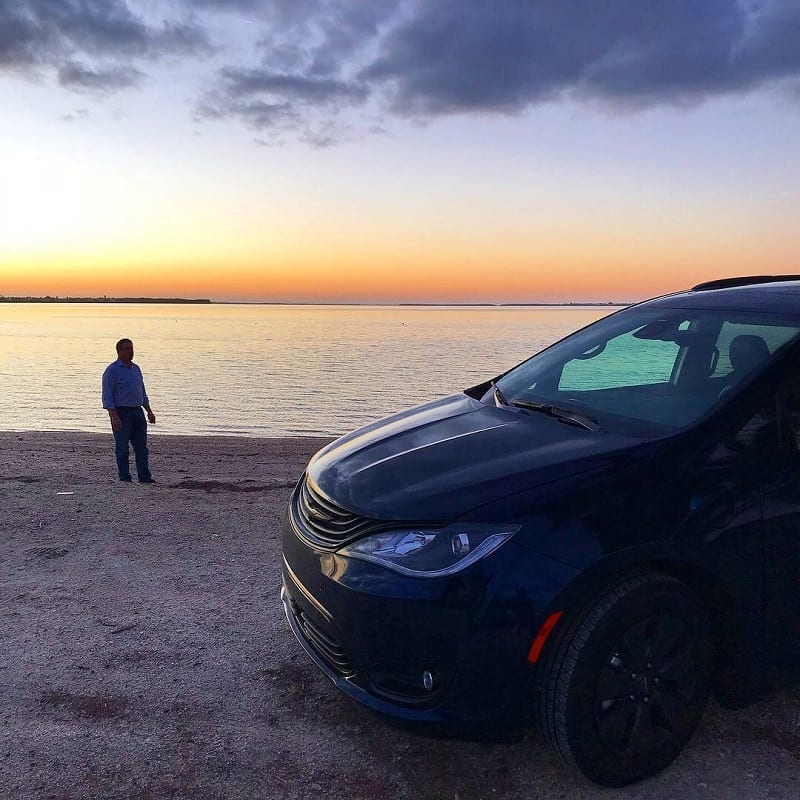 At the Chicago Auto Show, which was in February before nationwide quarantines started to roll out, Chrysler launched its new all-wheel-drive minivan in a kitschy giant snow globe to represent the Pacifica's capability on the road. The newest Pacifica is redesigned for more style inside and out, and it's both sleek and sporty.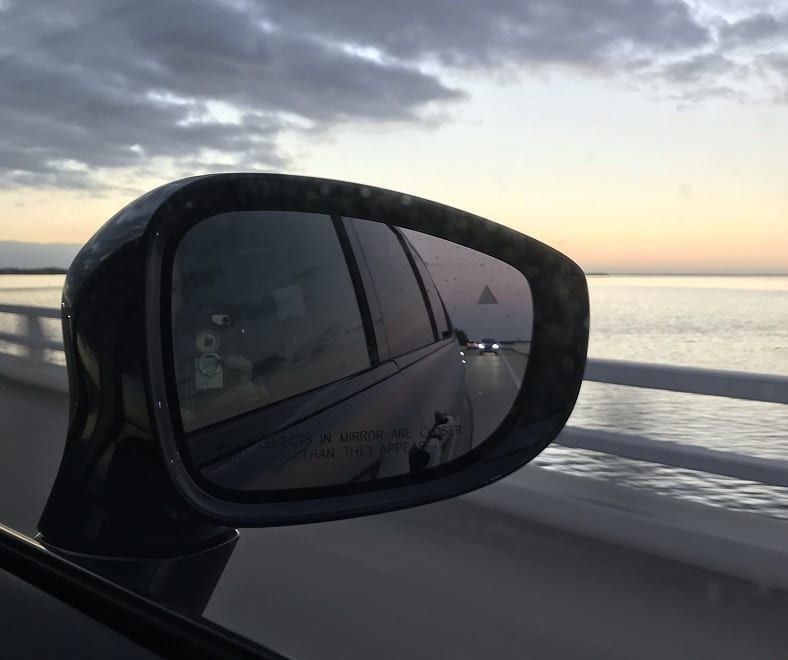 Chrysler's FamCAM, a video system that allows the driver or front passenger to monitor second-row passengers, offers piece of mind to see your rear-facing baby seat too. And you'll love the new infotainment system, underpinned by Fiat Chrysler's updated UConnect 5 system. It includes Android Auto and Apple CarPlay and two mobile devices can be connected to Bluetooth at one time.
The whole system is techy enough to please someone who wants to delve deeply into the intricacies of it and intuitive enough for anyone to use it.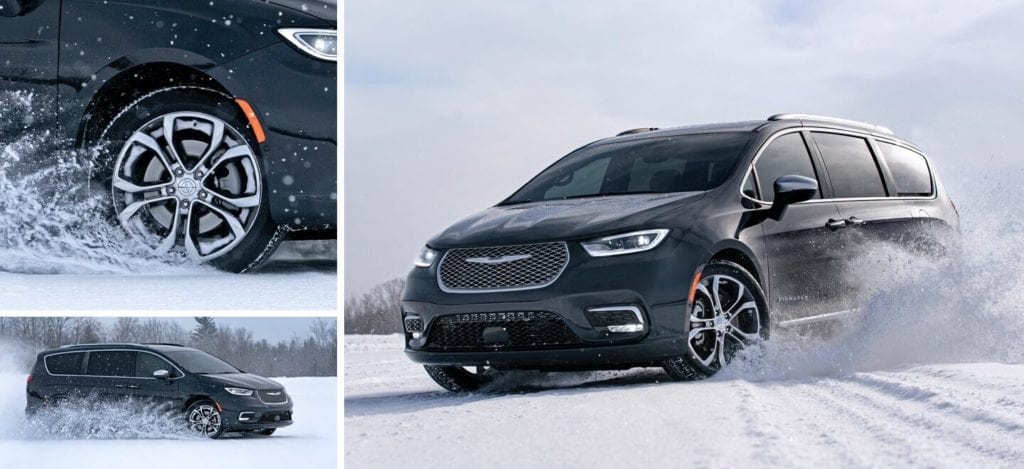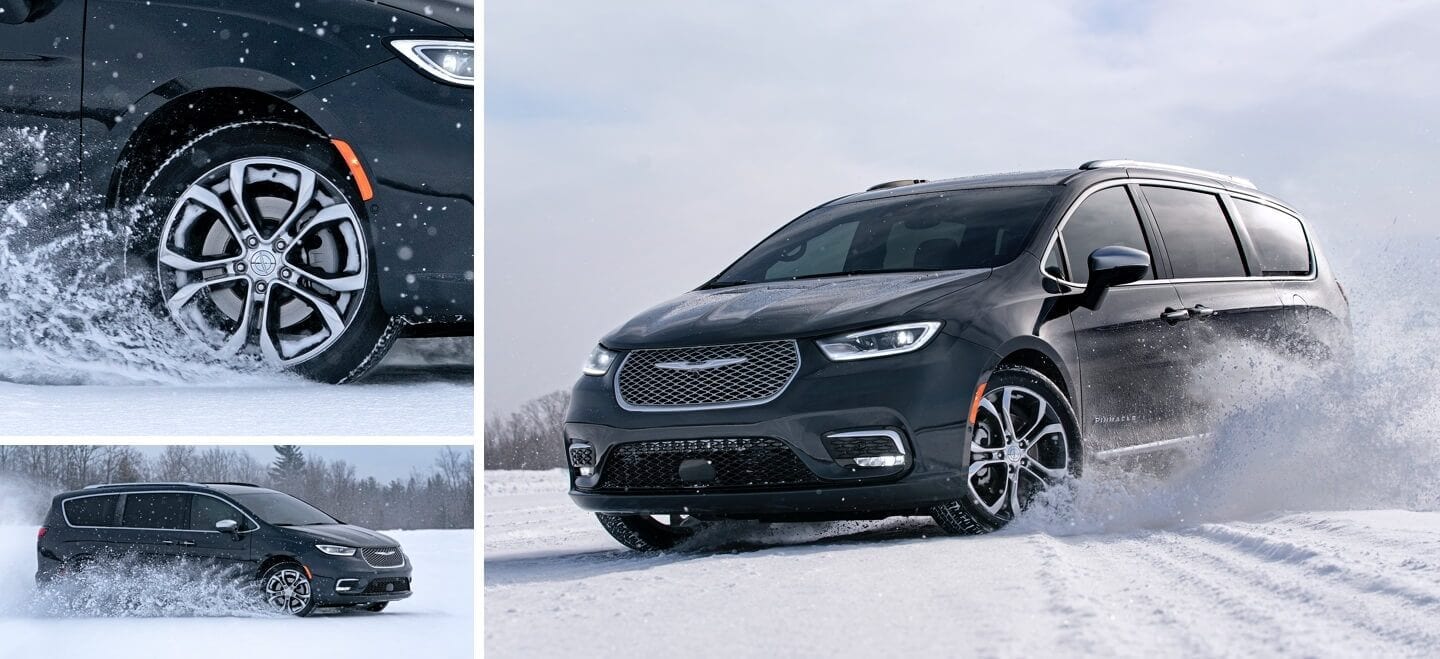 Verdict: Have your eye on a Pacifica? The 2021 is worth waiting for just for the UConnect 5 system alone.
2021 HONDA ODYSSEY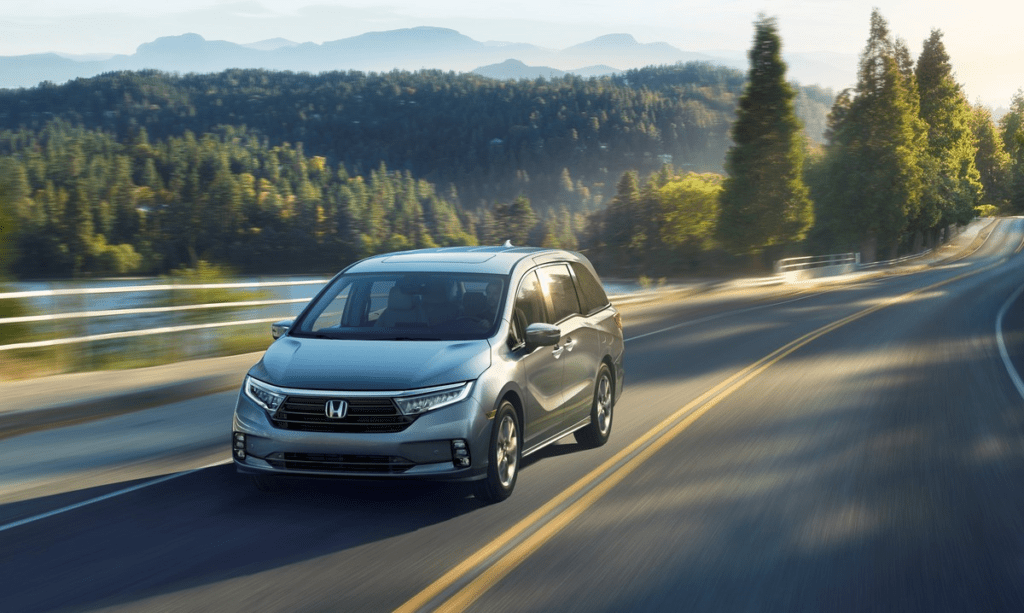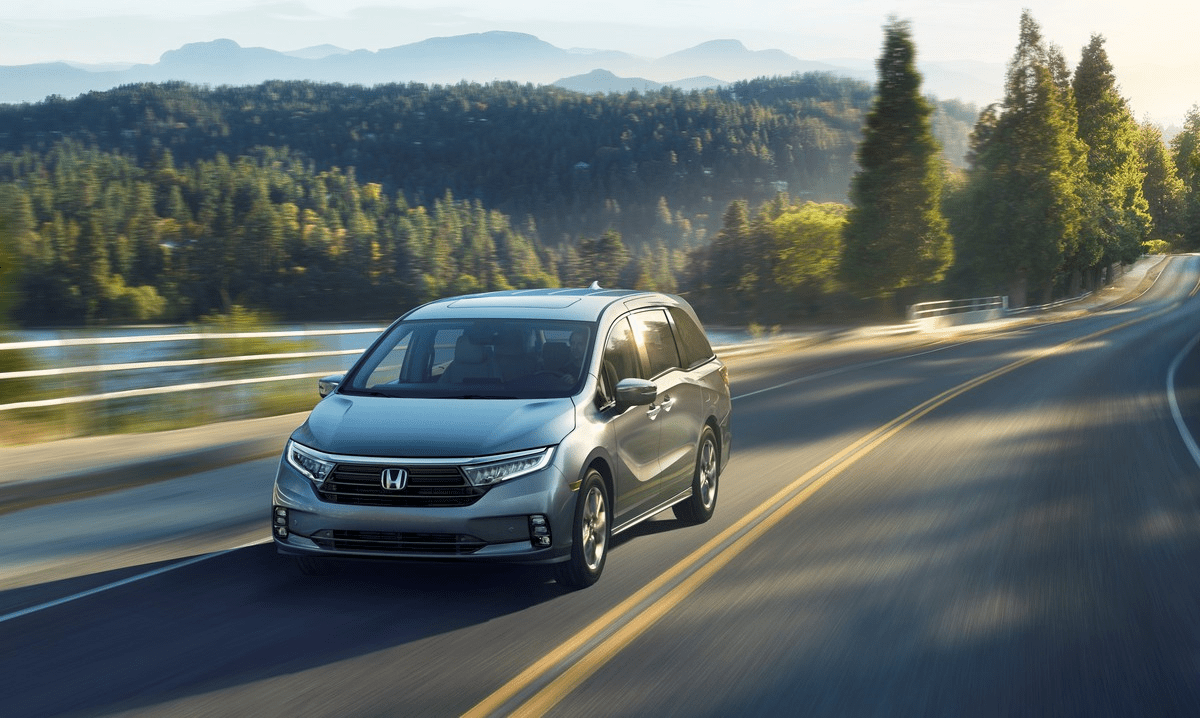 My sister is a few years in on her second Odyssey, the first one surpassing ten years in the family. They go and go and go. For model year 2021, the Odyssey includes the entire Honda Sensing suite of safety features even on the base model, which is important.
Optional features include a night-vision interior camera (which helps you zoom in to see your little passengers better in the dark); CabinTalk, which is a microphone to project your voice to the back and vice versa; and a vacuum cleaner that makes cleanup a breeze.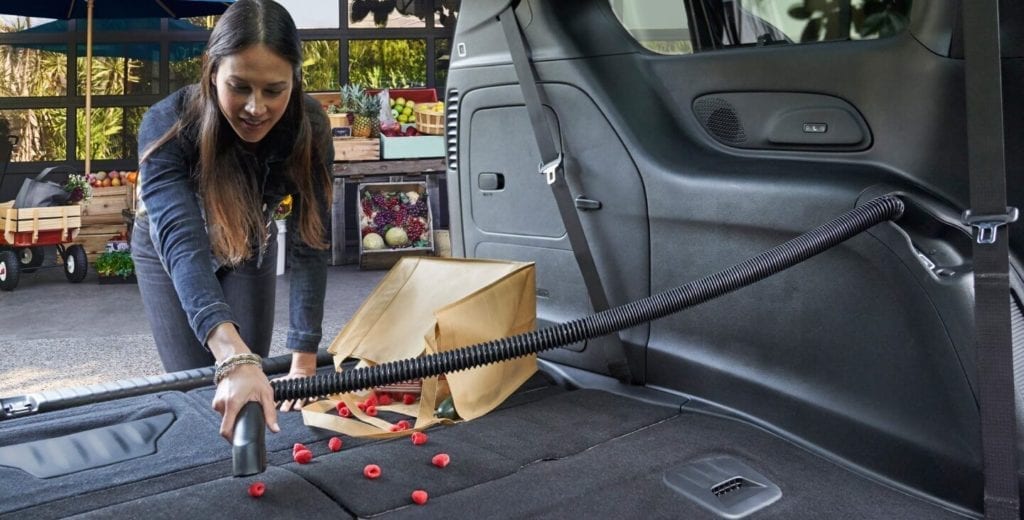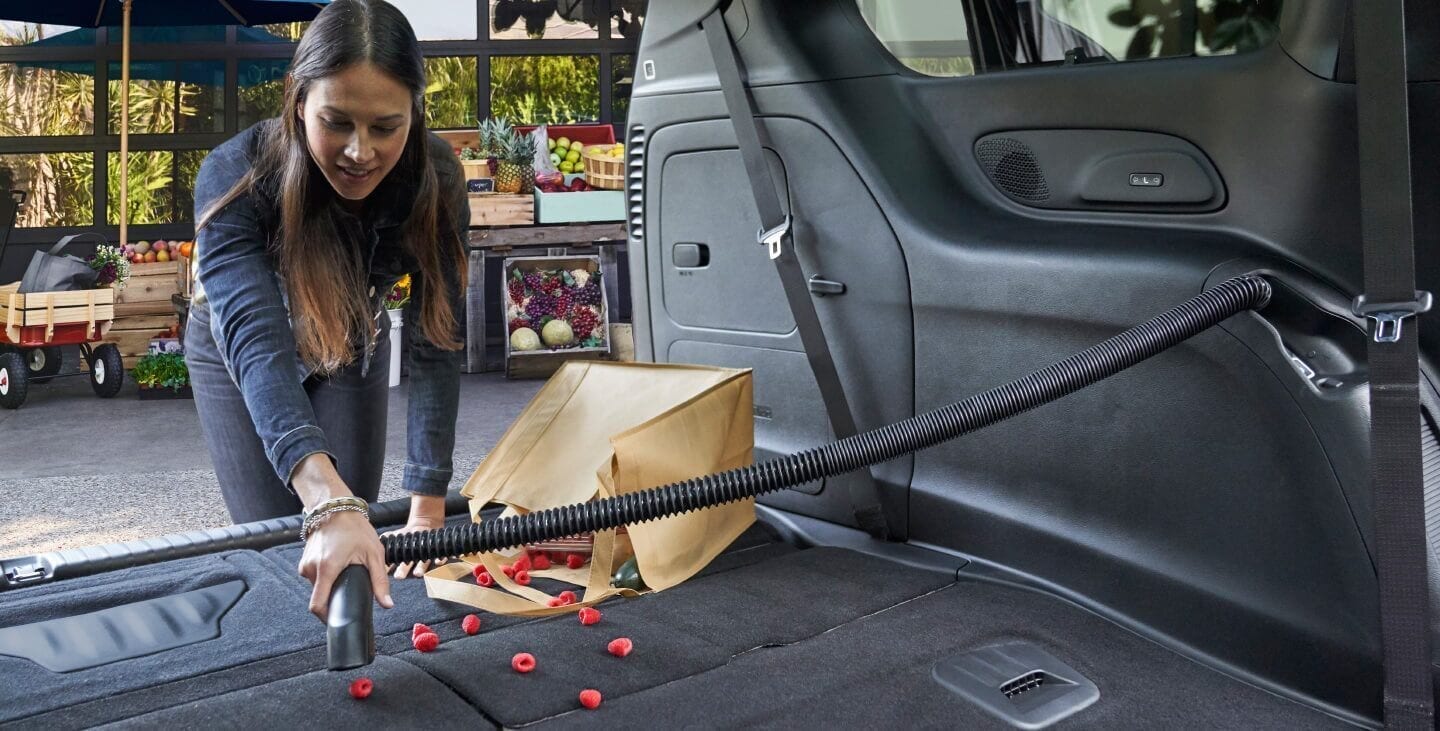 Also for 2021, the grille looks more like Honda's popular SUV, the Pilot.
Infotainment options abound on the Odyssey with available Blu-Ray and more. And, of course, you get cup holders in every row and optional add-on USB and 12V charger ports as you go up the trim line.
Verdict: If you're in the market for an Odyssey, compare prices on the 2020 and 2021 before you buy, because you're likely to get a great deal on the outgoing model year.