Have you ever found yourself lying awake at night doom scrolling through your thoughts, so you pick up your phone for a change of scenery? I swear, this is how I end up ordering half the junk that shows up on my doorstep.
A hilarious video on TikTok shows a screengrab of an Amazon review that caught the TikTok creator @greenautumn's attention.
The video has been viewed more than 2.2 million times, has 343K likes, and has 2,684 comments.
Now, we've seen some hilarious Amazon reviews before like the yoga pants and the sugar-free gummi bears, but this toothpaste cap review takes the cake.
"So, this is not a promotion for Amazon. But I was doing a little 2 AM window shopping and I came across this gem," @greenautumn says in the video as they scroll through Amazon and click on the hilarious review.
"So, as long as I can remember, those vile creatures that I conceived and gave birth to would put toothpaste everywhere but on their toothbrushes," Amazon reviewer, Exotic Birds Don't Tweet, says.
They appear to be using a video filter that superimposes eyes and mouth onto inanimate objects, and fittingly hers is on a jar of toothbrushes and toothpaste.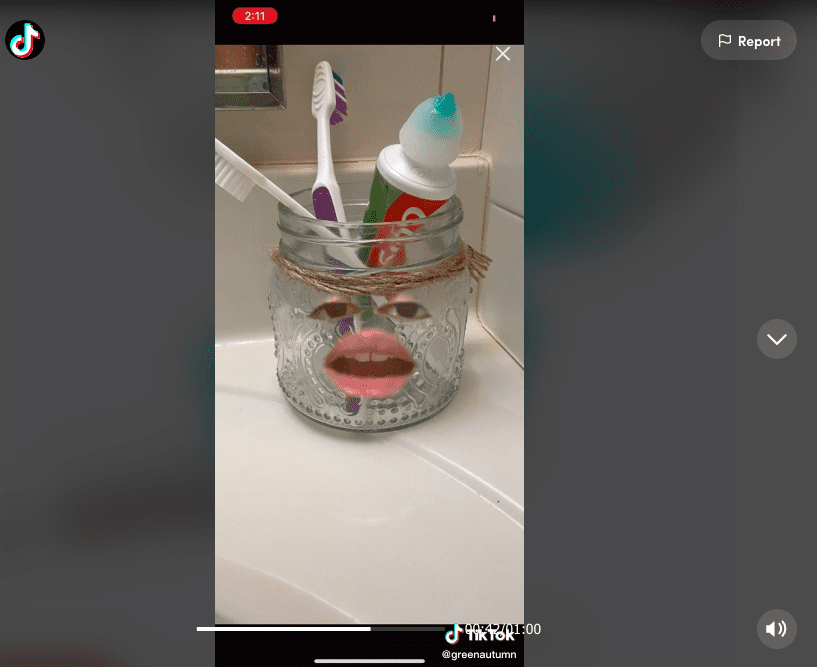 "And because I got tired of cleaning the toothpaste from everywhere but their toothbrushes, I went on Amazon and I found these little butt-plug thingy's for the toothpaste so I ordered it and it came in the mail and so I went and got the toothpaste from the creature's bathroom and I put it on and it's been almost a full week and there is no toothpaste on the sink of the creature's bathroom so I am very content with my purchase and I will be purchasing this again."
But, as always – the comments under the TikTok video are wildly funny.

SRucker wrote, "This is a tired mom and I feel that." They are not wrong, the deadpan delivery of the review is both comedically brilliant and 100% the tone of an exhausted parent.

SlickSubversive wrote what some of us are feeling after watching that review. "I suddenly want to leave reviews and buy toothpaste "buttplugs.'"

Shockingly — because this is social media, after all — no one took issue with the reviewer's hilarious use of the word "creature" to describe their children.
Ana wrote, "'the creatures whoever she is, she is golden and those creatures are lucky to have her as a mother."
So what is the product that has caused so much laughter online? It turns out it is called the Chrome Cherry SqueezeMe: 3-Pack Self-Closing Toothpaste Caps for Bathroom Hygiene for Kids and Adults.
The Amazon product description reads,
"Here is your solution to that one gross tube of toothpaste always sitting in the bathroom with its cap left off.

The self-sealing design keeps any tube of toothpaste closed and tidy. Instead of squeezing out 3 or 4 times more than we typically need to brush our teeth, SqueezMe distributes a perfect amount of toothpaste every time, reducing mess and waste."
The 3-pack listed is cherry flavored, is $13.95, and is available for Prime.
And yes, I just ordered one too.