I don't know about you, but I am constantly losing all.the.things. My keys, my phone, my purse, my sunglasses, my coffee, my AirPods…If I can carry it, I can lose it. And I do.
So when I heard about Apple's AirTags I thought, what a cool invention, and then promptly forgot all about them (as I do). Until now.
In a viral TikTok, one woman is warning about AirTags and their potential use by stalkers, and women you need to sit up and pay attention to this one.
But first, what exactly are air tags?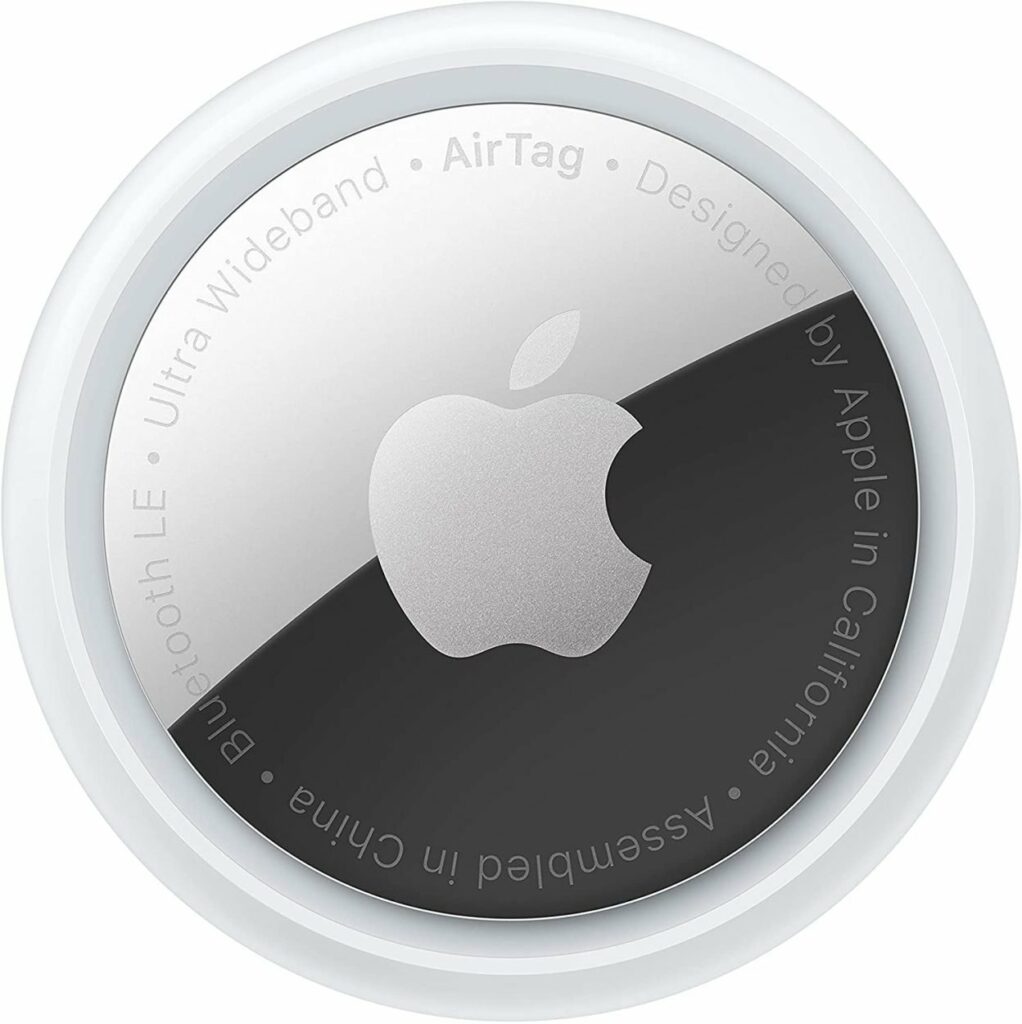 Apple's AirTag tracking devices are small discs that attach to your belongings so you can "lose your knack for losing things." You track them using the radar in the 'Find My' app.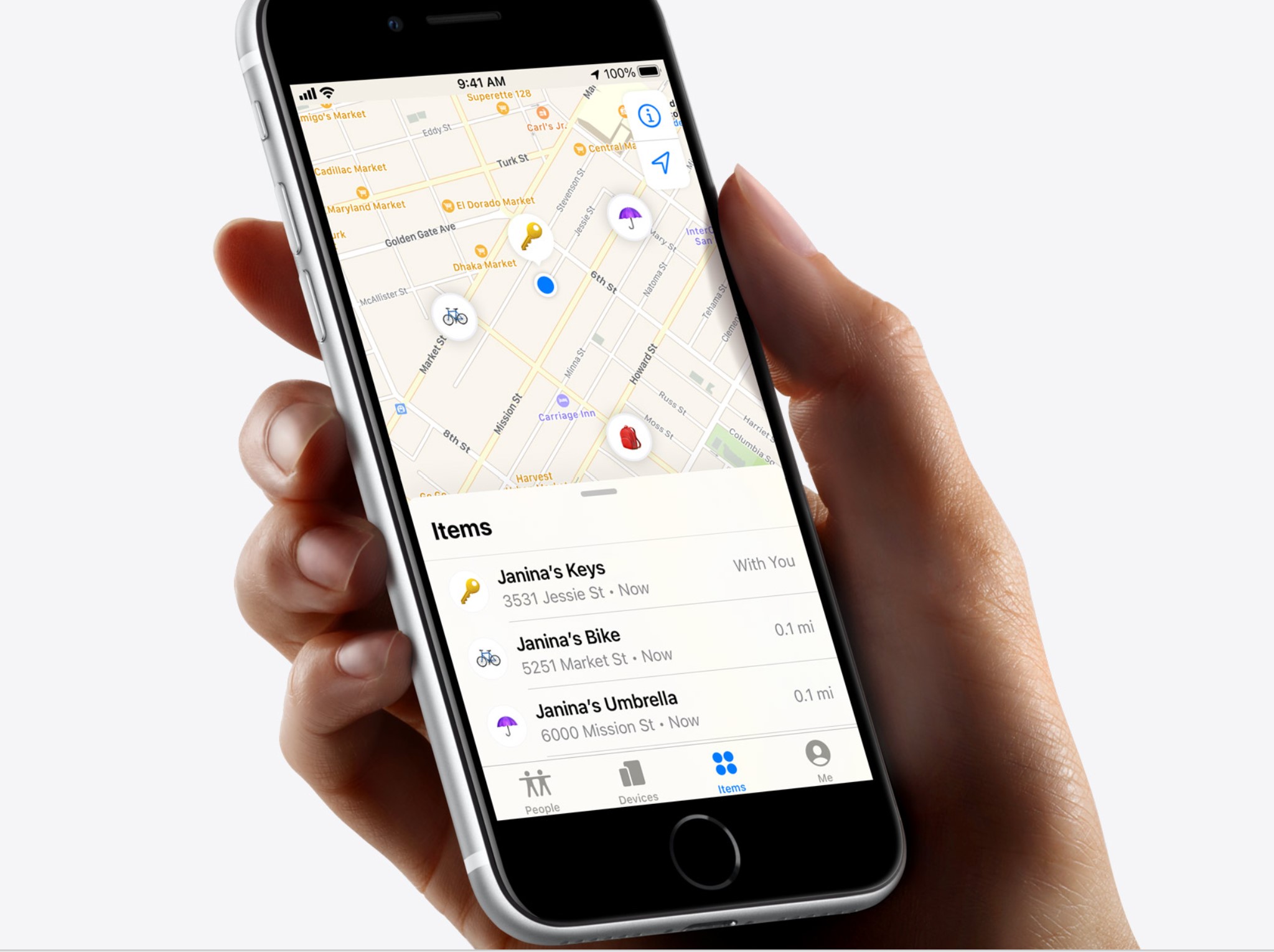 They're great for keeping track of your items, but what happens when someone uses one to track YOU?
This is exactly what happened to TikTok user @angel.edge95 and it's terrifying.
Angel.edge95 decided to share her story after discovering that the more she talked about it, the more she connected with others who have been in the same situation.
In the video, she explains that her saga began while on a trip from Texas to Maine. Shortly after arriving at the Logan airport in Massachusetts, she received a safety alert on her phone.
It read:
Unknown Accessory Detected Near You. First seen with you at 8:45 AM.
At 8:45 AM, she had been shopping at a Walmart in Texas on the other side of the country.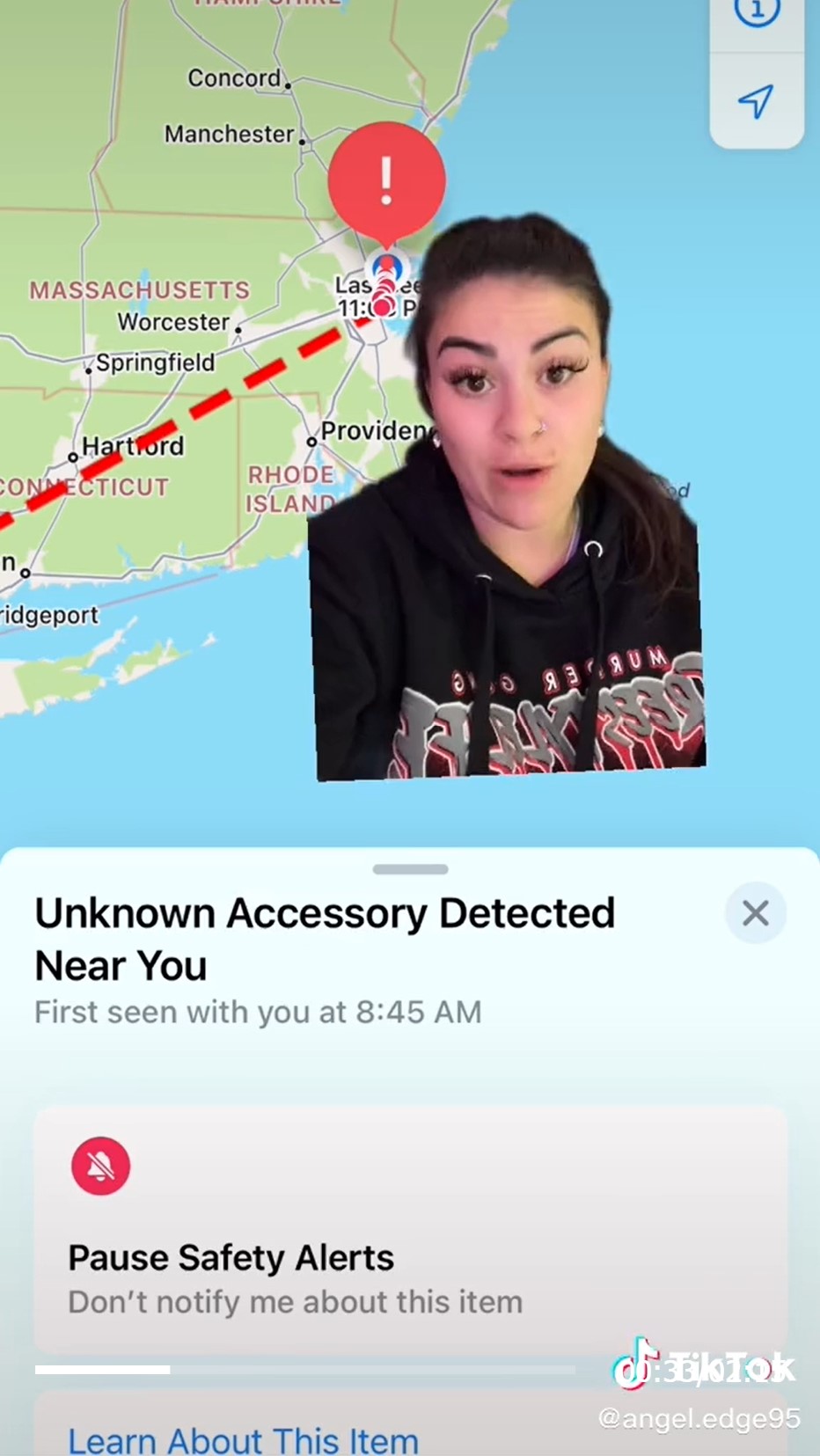 She also received an option to remove the unknown device. However, when she attempted to remove it, an error message popped up.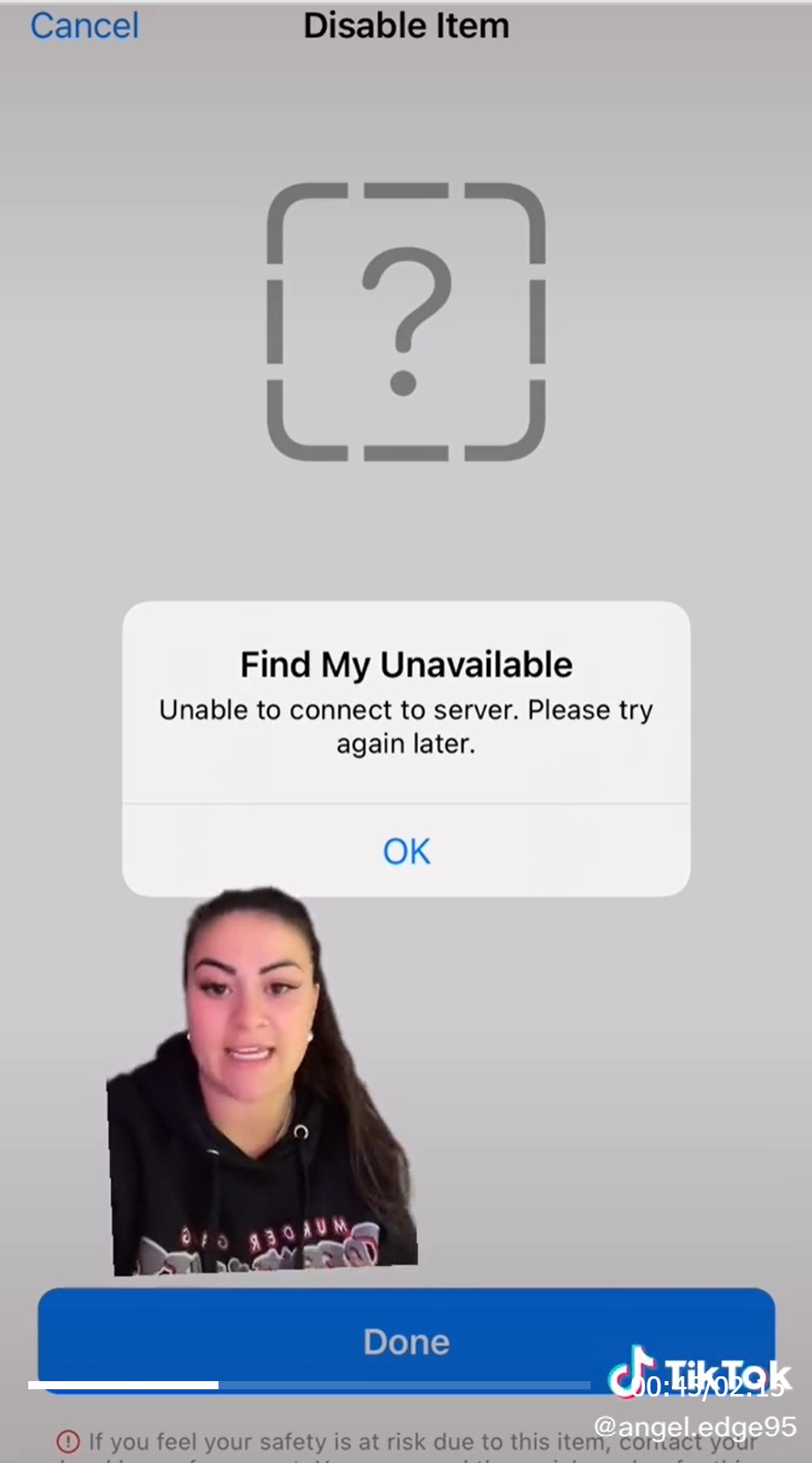 A warning on the bottom of the screen also read:
"If you feel your safety is at risk due to this item, contact your local law enforcement. You may need the serial number of this item."
At 12:56 AM she received another notification. This time informing her that the owner of the tracking device could see her location.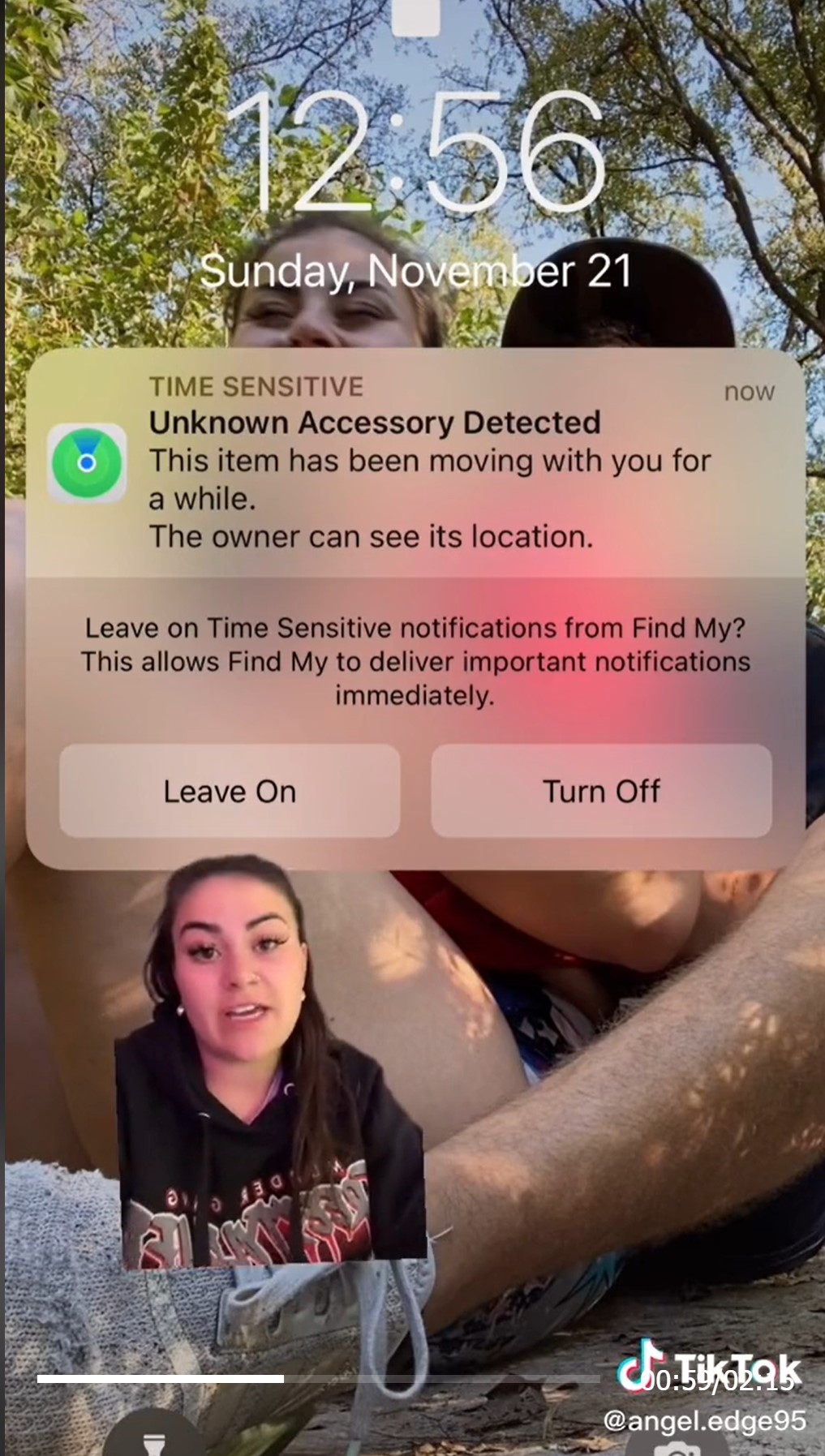 This was followed by a map showing a red dot every time her location was physically checked.
At this point, @angel.edge95 had had enough. She searched all of her belongings but was unable to locate the tracker.
She turned off her location tracking and her Bluetooth services, thinking this would put an end to it. It didn't.
She received another "unknown accessory" warning minutes later.
In a follow-up TikTok, she reveals that she was, in fact, being tracked.
She contacted the police who did their own search of her bags. They discovered the AirTag taped to the inside of the roof of her duffel bag.
The scary thing is that she's not the only one to have this happen to her.
One commenter said that this was the second story she had seen, THAT DAY.

Additionally, there are countless other TikToks posted on the same issue, including this viral one by TikTok user @kimbreezeh.
Her post has been viewed 5.5 M times, has 1.5 M likes and 23K comments.
She captioned it with:
In Kim's case, she was unable to find the airtag or the person who owned it. However, the notifications stopped after two days.
A number of commenters recommended that she check behind her license plate.

In another instance, KAIT News in Arkansas recently reported a story about an unnamed woman finding a tracker on the trunk of her car while out Christmas tree shopping.
She received the alert on her iPhone that an Apple AirTag was found moving with her and she contacted police.
Privacy advocates have been warning that AirTags could be used to track and stalk people since they were first released in April 2021.
Apple has attempted to address the issue by adding a security feature.
Their product description states:
"If someone else's AirTag finds its way into your stuff, your iPhone will notice it's traveling with you and send you an alert.

After a while, if you still haven't found it, the AirTag will start playing a sound to let you know it's there."
However, it doesn't prevent someone from slipping it into your bag, your pocket, or attaching it to your vehicle in the first place. It's literally that easy.
So is Apple going far enough to protect users? Some people say no. They are calling for Apple to stop selling the product.



Someone who works for Apple also chimed in:

Which brings us to what you can do if this happens to you.
Unlike Apple users, android users will not automatically receive alerts. If you have an android you can use either the Tracker Detect App or the Airguard App to receive notifications.
If you do receive an alert, try to find the physical AirTag. To do this, tap on the alert and press 'Continue.' Select 'Play Sound' to locate it.
Once located, scan the AirTag for the serial number and status. To do this, tap the notification and select 'Learn about this AirTag.' This information is helpful for law enforcement.
You can disable the AirTag by simply removing the battery. This will stop it from sharing your location.
Police recommend that if you do find an unknown AirTag you should contact authorities for further investigation.
While the initial idea behind AirTags may have been a good one, it's obvious that there are people out there that are using them for harm. Even so, Apple has no plans of discontinuing them at this point.
If you do receive an alert on your phone, please take it seriously and take the necessary precautions. Stay safe out there.