Pop Its are the latest craze to hit the fidget toy market. And if your kids are anything like mine, they're OBSESSED. (It's possible I might be too.)
So what are Pop-Its?
Fidget poppers are essentially reusable bubble wrap made of silicone. And why has no one thought of this before? Because let's face it, what is more satisfying than the feeling and the sound of popping bubble wrap?
Fidget poppers come in a variety of sizes, shapes, styles, and colors. If you can name it, it probably exists.
Baby Yoda, unicorns, or Llamas? There's a Pop-It for that. Want it to glow-in-the-dark or give off serious '70s vibes? Yup, Pop-It.
The concept is simple: press down on the bubbles to hear them pop and then flip the toy over and start again.
The sound differs depending on the size and material used.
Pop-Its are part of a growing number of sensory fidget toys. Originally targeted for children with autism, ADHD, ADD, and sensory disorders, they have quickly gone mainstream.
And they're not just for kids. Adults love them too. For good reason. Fidget toys help with self-regulation. They are often used to release anxiety and stress, improve concentration and focus, and promote active listening.
They are also HUGELY POP-ular. There have been over 12.5 billion views of #PopIt videos on TikTok to date.
Once you pop, you won't want to stop, apparently.
Here are our top picks for the best Pop-Its available right now.
Disclosure: This post contains Amazon affiliate links. If you click on a link, Filter Free Parents may receive a commission. See our full disclosure policy here.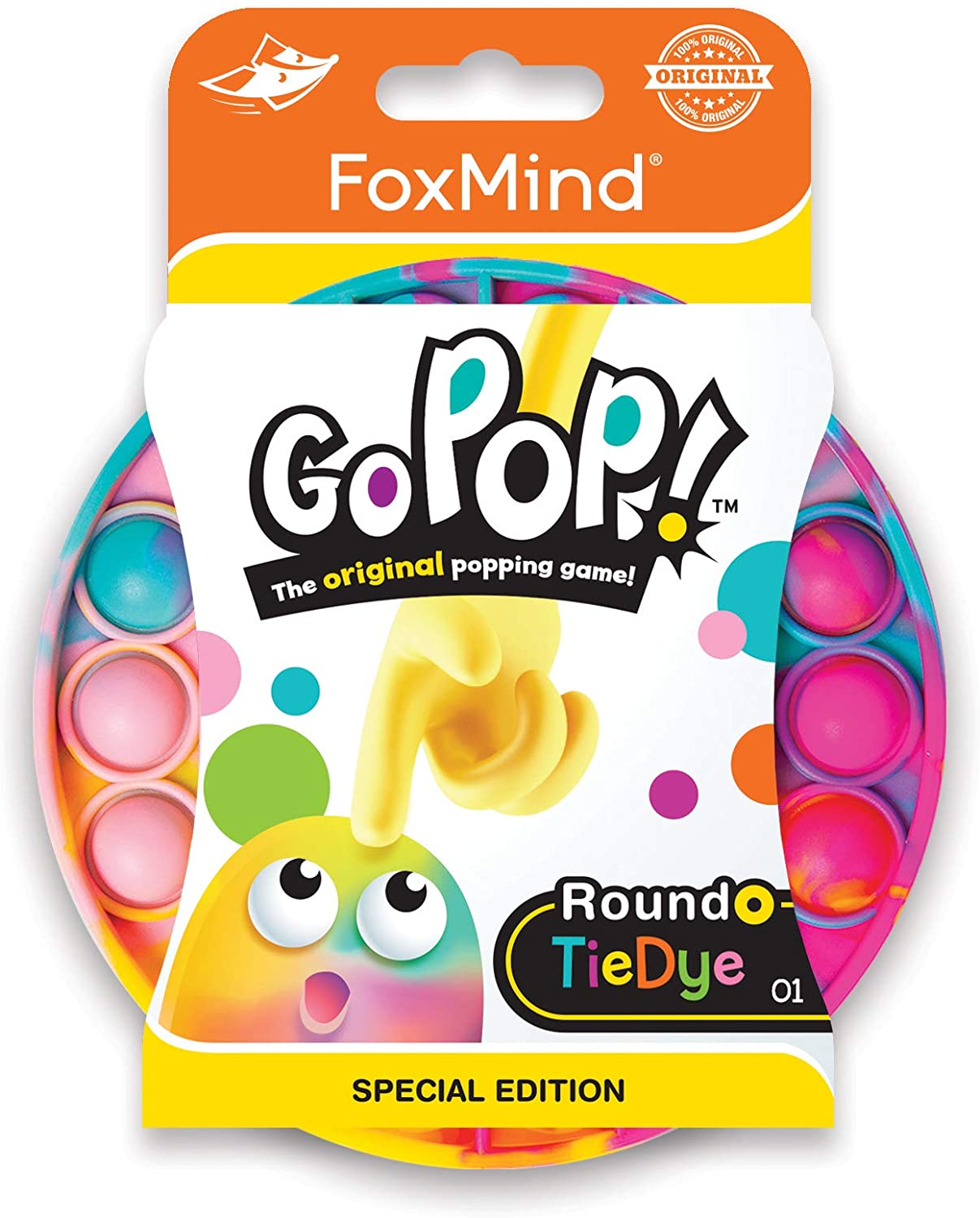 Age: 5+
Price: $9.99
The original Pop-It, each special edition tie-dye FoxMind GoPop Roundo has a unique blend of colors making your Roundo the only one of its kind. It is also available in blue, green, purple, pink, yellow, and teal.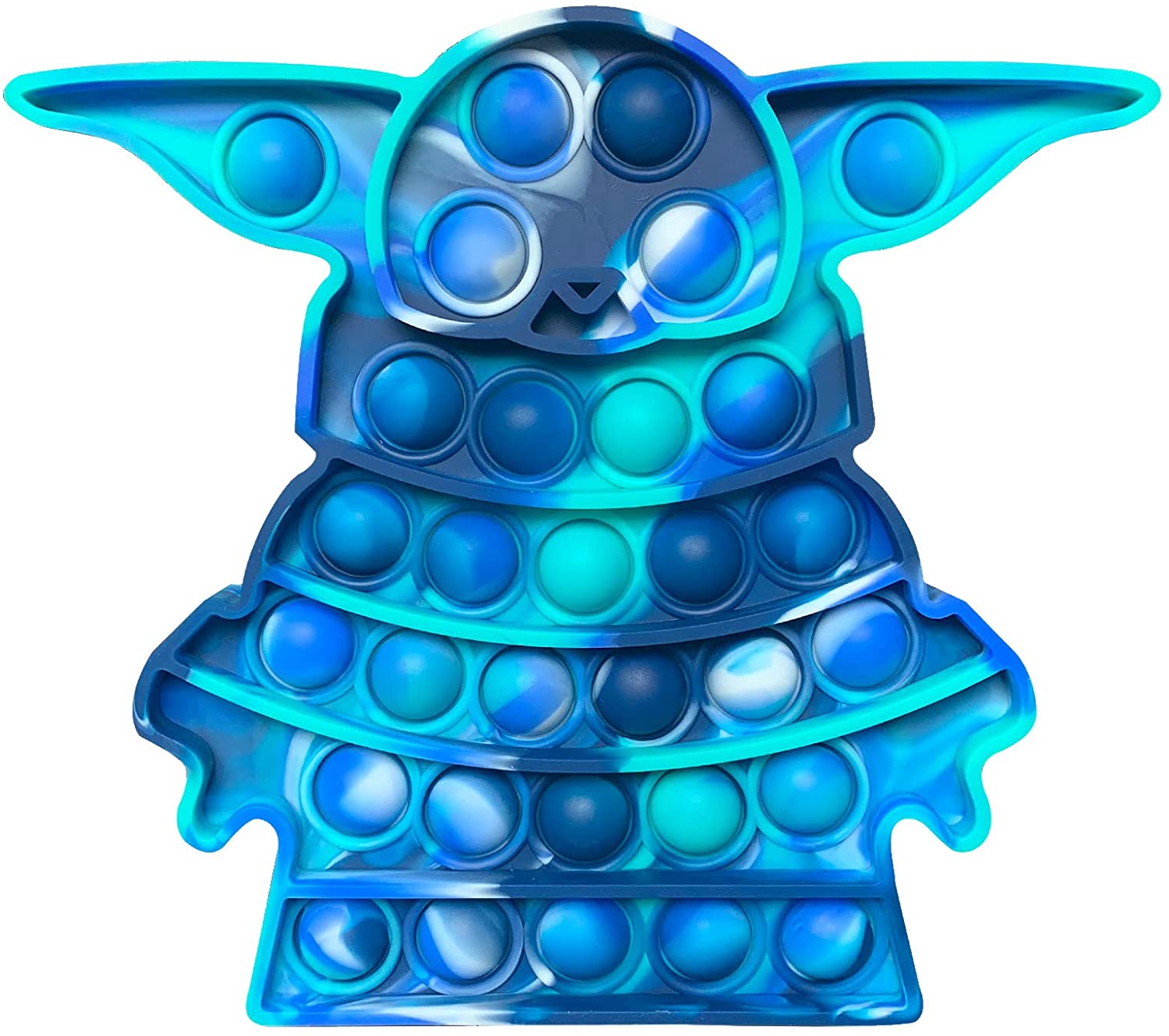 Ages: 3+
Price: $7.99 – $9.99
For all the Mandalorian and Star Wars fans out there: "feel the (fidget) force, you will" with this Baby Yoda-inspired fidget popper. And while it doesn't promise to turn you into a Jedi, according to the product description, it can:
Effectively relieve anxiety and stress, help restore mood, train logical thinking and mental arithmetic ability, prevent brain degeneration and promote parent-child communication.
Everyone's favorite baby is available in 5 colors – blue, green, red, black, and rainbow.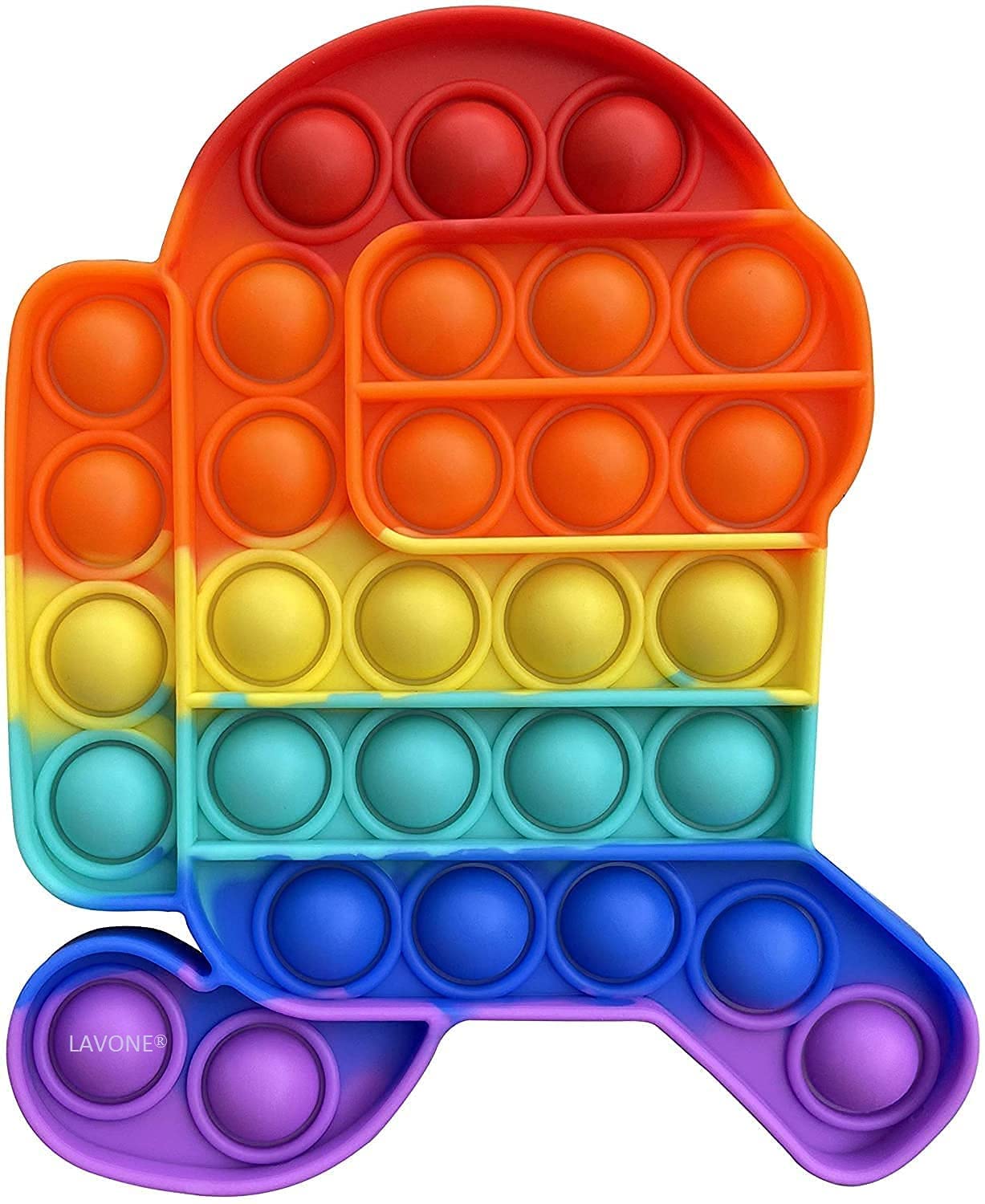 Ages: 3+
Price: $7.99
Not a fan of Star Wars? No problem. Lavone also has an Among Us Fidget Toy available. It is based on a character from the insanely popular multiplayer online game that skyrocketed to fame in 2020 and has been downloaded more than 100 million times.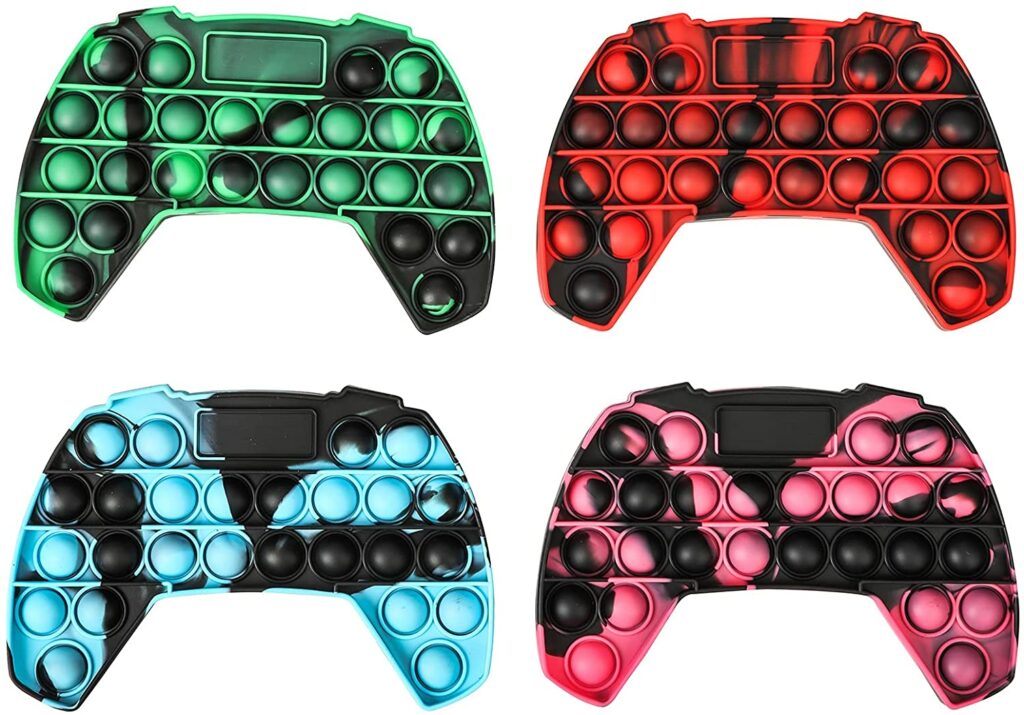 Age: 3+
Price: $16.99
Another option for the gamer in your life, the Gitete Game Controller 4 PK includes 4 tie-dyed fidget poppers. Use alone or play a game of "Last One Lost" with friends. Players race each other to see who can pop the bubbles in a single row the fastest.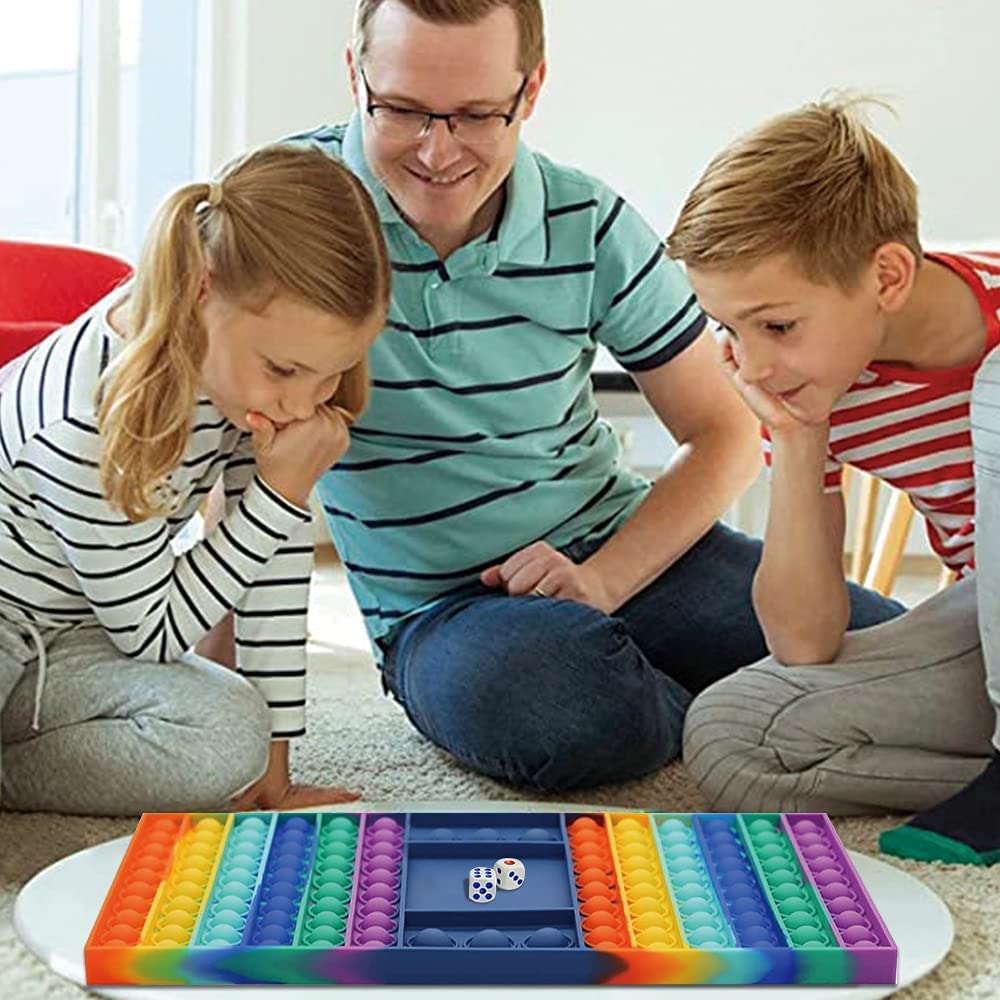 Age: 3+
Price: $11.99
An "Amazon Bestseller" with a 4.8-star rating, the Big Pop Rainbow Chessboard includes the dice. Players take turns pressing down POPS based on the number of dice the opponent throws.
HOOFUN LLAMA FLUORESCENT FIDGET SENSORY TOY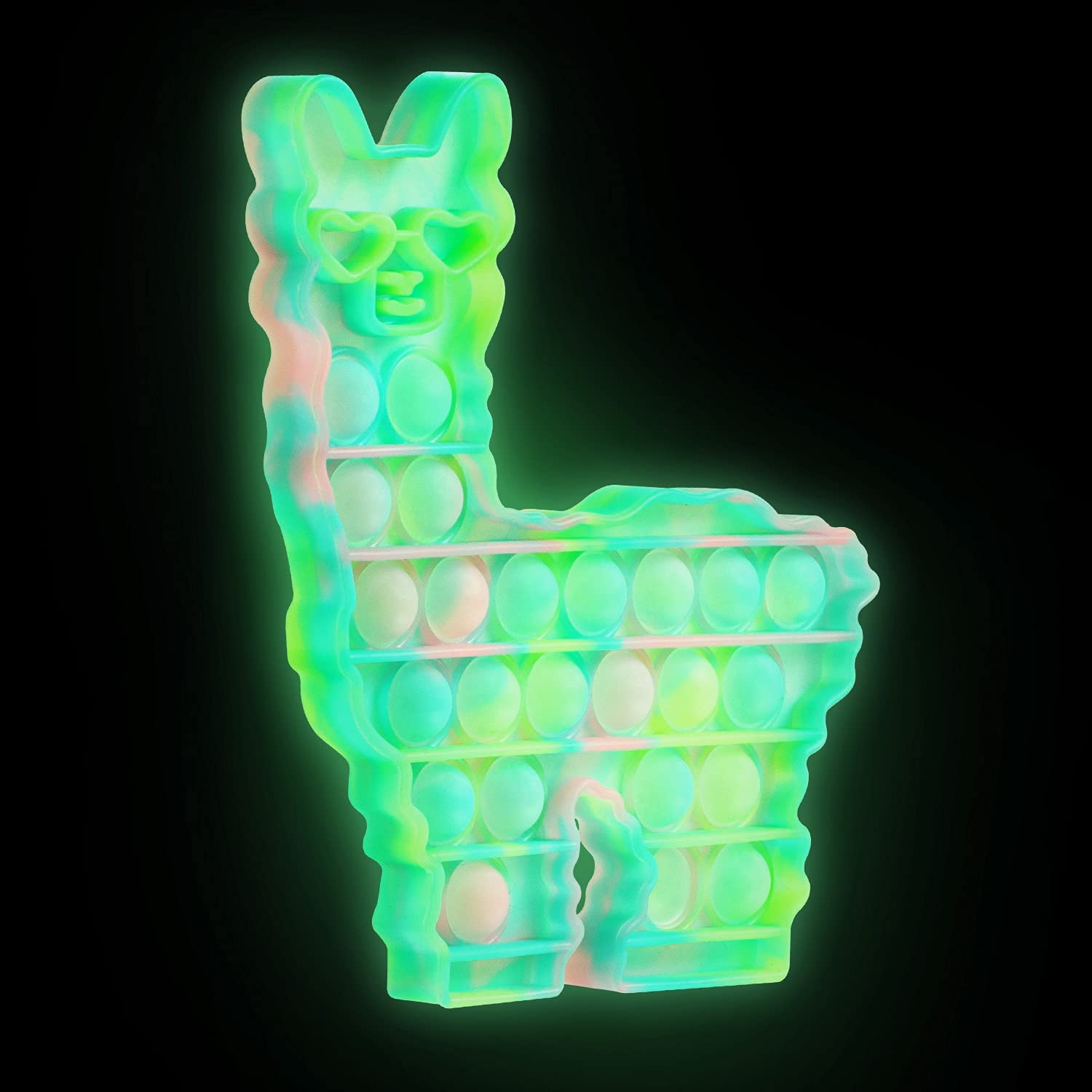 Age: 3+
Price: $9.99
This adorable alpaca by Hoofun comes with the added bonus of glowing in the dark. According to the manufacturer it can either be used as a fidget popper or a small night light.
It's all that AND a bag of chips (minus the chips, at least according to one reviewer, that is):

The Hoofun Glow In The Dark Llama is also available in a 2-Pack for $13.99 for when one llama just isn't enough.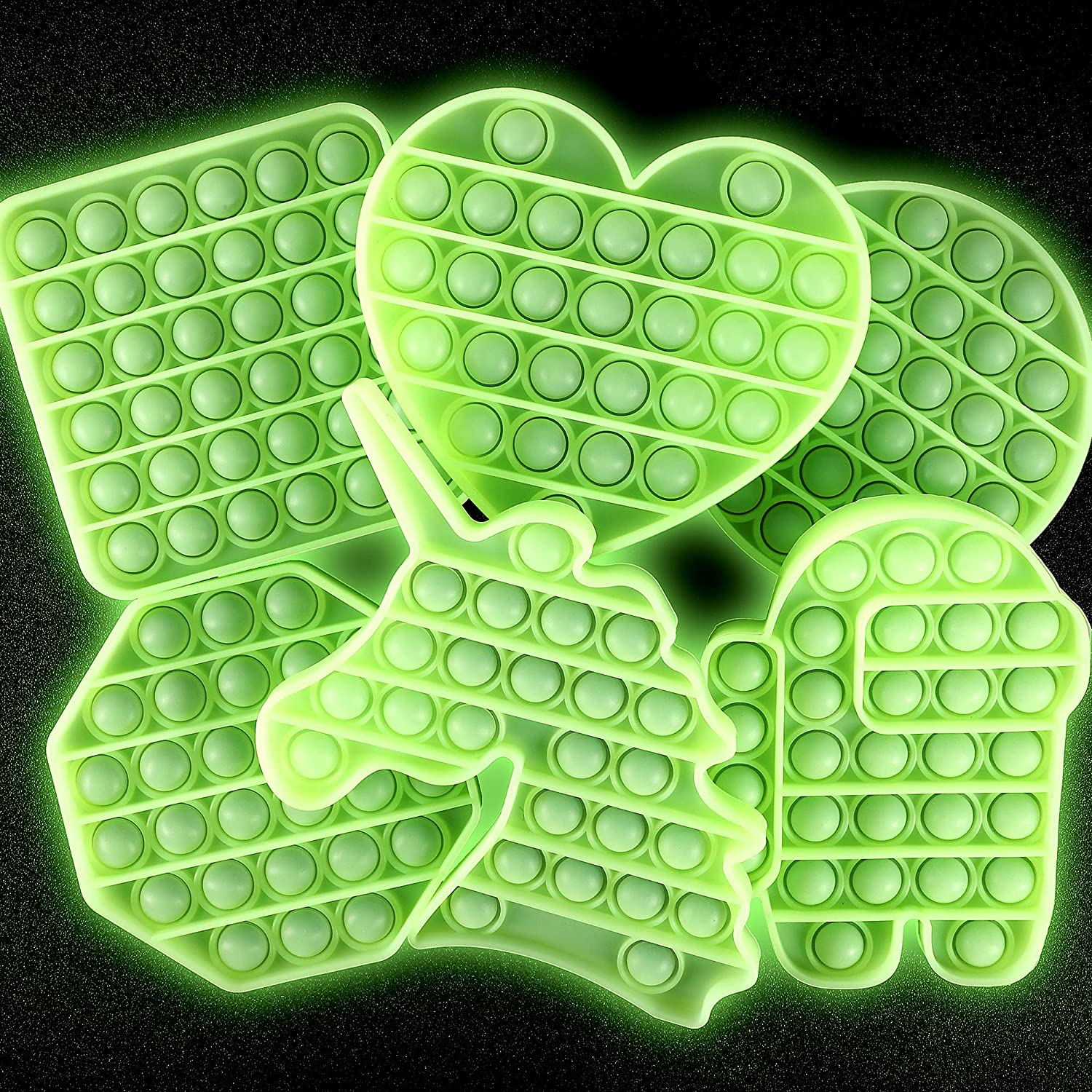 Age: 3+
Price: $22.95
The Figoal Glow In The Dark 6-pack includes something for everyone. It comes With 6 unique designs which include a square, circle, heart, octagon, unicorn, and an Among Us character.
iTechjoy Pop Fidget Toys It 3 Pack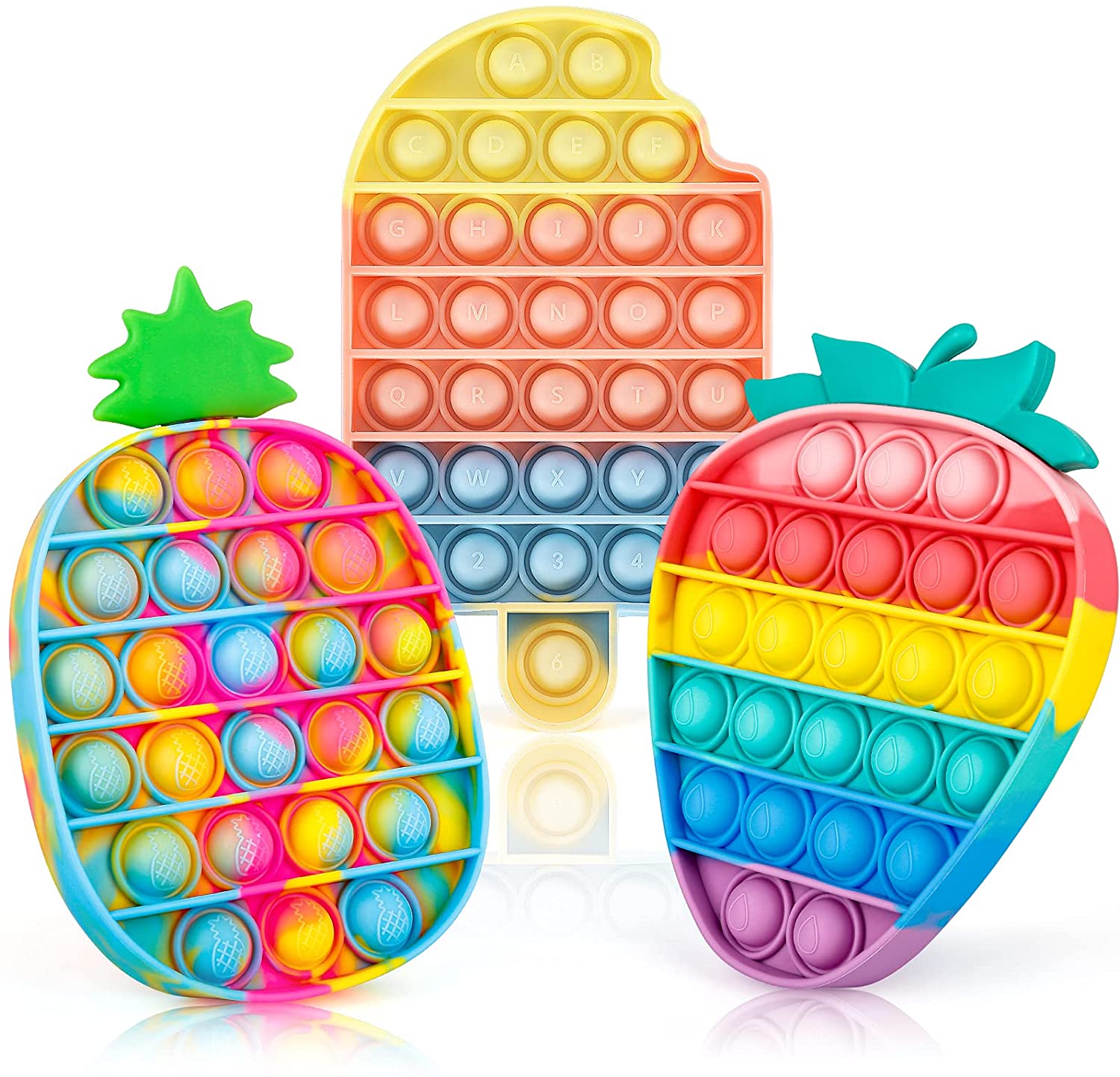 Age: 12 Month+
Price: $14.99
According to the product description, not only will the iTechjoy Pop Fidget Toy help relieve stress and anxiety but it will also improve your relationships and increase intimacy as well. So, there's that.
"Popping with your friends, classmates, workmates, kids or parents, improves relationships and increases intimacy."
Just how it increases intimacy? We're not 100% sure but it sounds promising, no? And ask any parent and they'll tell you: busy kids, happy parents.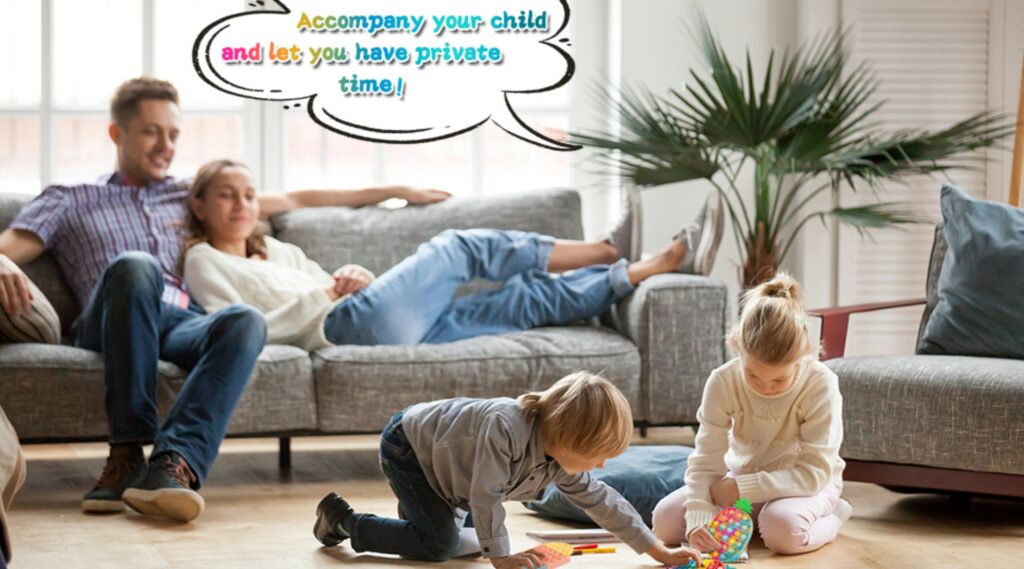 OHZIY ROTATABLE STRESS RELIEF FIDGET BRACELET 3-PACK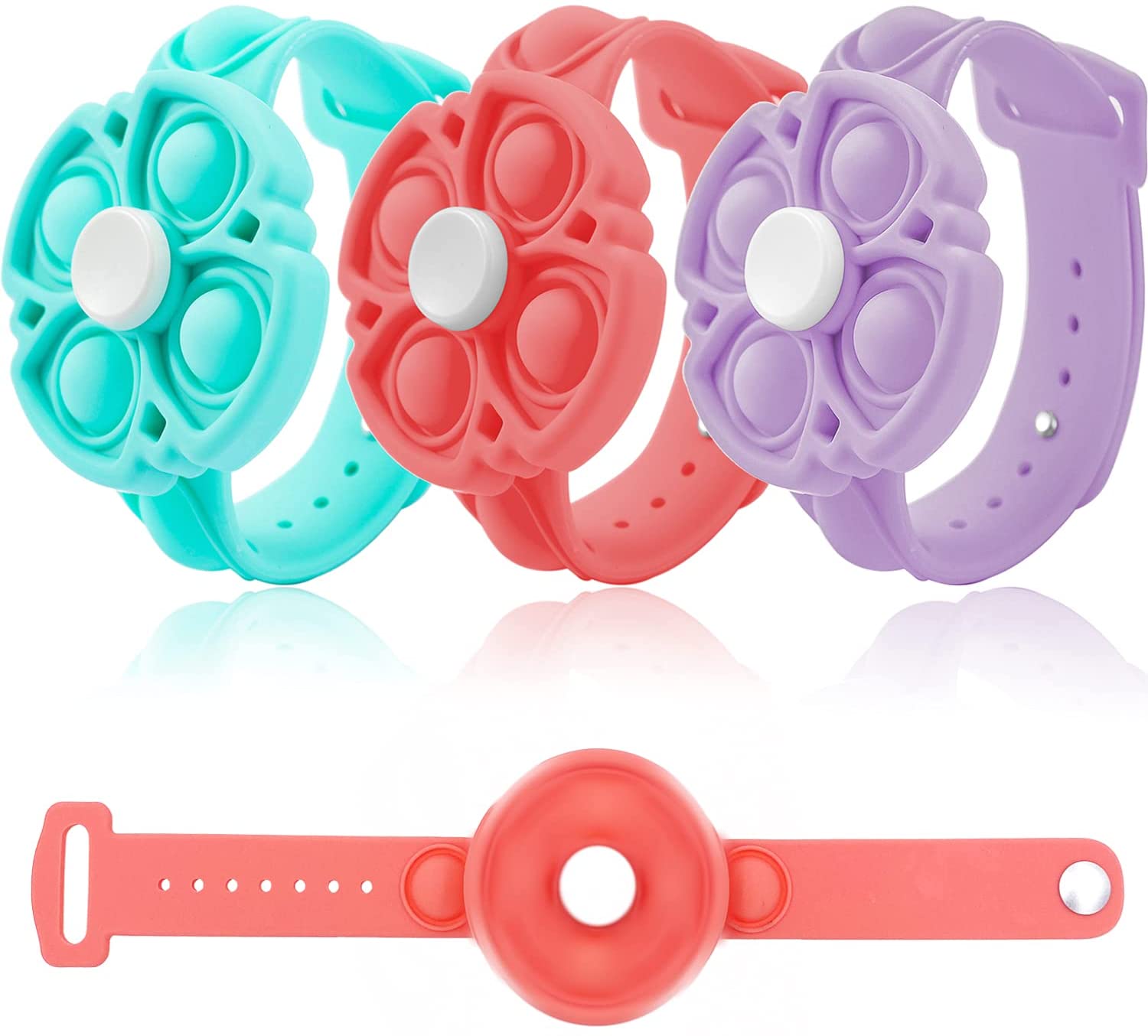 Age: 3+
Price: $12.96
The Ohziy Fidget Bracelet gives you popping satisfaction right at your fingertips. The sensory stress-relieving wristband also has a small windmill in the middle. When you flick it with your hand, it spins.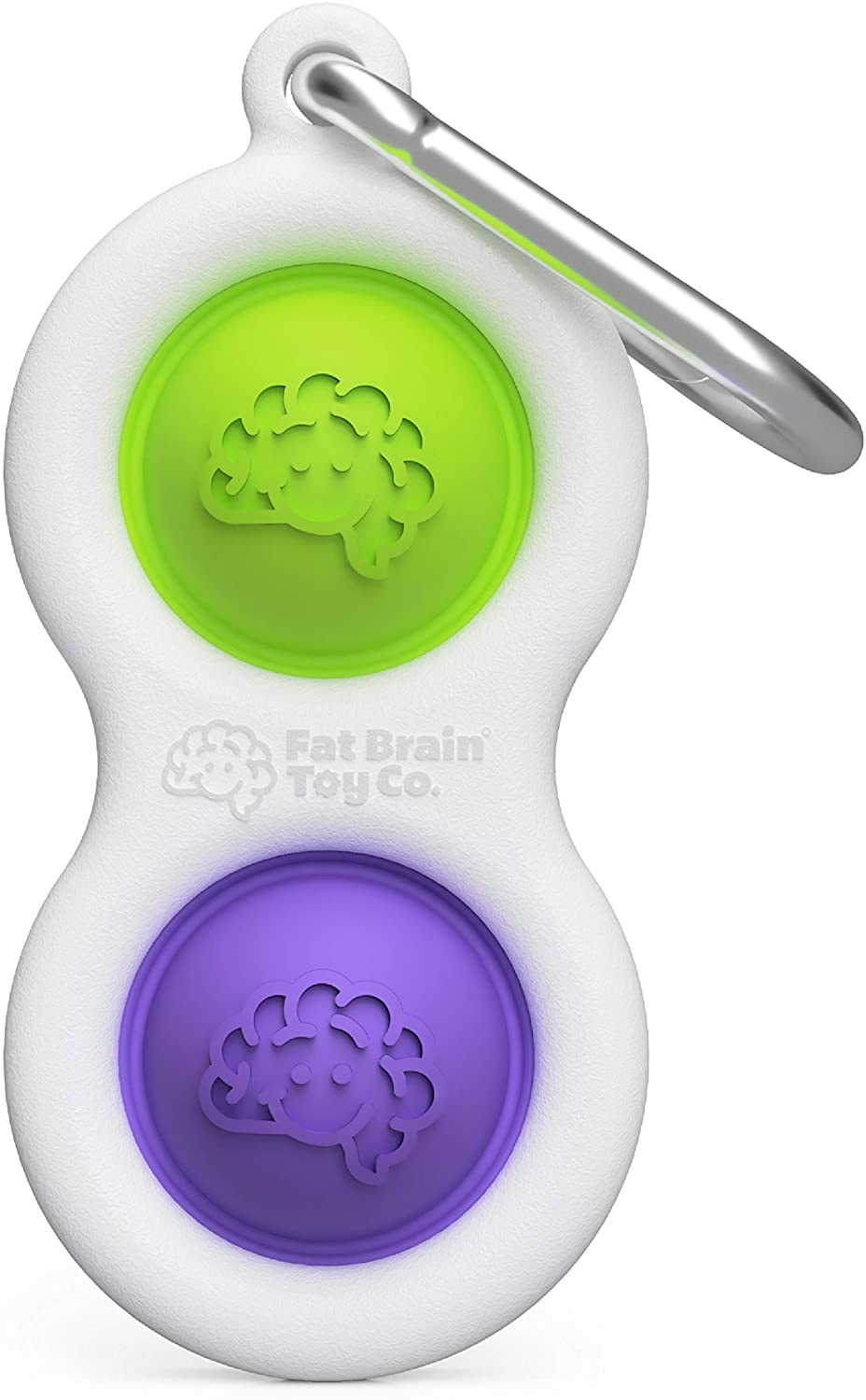 Age: 3+
Price: $8.99
The Simpl Dimpl keychain is perfect for when you're on the go. It easily attaches to keys, purses, belts, and backpacks and is small enough to fit in a pocket.
YEAHPY 2 PACK POPS FIDGET SPINNER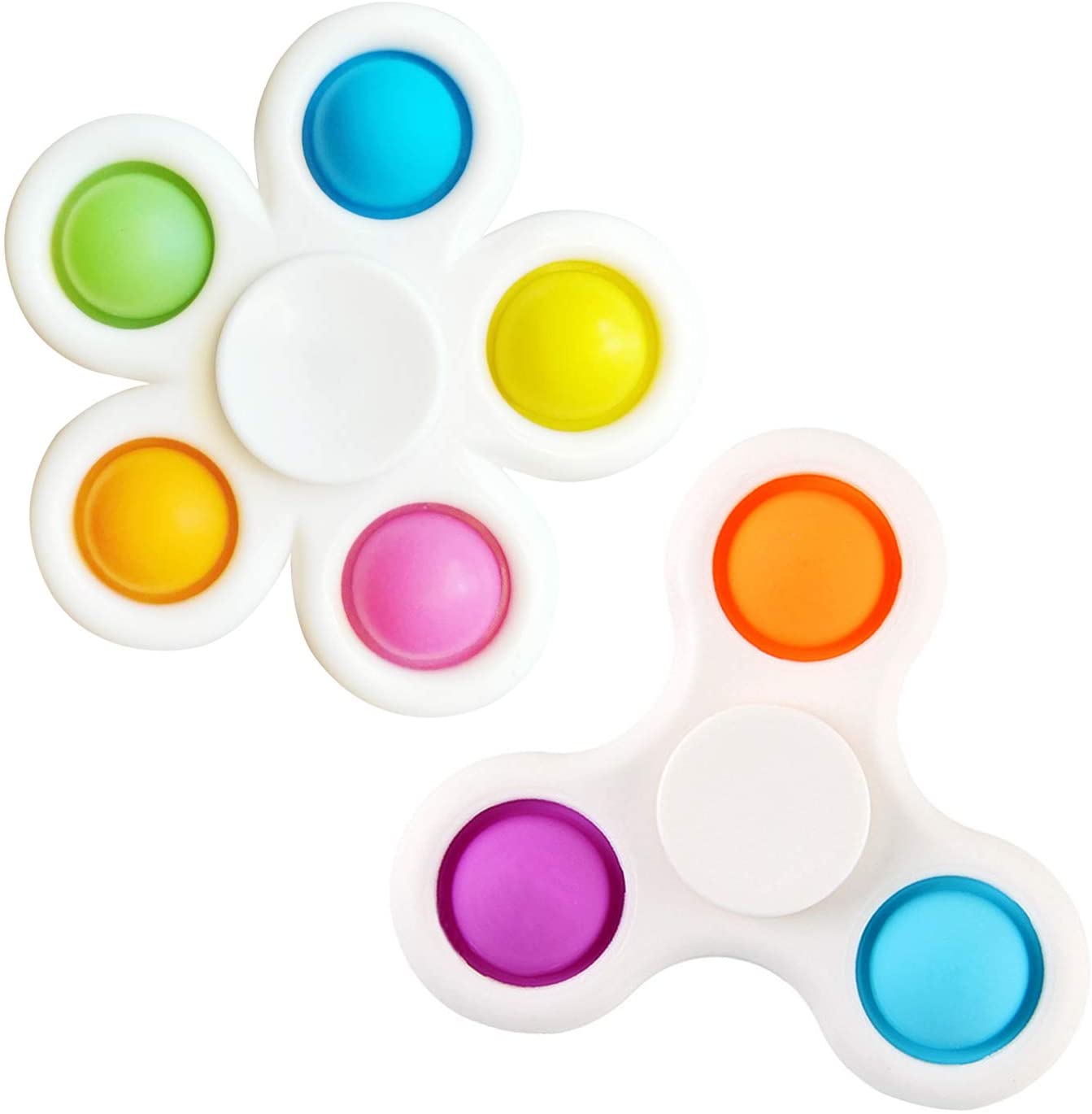 Age: 6+
Price: $4.99
Can't decide between a fidget spinner and a pop-it? Now you don't have to. The Yeahpy Pops Fidget Spinner merges the old with the new.
ZEN LABORATORY FIDGET POPPERS PACK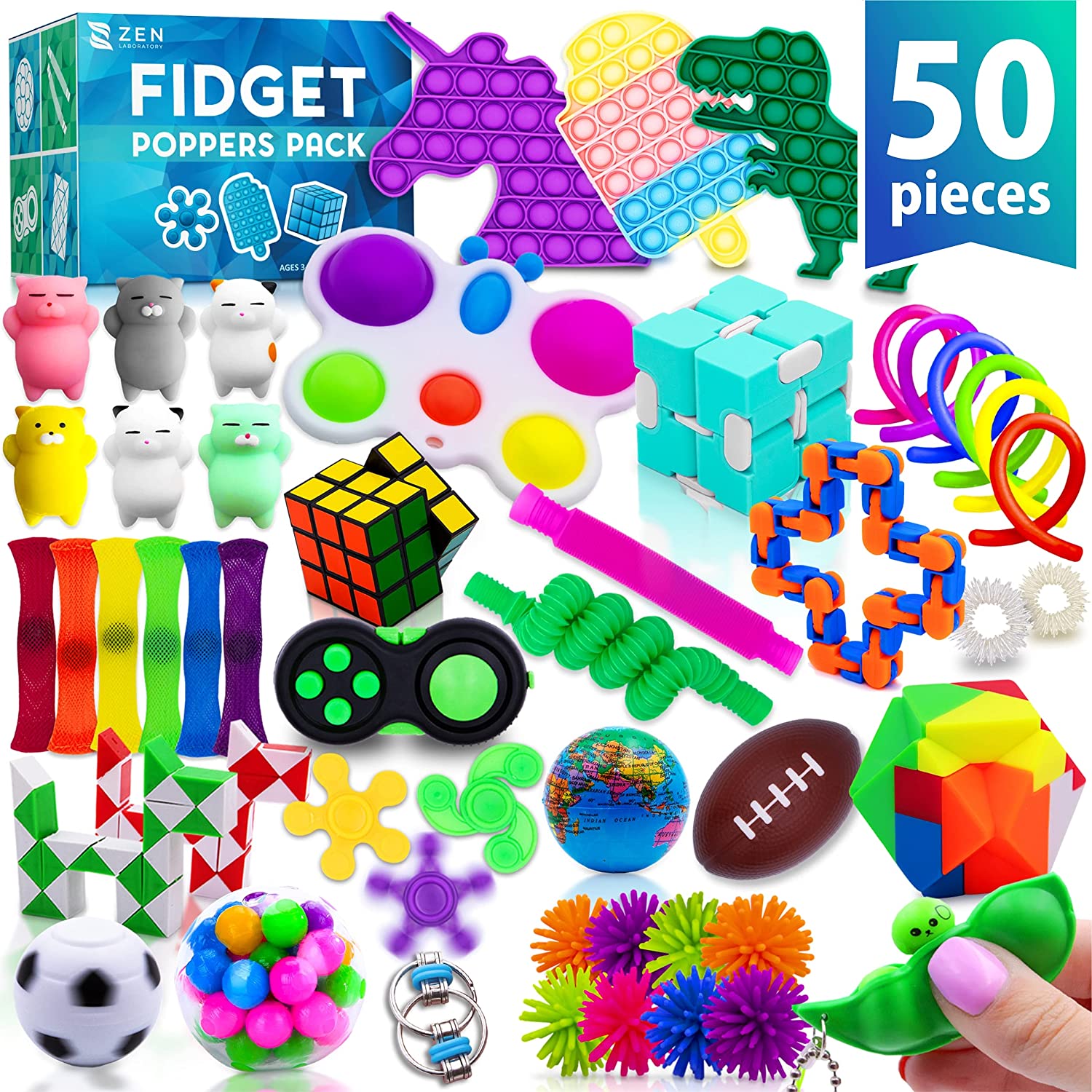 Age: 3+
Price: $29.95
This #1 Amazon New Release has an 88% 5-star rating and it's easy to see why. Packed with 50 of the most popular fidget toys available, the Fidget Poppers Pack is valued at $109.
It includes:
Fidget pop its, fidget rings for anxiety stress, squishy balls and animals, fidget spinners, pop tubes, fidget cube puzzles, a Rubik's cube, spiky balls, snake speed cube, stress balls, marble and mesh toys, monkey noodles, fidget chain, wacky track, butterfly popper, and a fidget pad controller.
Get poppin'!