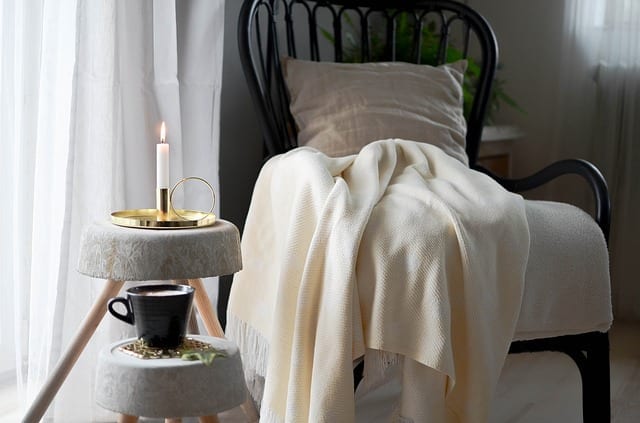 Taking time for yourself as a mom can be difficult between appointments, errands and keeping everyone fed, on time and in clean clothes. Finding ways to fit in self-care and moments to yourself are so important, even short breaks can have a positive impact on your day.
One shortcut to make sure you get the change to recharge is make your house ready for relaxation whenever you are. You may have heard of it as an emerging decor trend, hygge is a practice of finding contentment and joy in the present moment. Pronounced "hoo-gah" this method of dealing with long, harsh nordic winters has sparked an interior design moment with its emphasis on plush accents and coziness. With moms being pulled in 10 directions at once all day, every day, hygge is a great idea to build self-care into their homes and lives.
Hygge With Little Ones
Life with little ones can often mean long days, longer nights and not a lot of time to yourself. Take advantage of weekends and having a few more hands around to help, from family and friends to lighten your load and give you some time to yourself. Pick an area of your home to make your own, even if only for an hour. It can be tempting to do the 10,000 little things on your list that you've been meaning to get to, but resist that urge and really make this time for just you to recharge and be present.
Get cozy and comfy and carve out some time for whatever you call self-care. Take a break from the noise and escape to the bathroom for a bath, face masks and soothing music. Get some plush accent pillows and snuggle in bed for a nap, or Netflix all to yourself. If fresh air and exercise are what bring you contentment, throw on those shoes since even a walk around the block in peace can do wonders.
Hygge With Big Kids
Finding a rhythm and routine that works for everyone and keeps after school activities, dinner cleanup and homework running smoothly can be the goal for most households each weeknight. Scheduling is key for managing commitments and getting set up for the next day. Just like you have a system down for getting tomorrow's lunches squared away, think of how to schedule in some time for yourself. Building in regularly times each night or specific nights you take just for you to settle into mood lighting and unwind with a book, favorite TV show or yoga.
Getting proper rest each night can be essential for health, well-being and staying on track each day. Prioritize your sleep with noise machines, blackout curtains, plush bedding with supportive pillows and a mattress that matches your sleep style. Set yourself up for success each day with the getting the rest you need!
Hygge For Working Moms
During snowy or rainy days on the weekends, you can feel tapped out of ideas after getting through the routines all week long. When playing outside isn't an option and errands seem impossible, take time on the weekends to snuggle up as a family. Hygge was born from preventing cabin fever and enjoying time spent together.
Minimalism is also a big part of hygge, since your house is supposed to be a respite of relaxation. If your house has gotten cluttered over the week and causing you stress, use the time to tackle DIY home projects as a team working together. Maximize your time as a family with activities that you can all enjoy, from card and board games, movie nights, building pillow forts to just making dinner together! Be present and surround yourselves with activities you love and the comforts of home.