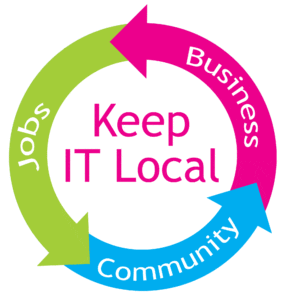 As you know, I'm a huge fan of online shopping – especially this time of the year. I'm also a big supporter of shopping local and keeping our small businesses growing and thriving. When we continually bypass corner markets for large supermarket chains or opt to buy holiday presents from big box stores rather than independent ones, we are doing ourselves a huge disservice. We are cutting the lifeblood of our economy – small business.
As you cross off your shopping list this year, try to support the business down the street when possible. To give you a jumpstart, here are 5 places you never thought to Christmas shop (and they're local!):
Neighborhood Florists – Every town has one, but they're often overlooked as places to find really cool and highly sentimental Christmas gifts. I'm talking about your neighborhood florists. Fresh flowers might be their primary product, but chances are their retail outlets are brimming with other types of floral creations, candles, bath and beauty items and more.
Apple and Dairy Farms – Farms never go out of season, so don't cross them off your list just because certain crops are not growing this time of year. Many farms offer products from local artists and craftsmen on consignment, which makes them ideal places to find one-of-a-kind treasures. Our favorite farm happens to be Lakeside Orchards.
Hairdressers and Salons – Need stocking stuffers? Your local hairdresser has the goods! There is not a person on the planet who would not appreciate some high quality hair products for their tresses underneath the Christmas tree. You might also consider a gift certificate for Aunt Pearl to get her hair set or your sister to get her spray tan on (no tanning bulbs!).
Brewers – Local breweries offer tasty gifts that resonate with the male population. In addition to beer and ale, many small brewers also sell branded apparel, cookware and other household items. Our local brewery, The Liberal Cup, is nestled in a vintage setting in downtown Hallowell, Maine.
Independently-Owned Hardware Stores – Dad needs a drill. Mikey wants a more powerful BB gun. The mailman looks like he could use a new pair of gloves. Where can you find all of these list toppers? Try your local hardware store.
Circle of Moms is searching for mom bloggers who focus on capturing and chronicling all the precious moments and stories of their family's everyday life. I'm asking for your help and daily vote to place MommiFried in the coveted Top 25 Family Blogs.