This… this looks easy…being snuggled up under a cozy blanket working on a zoom call while staring out the window…But, this is hard. Some days are just hard.
These days are trying.
These days can suck the life right out of you.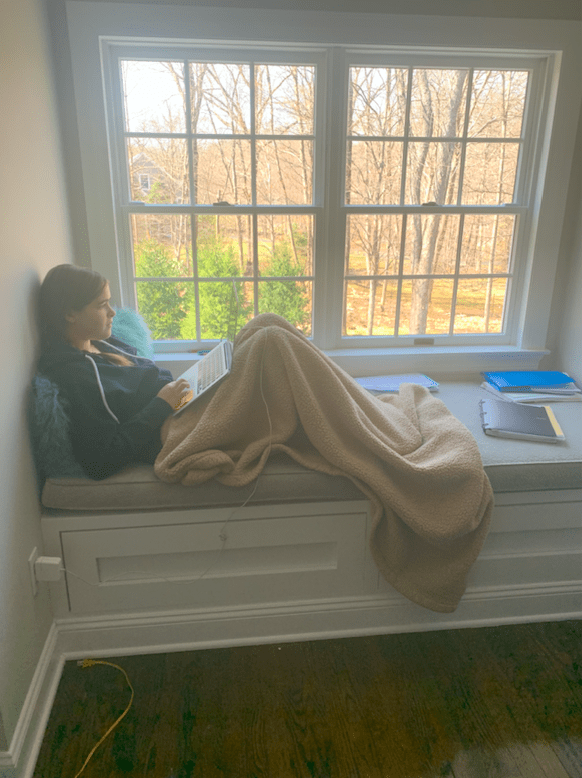 These days are not easy for anyone and this girl, right here, entered high school under the odd circumstances of only attending school, in person, twice a week.
This girl misses her friends, the normalcy of the classroom and the bustling hallways.
This girl misses the ability to smile at a friend from across the hall, a real smile, not a smile with her eyes.
This girl misses grabbing lunch with multiple friends all crammed on the bench in the cafeteria talking about the latest test and just being teenage giggly girls.
This girl misses seeing the expressions on the faces of her teachers, the gift they have for the subject and their desire to nourish minds.
This girl still gets lost getting to class and the other days, at home, is perplexed as to how to find the right balance between zoom meetings and binging her new favorite series.
But this girl, right here, she rarely complains.
Seven months…220 days…she always remains positive.
She finds a way to move forward during this chaotic time and comforts those around her when they are feeling anxious. Sometimes I wonder if she is holding too much in to support everyone around her.
This girl is a friend's safe haven, confidant and strength.
She is someone's Thelma.
She is someone's Betty.
She is someone's Laverne.
This girl makes this mama feel at peace when I'm feeling crazed.
She always has a smile for me to latch on to, love in her heart that radiates beyond measure and a laugh so contagious it will pull anyone out of their funk.
But sometimes, this girl also needs her mama to pull her up on the days that are hard.
Sometimes she just needs a quick CVS run to get out and get the latest face wash, or she craves a frothy chai latte to drink in the memories of past winters, but daily she simply needs time and hugs.
Isn't this what we all need?
Lots of hugs to get through this, because this is hard.
And sometimes we just need to feel the hard.
Can I tell you a secret?
Maybe I secretly don't mind hybrid learning and my sweet girl home more nestled under her cozy blanket especially on the days we wander the aisles of CVS.