Gymnast Chellsie Memmel is no stranger to hard work.
At the height of her career, she was an Olympian and all-around world champion.
Then she retired and took on an even more demanding title: Mom.
During her nine years of retirement, Chellsie gave birth to a son and a daughter (now ages six and three).
Memmel kept up with the comings and goings in the gymnastics world and did some commentating for major televised meets. She also coached gymnastics at her local gym, but she was retired from competition.
But recently, Memmel got the itch to get back into it. And during the 2020 pandemic hellscape, that's exactly what she did.
That's right – while some of us were binge-watching Tiger King and gaining the Quarantine Fifteen (or more…), Memmel was training. Hard.
And all that hard work paid off as Memmel returned to the national stage last week in Indianapolis. She competed on both the balance beam and the vault – and she did it all just shy of her 33rd birthday.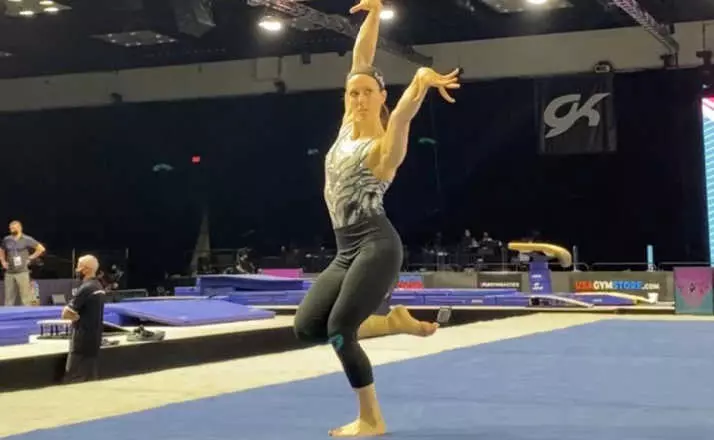 Yep, you read that correctly. Memmel was born in the 1980s (1988 to be exact).
Now, she may not be a geriatric millennial (that delightful term is reserved for those born between 1980-1985), but she is a millennial. That means she's competing against women who are literally half her age.
Some of Memmel's competitors are closer to her daughter's age than to her own.
And that's freaking incredible!
Plus, actual age aside, we all know that having a child, let alone children, plural, can do a number on the body.
Personally, I find all my joints, especially from the waist down, are approximately 1,000 times creakier than they were pre-kids.
But not Memmel.
Memmel somersaulted and twisted with strength and agility, leaving no indication that she'd recently spent years of her life growing and sustaining other human beings.
While many moms are unable to bounce on a trampoline with their kids or even sneeze without crossing their legs, Memmel leapt through the air with grace and poise.
One of the hardest things for me about becoming a mom (aside from the unrelenting sleep deprivation) was how dramatically my life changed. Before long, there was so little left of my pre-child self, it was jarring.
That's why it feels so amazing to see a mom doing something she loves and is deeply passionate about – especially something as physically challenging as competitive gymnastics.
And, she's documenting her experience on her YouTube Channel and Facebook page.
Memmel said as much herself. When asked about this amazing return to competition, she said,
"That's been the whole thing for me in this journey… figuring out what I can do, what I can push myself to do, just out of love of doing it."
So how did she do at her first competition back?
Memmel scored 13.750 on vault and 11.800 on beam. What do those numbers mean?
I actually don't really know and I DON'T EVEN CARE!
The fact that she showed up and competed at all is impressive enough. It's downright bad@ss.
And she's not done yet.
Over the next month, Memmel plans to compete in the US Championships AND the Olympic trials.
I will absolutely be rooting for her – and something tells me the sisterhood of mothers everywhere will be doing the same.