If you're the parent of a Fortnite player, then you know the battle it can be to curb your kid's… "enthusiasm" (passion, obsession, etc.) for the popular role-playing war game. Kids absolutely love to play, and often try to fit in as much gaming as possible.
Fortnite has also gotten a lot of flak recently, especially considering that gaming addiction has recently been formally declared an official illness by the World Health Organization. There's a lot of controversy over how many hours kids should play, when they should be prohibited from playing, and even IF they should play it at all.
Well, Fortnite critics might have a harder time convincing their teen kids that no good can come from honing their Fortnite skills after they hear this!
A 16-year-old boy is living the biggest dream of every Fortnite player after clinching the top honor at a recent gaming tournament, including the $3 million grand prize award.
Kyle "Bugha" Giersdorf of Pottsgrove, PA, participated in the Fortnite World Cup solo competition (yes, that actually IS a thing) that was held at Arthur Ashe Stadium in Flushing Meadows, NY on Sunday.
Kyle @Bugha Giersdorf, 16, is your #FortniteWorldCup singles champion and walks away with $3 million in a wire-to-wire dominant victory. pic.twitter.com/OZzMNNuo3R

— ESPN Esports (@ESPN_Esports) July 28, 2019
The event was sponsored by Epic Games, and players from over 30 countries participated in hopes of winning some of the $30 million prize money at stake.
The competition in the solo tournament was fierce. Weeks prior, over 40 million people competed online for a slot at the final World Cup event, and only 100 of the best were chosen.
Giersdorf played skillfully in the final round by gathering an abundance of game money for ammunition, and hiding in solo spots to avoid enemy fire. He was elated when he was awarded the Winner's Cup at the tournament's conclusion.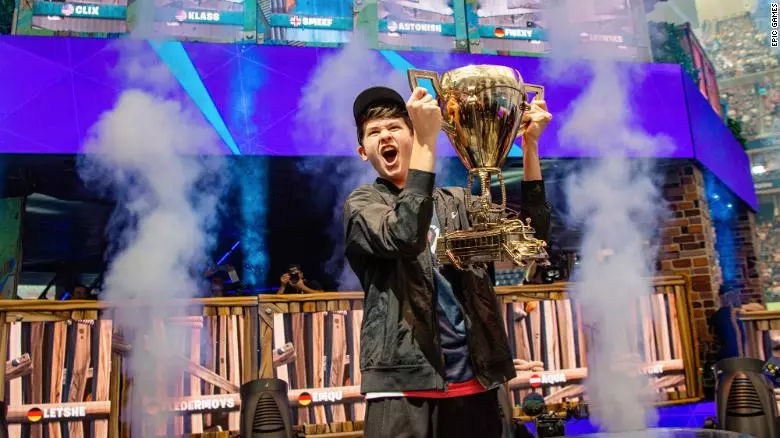 (I'm sure the $3 million check was pretty sweet, too!)
THREE MILLION DOLLARS. For winning a video game tournament.
Suddenly I'm re-thinking every gaming restriction I've set for my kids. Get on the game, kiddos, & show me the money!!!
Giersdorf described to CNN Business how thrilled he was to have won the grand prize:
Words can't really explain it. I'm so happy. Everything I've done in the grind has all paid off and it's just insane.
He's clearly worked for it, as he mentions. But just what's involved with transitioning from a casual gamer to a full-blown Fortnite professional?
To become skilled at the game, you need to put in the time, literally. Playing an hour a day isn't nearly enough.
According to Tyler "Ninja" Blevins, considered to be one of the best Fortnite players in the world, a full-blown commitment required.
One hour is not enough. So many people underestimate and undervalue time in [the game].

if you're playing like an hour a day, you're not gonna ever be at a level that you want to be at.
We're talking anywhere from 2 to 5 hours a DAY. And that's just to get good- to become a master like Tyler, you're going to need to put in the 10-12 hours a day that Tyler devotes to playing.
If you can stomach the intense time commitment and still want to assist your kid in becoming the next Fortnite pro, you might want to consider hiring a coach. Yes, a Fortnite COACH.
It may sound crazy, but a player that shows some Fortnite promise could rake in big bucks with some tutoring.
Tyler Blevins pointed out to The Washington Post that sharpening a kid's Fortnite skills could be a solid investment in your child's financial future.
Would you ever insult a parent or question a parent for hiring a coach? Like a specific coach to help them get better at soccer or football?

No one's gonna be like, 'Why would you do that?' It's the same with Fortnite. There's money in it.
There's no arguing that $3 million is a hefty payoff. And it's an even sweeter reward for someone who has earned the money playing a game he or she loves.
The question remains: do you allow your child to dedicate countless hours to a video game in the hopes of becoming a possible Fortnite star? It depends on your view of video games in the first place. One person's passion is another person's addiction; it's difficult to make a blanket determination that applies to every child.
But the reality is that Fortnite is already adored by its over 200 million current players, and the potential for massive financial payoff will only fuel your gamer's Fortnite fire.