This post is brought to you by YardGames.com
The holiday season is upon us. That means Christmas music on the radio, Hallmark movies on TV, lights on the outside of the house, and gatherings galore.
This is the time of year everyone from your boss to your babysitter plans their Secret Santa celebrations and Ugly Christmas Sweater soirees. Add in playdate parties, football championship tailgates, and extended visits from relatives, and you have yourself a full calendar and some entertainment dilemmas.
Every fantastic gathering, whether with family or friends, usually involves eating, laughing, talking, and enjoying each other's company.
But what makes a get-together memorable? What makes everyone leave with smiles on their faces and warm feelings in their hearts?
I'm a firm believer in these three key ingredients for fabulous festivity success.
GRUB
We know the majority of attendees are going to end up in the kitchen or hanging out around the food. It happens every time. So, yummy munchies are a must at every get-together.
Just remember–it doesn't have to be fancy. Don't add more stress to your plate, add easy finger foods or sweet, simple desserts. Think slow cooker recipes, cheese boards, brownies, or warm dips and crackers. Everyone is there for the company, the grub is just what warms their bellies.
*Tip: One way to ease the burden for the host is a potluck-style party. Everyone can bring a favorite dish to share, and the host spends less time preparing and more time catching up with friends and family.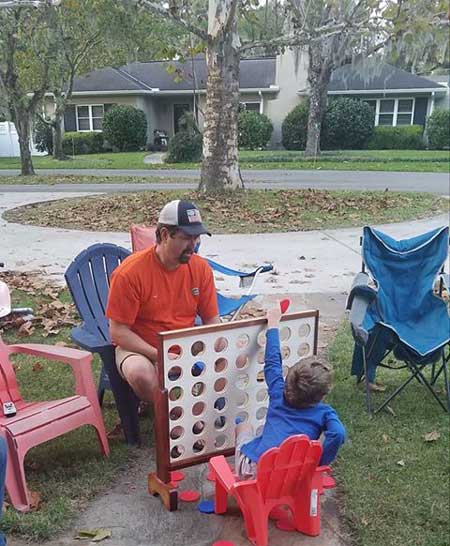 GAMES
As I've learned over the years, any time a group of people get together there needs to be some kind of entertainment. Without it, the younger ones get into mischief and the older ones fall asleep on the couch or make their way to the door.
While most gatherings allow for some mingling and playing of some traditional party games–there comes a time when the entertainment fairy needs to bring something magical out of her bag. Enter YardGames.com.
They have an awesome variety of games to choose from, but we LOVE the Giant 4 Connect! It's the perfect thing to get everyone off their tablets and actually playing together, no matter their ages. Everyone knows how to play the simple strategy game, but it's much more fun when it's a giant version.
If it's just our boys, there are two kiddos playing the game and two cheering them on (or jeering at their bad game piece placements … ah, brotherly love).
But, when we take the game to family gatherings, tailgates, or playdates, it becomes a team event. Cousins vs. grandparents is a personal Christmas Eve favorite, especially when it gets a little rowdy. This year we're even throwing in prizes for the winning teams. Things are about to get even more fun and a lot more competitive.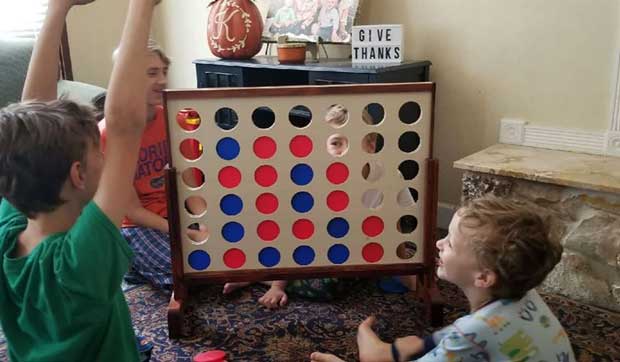 GRACE
Every family (and friendship circle) includes loved ones with opposing opinions, or personalities that don't jive, or parenting choices that greatly differ. But just like in the world of social media, we don't have to comment on everything. Just take a deep breath and keep scrolling, or in this case, smiling.
Be the one who listens without judging, and hugs even when someone may not "deserve" it. We all need this from time to time. I know it's easier said than done, but showing your extended family and friends some grace can make everyone's heart a little happier and everyone's memories of this holiday season a little sweeter.
So, what are you bringing to the gathering this year? My Giant 4 Connect is already in my car and the meatballs are in the slow cooker.