"3 – 2- 1!"
Sparkles. Christmas sparkles. With a flip of a switch, a 100-foot Douglas fir Mayor's Christmas tree turns darkness into light.
We took the kids to the lighting of the Mayor's Christmas Tree. I say we but it was really me. It was my idea to drag the family out and watch a tree shipped from 2,000 miles away light up the night. I needed to kickoff the season.
The season.
It's the season women get shit done.
I'm not discounting men, per say – I'm just giving them a little side-eye while I stir hot cocoa for the kids. I'm not only stirring hot cocoa; my mind has multiple tabs open at the same time.
Did I write my grandma's correct address on her Christmas card? I hope I didn't accidentally put an apostrophe in our name. Did I put an apostrophe? Ok, so I have five presents for one kid. I need to get one more for the other kid to make it even. Don't forget to Venmo money to the class room mom for the teacher's present. I should set an alarm before I go to bed to make sure I remember to move the damn elf. The kids need try on their Christmas Eve church clothes. I hope they still fit. Shoes! Don't forget church shoes. Then I need to order an ornament for my girlfriends' ornament exchange.
Do you want me to stop there? No, I won't.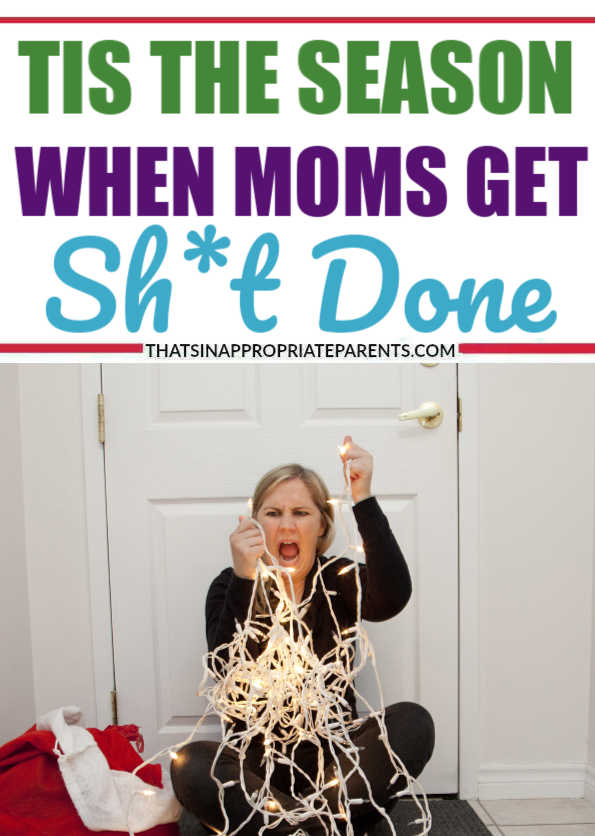 This shit starts as soon as the first leaf falls.
I book a photographer in August for family Christmas photos. We sit on a couch in the woods, sweating our asses off.
"Everyone pretend to be happy and say 'Christmas!'"
I decorate our home. I get bids for hanging Christmas lights on our house. I re-hang Christmas ornaments because the kids hang ornaments in the front, making the tree top-heavy and I don't want to hear another crash at 3 AM. I bake cookies.
I bake dog cookies for the neighborhood dogs. I not only purchase presents for my own family with a red and white hat on my head but I also purchase for my parents, nieces, nephews, and in-laws. My in-law grandparents.
Dirty White Elephants involving bathroom humor? That's me. His and her ugly Christmas sweaters? Got it. I wrap every single Goddamn present. Can I drop a Goddamn during Christmas?
Why is it always the woman that makes the magic happen on during Christmas?
Experts have varying reasons: social media may be fueling perfectionism in women; women may be used to handling the unpaid, unnoticed labor to keep everyone happy in the family; maybe women don't have the time to take a little time for herself; It could be because it's just tradition to put a woman through hell during Christmas.
We get shit done.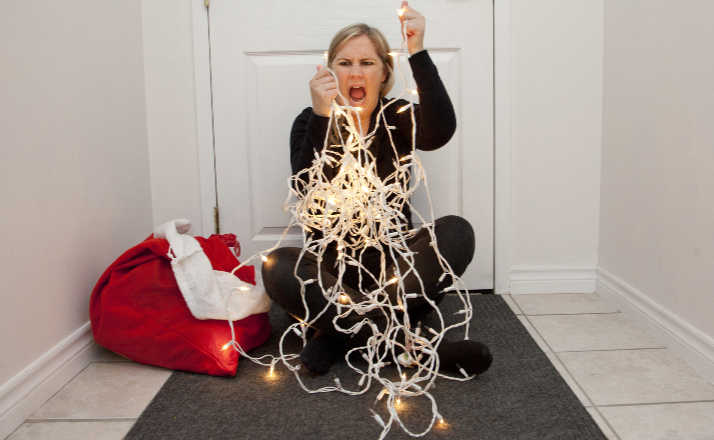 I'm not an expert. I can't tell you why I'm here stirring hot cocoa while my husband is sleeping and dancing with sugarplums in this head.
I don't need an expert to tell me women are killing themselves emotionally. I know the truth now. When I was a kid I believed in Santa Claus. Now I know Santa Claus was my mom. Not my dad, too, just my mom.
The real Santa sits in flesh and blood and wine and tears while we count the kids' presents on Christmas Eve to make sure it's even.
Women are the magic behind Christmas because we're good at it. We're good at getting shit done.
Women should be celebrated, too.
"3 – 2- 1!"
Sparkles.