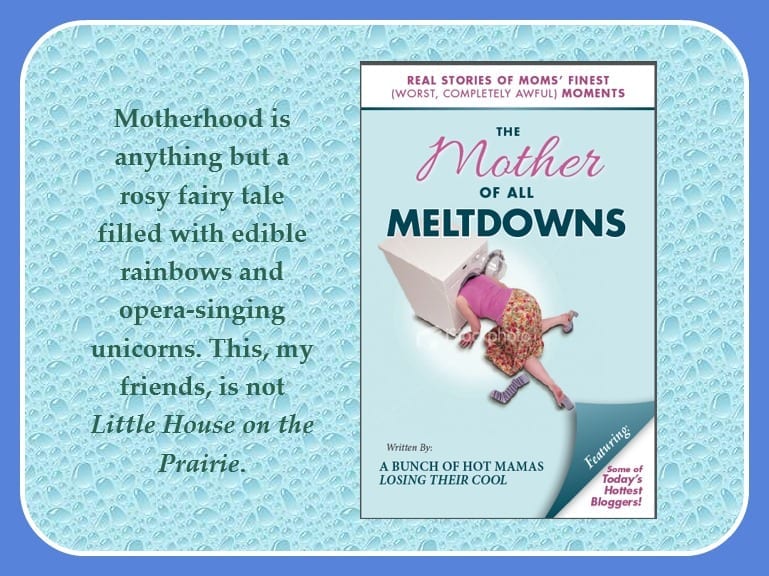 The highlight of my year was the publishing of a book I co-authored with twenty-nine fellow bloggers, The Mother of All Meltdowns—otherwise known as MOAM. The entire project was a hoot to work on and I couldn't have asked for a nicer group of women to collaborate with. They have become much more than acquaintances, more than just some bloggers I know…they are my friends and like a second family. As much as a wanted to, I couldn't afford to buy them all a new Audi for Christmas, so I thought I would pay them tribute in the best way I know how, through words. We'll do this alphabetically:
Andrea of Be-Quoted: Lionhearted, sophisticated, and talented. Reading your stories and blog posts is such a rare treat. You are an incredibly gifted writer with a unique style that is all your own. I'm glad you took the leap of faith and contributed to the book.
Alexa of No Holding Back: Strong, charitable, and unwavering. You remain an inspiration and are one of the strongest women I know. Anything you set your mind to, I'm certain you'll achieve. Thanks for being part of this very special project.
Angela of Writer Mom's Blog: Sassy, determined, and supportive. You've had my back throughout, continue to have my back, and I'm pretty sure, would kick anyone's ass who tried to mess with my back. Thank you for the hours upon hours you have worked on this project (and continue to work on it). I'm glad a stoopid job interview brought us together.
AnnMarie of Tidbits from the Queen of Chaos: Smart, caring, and easygoing. No matter how much you have going on, you always try to find time to lend a hand and check in on your fellow bloggers. That is team spirit!
C. Lee of Helicopter Mom & Just Plane Dad: Dedicated, helpful, and creative. You've come up with some great ideas and really worked hard to make this a success. I'm excited to be working with you again on the next book! And more books!
Christine of The Mom Café: Charismatic, full-speed-ahead, and a constant cheerleader. Your energy has been infectious. I'm so thankful to have you in my life and wish all the goodness in the world for you.
Dana of Kiss My List: Intuitive, pro-active, and reliable. Fellow coffee drinker, it's been such a pleasure working with you! You bring to the table innovative ideas and a sense of logic that needs to be infused into every project. Here's to the next book!
Dani of Martinis and Minivans: Fearless, quick-witted, and humorous. You keep me laughing and constantly in awe of how much you achieve. The book would never have been the same without you. I'm thankful to have you on the team.
Deb of Urban Moo Cow: Hard-working, intellectual, and personable. When you believe in something, you're not afraid to take a stand or express your thoughts. I admire this about you and am glad you came on board for MOAM.
Ginny Marie of Lemon Drop Pie: Inspirational, vibrant, and courageous. You set the bar high, both as an amazing woman and gifted writer. To call you a friend is a gift and a privilege.
Janine of Janine's Confessions of a Mommyaholic: Thoughtful, dedicated, and sunny. You bring a ray of sunshine to the group, always there with positive affirmation and generously supporting others. Thank you for being you!
Jen of My Skewed View: Focused, smart, and patient. Your story made me laugh over and over again (and still does)! And I really do believe you have the patience of a saint. Thanks for coming on board!
Jennifer of Another Jennifer:  Visionary, encouraging, and wise. My homey from down the roady…(gawd that was horrible). We live in the same state. Let's drink and be merry one day very soon! In the meantime, I cannot thank you enough for all of your support—on everything. You are a dear friend, and an amazing human being!
Jennifer of Pink When: Kind-hearted, imaginative, and willing. Your creativity is astounding! I have enjoyed working with you and cannot wait to see what the future has in store for both of us.
Karen of Baking in a Tornado: Powerhouse, hilarious, and awesome. You have a way with people and are simply hilarious! Your ongoing dedication to MOAM has meant so much. I'm glad we met and hope we have many more chances to work together.
Kristen of Four Hens and a Rooster: Fiery, awesome, and sincere. You don't take shoot from anyone, qualities I respect and admire. You are an encouraging role model for women and an amazing mother. I LOVE working on projects with you!
Kristi of Finding Ninee: Eloquent, warmhearted, and optimistic. There's beauty in your writing; the words sing on the page. You've made me cry, cheer out in victory, and laugh until I thought I was going to burst. Thanks for contributing and for continuing to write incredible pieces.
Lisa of The Golden Spoons: Spirited, generous, and dependable. Not to mention talented! Behind the scenes you've created some amazing promo images that have been liked and shared by the masses. I cannot thank you enough for offering to take on this task. You are generous and such a warm soul, Miss Lisa.
Marcia of Menopausal Mother: Pioneering, passionate, and funny. You've been my hero for quite some time and it has been an honor working with you. I look forward to a lasting friendship and kicking ass in this publishing industry!
Marie of Make Your Own Damn Dinner: Enthusiastic, appreciative, and sharp. What a year? What a year! Having you on the MOAM team has been awesome. You've accomplished so much with your blog and writing—the sky is the limit. I know there are great things on the horizon for you.
Melissa of Home on Deranged: Comical, consistent, and charming. All C's for you! You are definitely someone who makes me laugh—constantly. You've consistently gone out of your way to help promote the book and other writers. Thank you from the bottom of my heart!
Melissa of Completely Eclipsed: Sweet, lively, and steadfast. You're smart, charismatic, and always willing to lend a hand. I've enjoyed getting to know you better and hoping you'll join us for book two!
Michelle of A Dish of Daily Life: Saintly, amazing, and philanthropic. I honestly don't know how you do all that you do…I can't keep up! You're a machine! I'm grateful that you joined this project and appreciate all of the time that you have devoted (which is endless hours). You are the Twitter Queen and a wonderful friend.
Natasha of Epic Mommy Adventures: Calm, smart, and classy. I enjoy your writing, and the way in which you paint a picture to tell your story—even if it does involve poop. Your blog was one of the first I ever bookmarked, because, quite frankly, I think you're pretty epic.
Nicole of Work in Sweats Mama: Energetic, sophisticated, and dedicated. You've been quintessential to the success of this project, preparing winning press releases and giving us all terrific pointers for approaching the media and press. There are not enough words to express how thankful I am for all of your help.
Norine of Science of Parenthood: Fascinating, sharp, and fabulous. You are a walking success and will continue to be, forever. Every time a see a Lego I think of you and your very popular story. May the next year (and years that come) bring great things your way!
Rabia of The Liebers: Democratic, reliable, and good-natured. You are the rock of the group, keeping us grounded and offering great alternatives for a "middle ground." I absolutely love your positive attitude. You're someone I WANT to work with!
Rachel of The Tao of Poop: Friendly, intellectual, and philosophical. You are a good soul, a later in life mommy, like myself, who is doing a remarkable job raising a family, blogging, and being a rockin' author! Thank you for sharing your story and helping to make MOAM such a success.
Stephanie of Crayon Marks and Tiger Stripes: Joyful, outgoing, and caring. You make me look past the exterior and see who I am on the inside. You also remind me that I'm not alone, that I've earned these tiger stripes and stand in harmony with so many other mommas. Thanks for contributing to the book and having a blog that uplifts and empowers!
Tamara of Tamara Like Camera: Radiant, enthusiastic, and giving. You were one of the first bloggers I met when I ventured into this territory. You have a beautiful heart and have shown me (and all of us) a world of support. But I still want to steal you damn hair!
A special shout out to Lisa and Ashley of The Dose of Reality for reading the book early and giving us support throughout; Amber of City Girl on Hick's Farm who is our head cheerleader and greatest advocate, and Tanya of Comic Strip Mother who keeps promoting our work and giving us props. Thanks to each of you! And may you have the merriest Christmas ever!