Walmart has long been the source of not just a vast array of affordable products, but amusing shenanigans as well.
All one needs to do is take a look at the website "People Of Walmart" to get a sense of just how… entertaining a trip to the superstore can be. (Caution: if you do click on the page, some sights can't be unseen. You've been warned.)
Walmart's got plenty of colorful characters, but if I had to pick one to nominate as their spokesperson, North East Walmart's employee Charlene has got my vote.
One Walmart employee has unintentionally gained her own social media following after being featured in a series of pictures on her store branch's Facebook page.
Walmart of North East, Maryland, has recently begun to post photos of some of their employees posing with products that are available for sale in the store. The pictures are cute and quirky, & inject some fun into the otherwise ordinary store wares.
If you flip through the store's Facebook pics, you can see that initially numerous employees were involved in the pics. As time went on, however, Charlene became their breakout star.
The reason: Charlene took these photos seriously.
(No, REALLY.)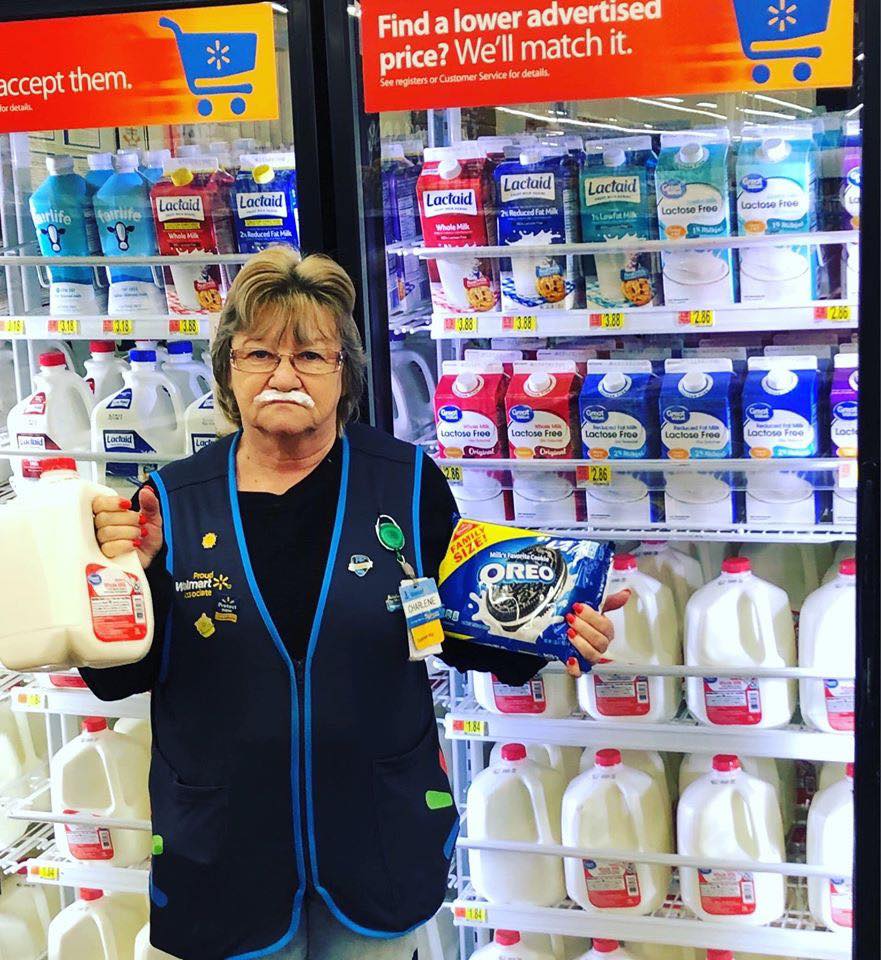 Got milk? Walmart does. And Charlene would tell you, if her teeth weren't coated with Oreo grit.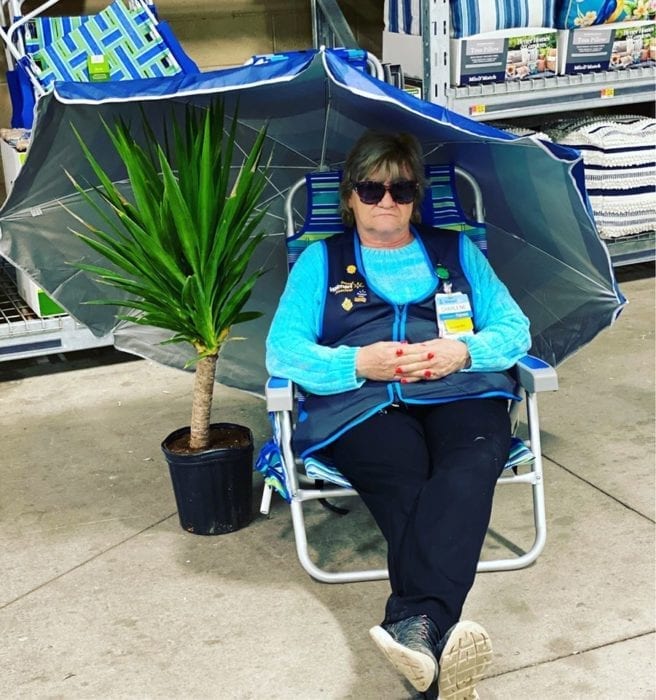 It was "National Plan Your Vacation Day", & Charlene's got PROPS.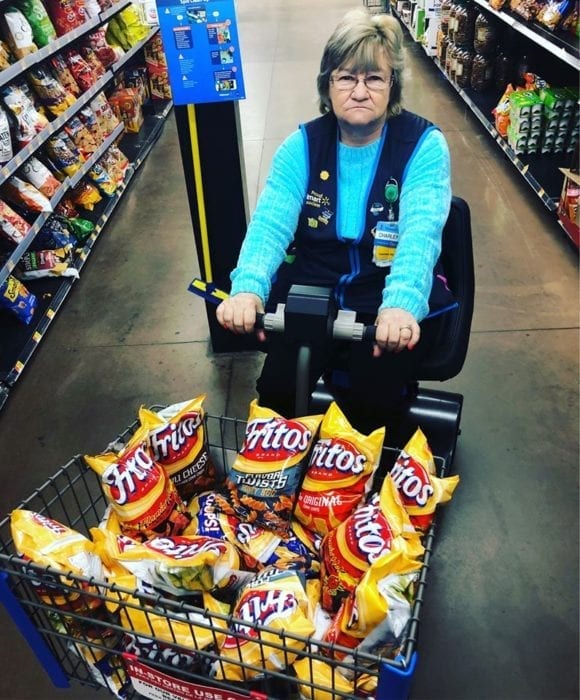 This was for "National Corn Chip Day", & the only thing more intense than those Chili Cheese Fritos is Charlene's stare.
Charlene's deadpan expression is part of her appeal. It's deliberate. It's fascinating.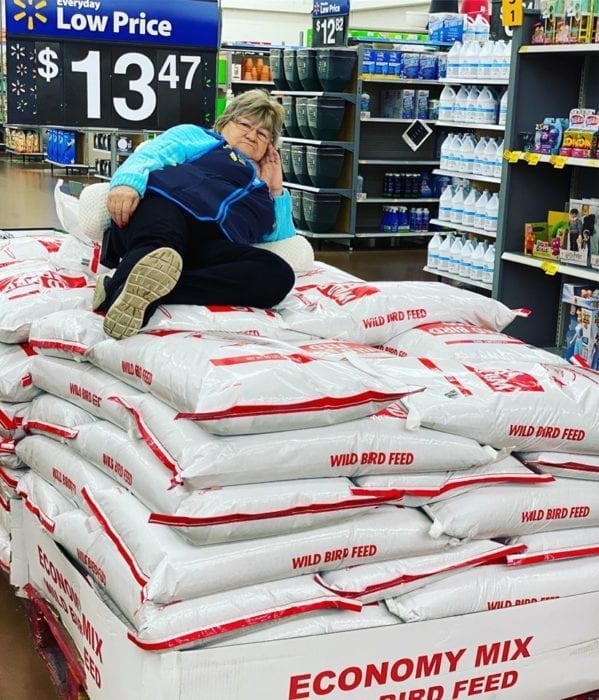 Never has wild bird feed looked so cool!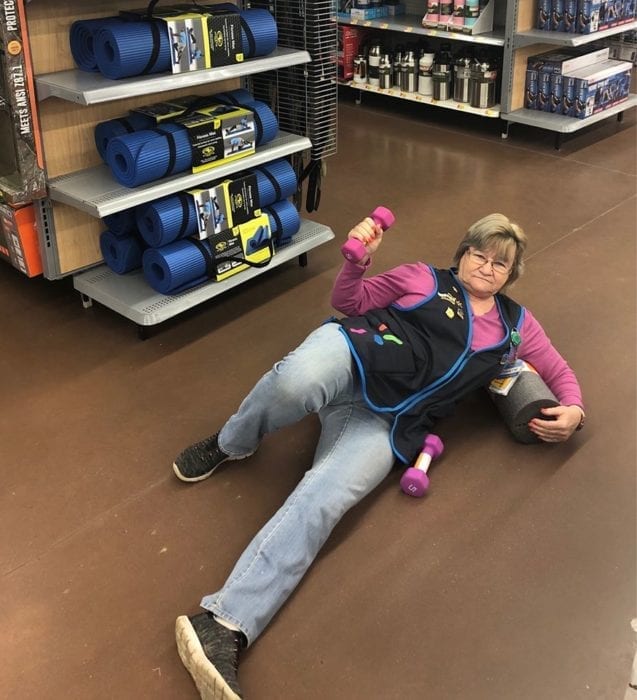 Here's Charlene getting her Jane Fonda on- not that she needs it after all the miles she's clocking around the store!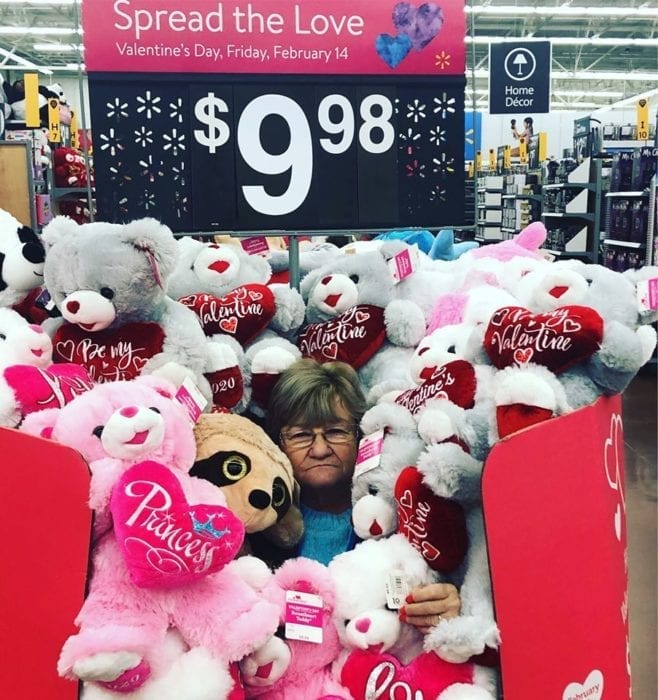 I'm not sure how much Walmart is paying Charlene, but I'm thinking she deserves a raise.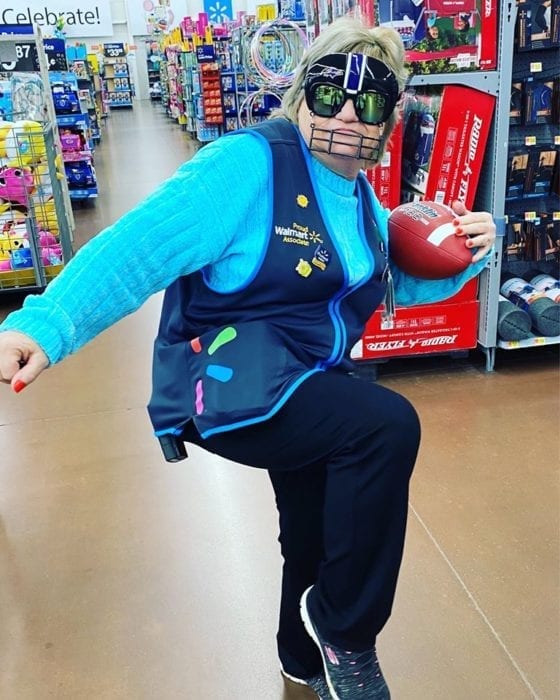 Charlene sporting a Heisman pose- go team Walmart!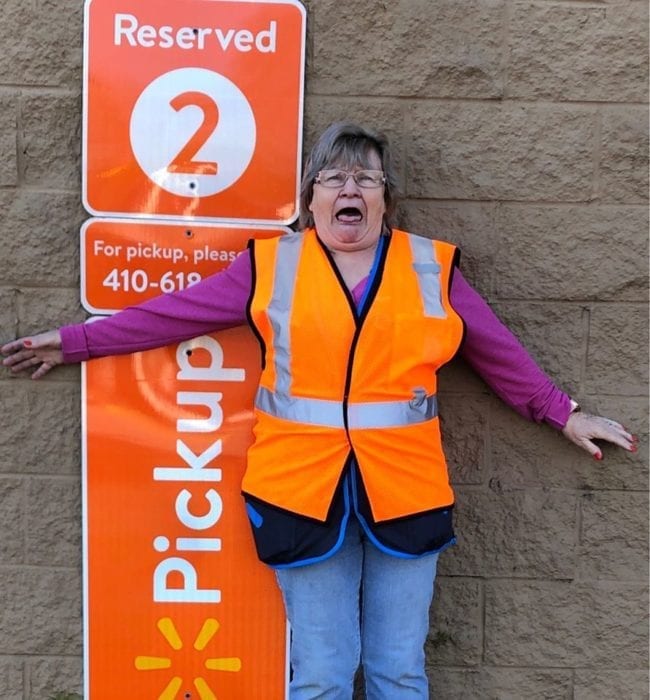 This pic was their unveiling of the store's online grocery option. While I don't quite understand Charlene's expression choice here, I still frigging LOVE IT!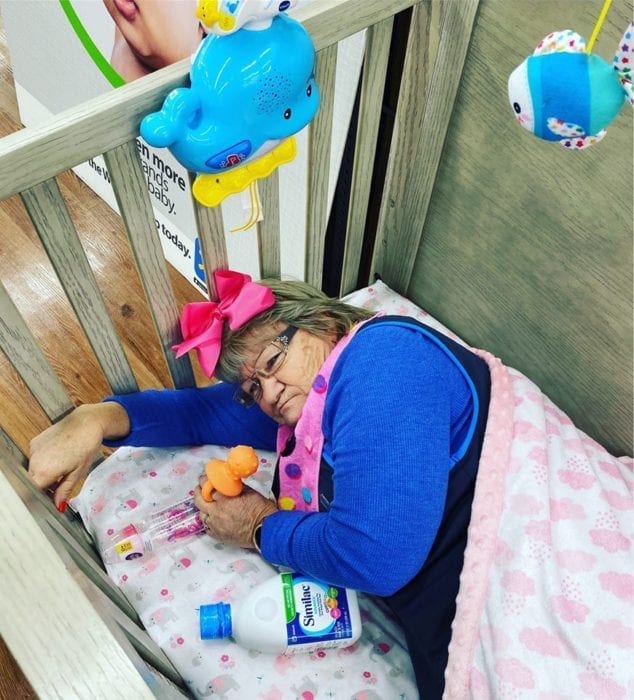 No comment needed.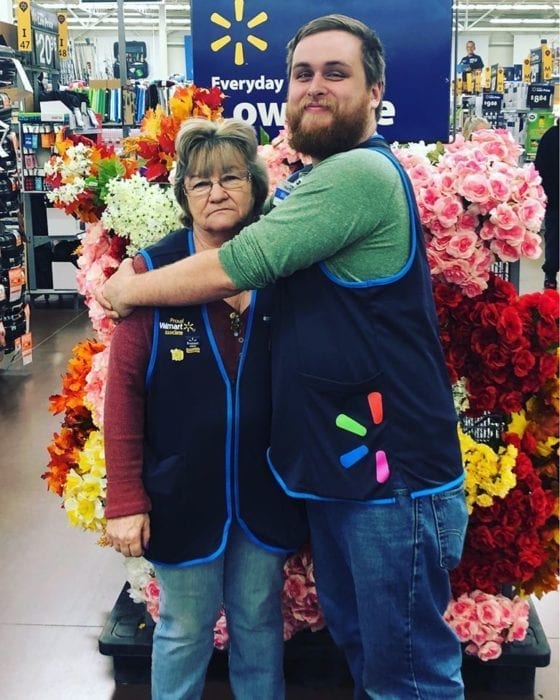 Like Frick and Frack, these two are perfect together.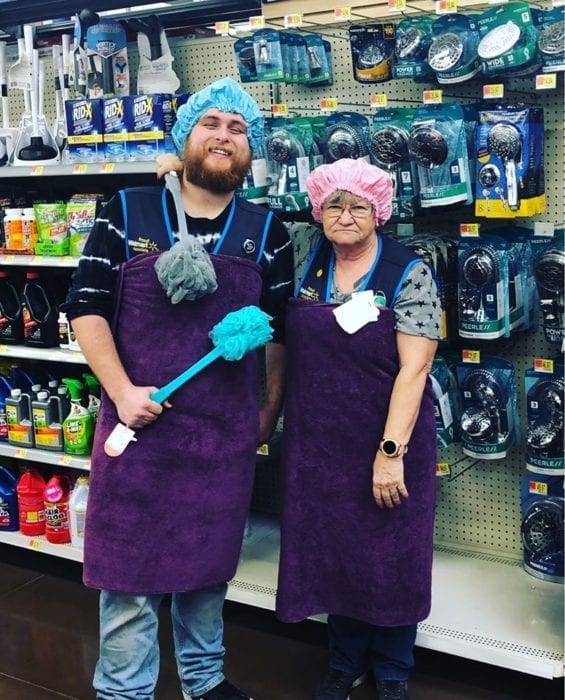 Seriously, these two need some kind of Walmart reality show.
Despite what some might think, Charlene's serious expression is comically intentional- her willingness to pose for these Walmart product pics clearly demonstrates her sense of humor.
Charlene has become one of the store's major attractions; people are now shopping at the North East Walmart in hopes of catching a glimpse of their favorite product picture model.
In fact, the store even held an official "Find Charlene & Take A Pic With Her" day: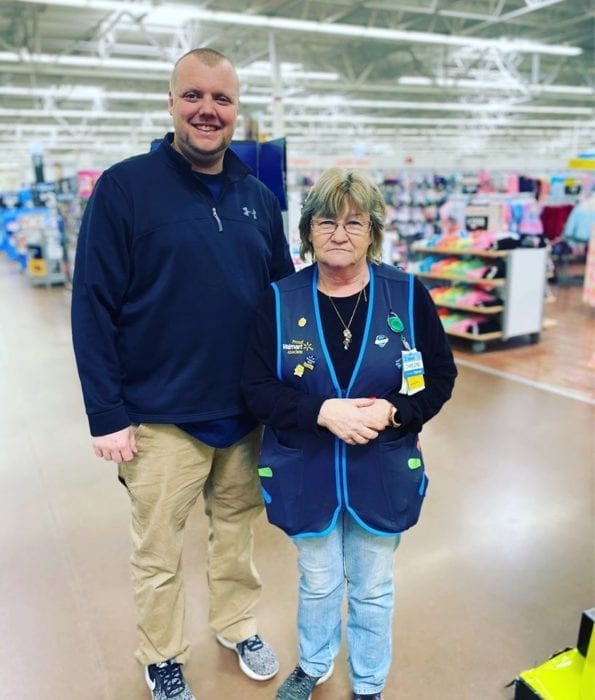 Not only that, but so many people have begun following the North East Walmart page specifically for Charlene that they've even begun a petition for Charlene to appear on the Ellen show:
She's got my vote!!
North East Walmart was clever in devising their employee product pic series, but Charlene is their best "product" by far!