Fluffy bathrobes. Glorious days on the beach. Nights filled with dinners and kid-free self-indulgence. It is the stuff of dreams and yet, it's totally real.
The momcation is being touted by mental health care experts as a necessary form of self-care for overworked and overbooked mothers.
In fact, there is a burgeoning facet of the travel and tourism industry that caters to moms in need of self-care. More and more hotels and travel agents are designing vacation packages aimed at giving women a much-needed break from motherhood.
When I search for momcation packages, I am surprised to find so many options.
There is a Mom's Wine Country Getaway that promises complimentary wifi that certainly is not meant for Googling that strange rash your kid picked up at daycare. They'll also throw in a complimentary pair of whimsical slippers that you can take home and show the kids.
The Magical Momcation, a Tahitian adventure, will set you back a mere nine grand for seven nights. Don't worry moms, the sound of the waves on that beach in Bora Bora will lull you into the sort of sound sleep you haven't had since well–becoming a mom.
The #momcation appears in more than 52,000 posts on Instagram. Our feeds are filled with mothers relaxing and enjoying simply being human again.
It looks and sounds like heaven. But, and isn't there always a but, while there are a whole group of moms enjoying kid-free travel to exotic places, there are many moms who cannot.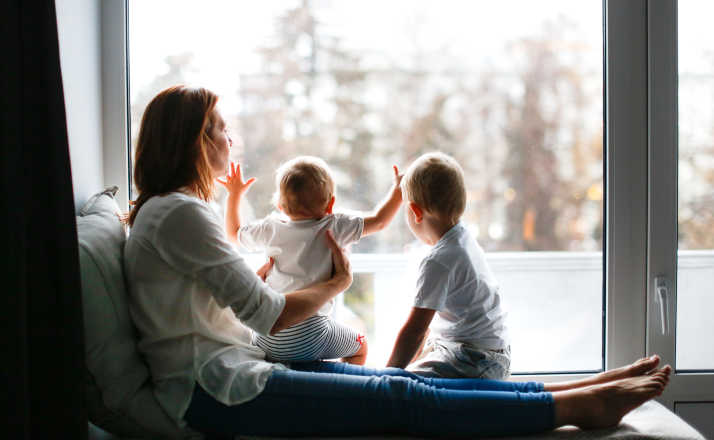 We lack the resources to make that fabulous mom trip happen.
For me, it is the financial burden of having to pull together the money for a vacation.
Planted firmly in middle-class life where I struggle to pay a mortgage, meet the nutritional needs of four kids (two of them teens) and keep up with a host of other bills, there is little extra cash to book a trip.
If I did have the money for a vacation, it would be of the family sort. The one that while fun, brings its own sort of next-level exhaustion.
While for me, the momcation is impossible because I don't have the money, for many other moms, it is the burden of childcare that prevents such self-care.
They either lack the support system to care for their children while they are away or the funds to hire a babysitter. Military spouses and single moms are two groups who seem at a particular disadvantage when it comes to finding childcare and/or money to take that much-needed mom trip.
Even those that have the money and access to childcare, may carry an all too common mom emotion right along with them in their travels–guilt.
I suffer from this mom guilt myself. Working two jobs leaves me little time with my kids, and it takes creative planning and a lot of letting go (of a clean house, a daily shower and other things I found essential before motherhood) to find pockets of quality time with my kids.
And, let's not forget those mothers who may feel like they don't have a mom tribe to take a vacation with anyway.
For those of us who simply can't take a momcation, it often feels like we have failed in our quest for self-care.
For me, the phrase, take care of them to take care of you, runs through my mind. It reminds me of the well-intentioned but not always feasible, metaphorical advice, 'put your oxygen mask on first.'
None of us want to feel guilty about not having the funding or support system to make self-care a priority.
So yes, I would truly love a momcation, but it isn't possible.
Not now anyway.
I suppose the rare moms' night out will have to be enough for me and a whole lot of other moms who simply don't have the means to make a momcation happen. So if you're feeling like you're alone if you can't take the mom trip. Know that you're not.
There are a lot of us painfully jealous of the momcation we may never get to take.