In what may be a horrible accident, seven children in Hopewell, Viginia were hospitalized earlier this week after overdosing on prescription sleeping pills that were allegedly handed out to the kids by a seven-year-old.
Police responded to a 911 call for help and arrived at the South 16th Street home where they encountered four children, ages four and under, unresponsive.
Additionally, police say, they found three other children in a separate room in a "lethargic" state, having also overdosed.
While details are sparse, authorities believe that the oldest child, a seven-year-old may have handed out the pills to all of the kids. The two youngest children, ages one and two, are in serious condition and being treated at a local hospital.
"They were left unsupervised for a short period of time and one of the kids that have prescription medication got into it and shared with the other children here," Lt. Cheyenne Casale from the Hopewell Police told WTVR Channel 6 News.
According to WTVR, the mother of four of the children was babysitting three kids and left all seven kids while she ran an errand to the corner store.
According to People, the mother alerted a man in the apartment that she was leaving, but did not clarify that he needed to watch the children.
WTVR Channel 6 News reports that Child Protective Services is involved in an investigation of the incident. Additionally, a "Crime Insider" reportedly told WTVR that "there were less than desirable living conditions at the home."
This story is a tragic one that is still unfolding and will undoubtedly impact all seven kids for years to come.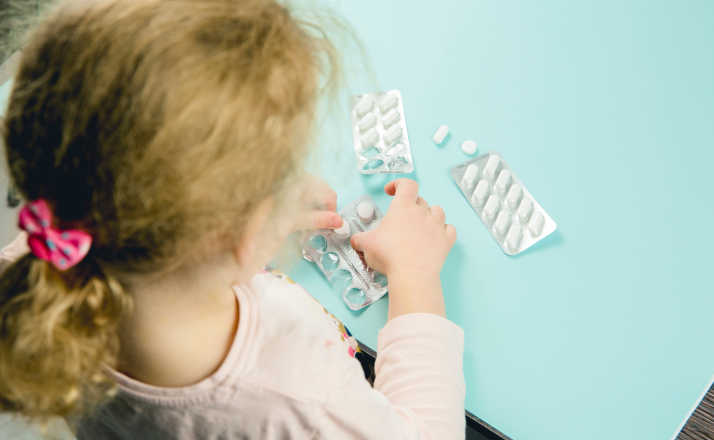 According to Poison Control, pain medications accounted for 1,201 calls to Poison Control and were the fourth more reported poison exposure in kids ages six and up.
The most common poison exposures Poison Control documented in 2020 included:
Cosmetics and Personal Care Products 2,278
Cleaning Substances 1,689
Foreign Bodies/Toys/Miscellaneous 1,297
Pain Medications 1,201
Vitamins 935
Topical Preparations 766
Plants and Mushroom 744
Dietary Supplements/Herbals/Homeopathic 716
Antihistamines 690
Pesticides 556
Arts/Crafts/Office Supplies 435
Gastrointestinal Preparations 413
Electrolytes and Minerals 297
To keep your children safe, there many ways to prevent poison exposures. According to Health Resources and Services Administration (HRSA), more than 90% of poisonings happen within the home.
With an eye to prevention, parents can make sure their kids won't be one of those exposed to potentially deadly chemicals.
When it comes medicines, HRSA recommends that families look through their homes to ensure that:
All medications and other hazardous substances be locked in cabinets or kept our of reach where child cannot access them
Keep all medication in their original packaging, with clearly marked labels, and store them properly.
Properly dispose of all expired medications.
Never share medications, especially prescription medications.
If you suspect that anyone in your home has been exposed to an overdose level of medication or a poison, see help immediately. You can dial 911 or call the Poison Help Line at 1-800-222-1222
For more information on safety tips such as preventing carbon monoxide poisoning, food safety, and other potential safety issues visit the HRSA website here.
As for the seven children in Hopewell, Virginia, police are investigating what they say may be a complicated and lengthy investigation.
"Find out who are we going to hold accountable and get these kids in a safe environment, that's our number one goal," Casale told WTVR Channel 6 News.
We hope the kids recover quickly.