After many months of masks, social distancing, & hand sanitizer by the gallon, vaccines are steadily becoming available, offering us a crack at a mask-free (hopefully near!) future.
Some are jumping for the jab. Others are saying nay to the needle. But in an effort to promote vaccine positivity, some companies are enthusiastic about encouraging their customers to get vaccinated.
As if the promise of a mask-free future isn't sweet enough, Krispy Kreme is doing is one better with their latest deal… and it's definitely sah-weet!
Krispy Kreme donut company announced that anyone who has been vaccinated is now eligible to receive a free glazed donut at participating locations, every day throughout 2021. No, seriously.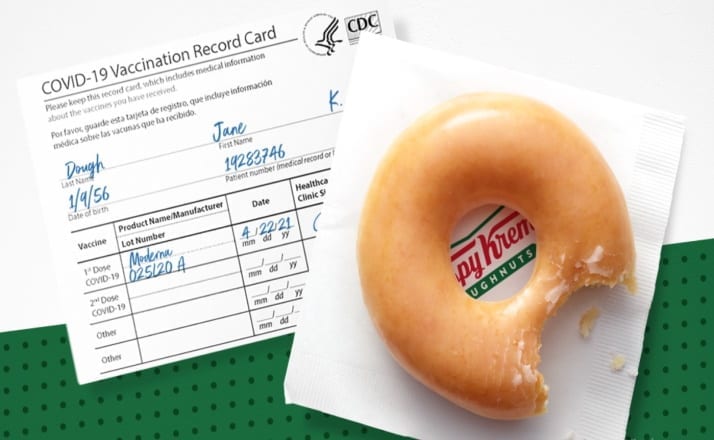 While we've seen numerous celebrities and public figures urging Americans to book a vaccine appointment when applicable, Krispy Kreme is one of the first companies putting their money where its mouth is.
Or rather, where its delightedly devoted customers' mouths are. Literally.
The idea behind Krispy Kreme's generous freebie is to promote vaccination to assist in loosening the hellish grip that Covid-19 has had on our society for the past year.
The program is described on the official Krispy Kreme website under the tagline, "Be Sweet To Your Community", & company representative Dave Skena describes the motive for it as:
We all want to get COVID-19 behind us as fast as possible and we want to support everyone doing their part to make the country safe by getting vaccinated as soon as the vaccine is available to them.
(True that- it's time to kick Covid-19's ass out the door!)
And the best part it's not just ONE free donut you're entitled to after being vaccinated, people. You can score one free glazed donut every.single.day, for the entire year.
For REALS, folks. No purchase necessary; you can scoop up a single sample of their glazed goodness on the daily for the entire year.
Bring on the vaccine & a happy donut-glaze glow; anyone else game??
In order to qualify for your free Krispy Kreme glazed donut, you need to provide proof that you've been vaccinated, but even your first vaccine dose counts.
According to Krispy Kreme's website, anyone who fulfills this criteria is eligible:
Qualified guests include anyone who has received at least 1 of the 2 shots of the Moderna or Pfizer COVID-19 Vaccine or 1 shot of the Johnson & Johnson COVID-19 Vaccine.
But don't think the vaccine sticker many of you are sporting on social media is enough proof to seal the deal; you will need to show your official vaccination record card in order to be gifted with your free sweet treat.
But what if you're decided not to get the Covid-19 vaccine for personal reasons?
Krispy Kreme isn't leaving un-vaccinated folks out in the cold. Even though their daily promotion is obviously for the purpose of encouraging patrons to get vaccinated, they are offering a sweet deal:
If you have made the personal decision to not receive the COVID vaccine, please visit us on Mondays, 3/29/21 – 5/24/21, to receive a free Original Glazed® doughnut and a medium brewed coffee to get your week off to a good start.
The bottom line: we're talking free donuts! Warm, sugary carb goodness- for FREE!
If you've been vaccinated, be sure to snag this delectably doughy deal at a participating Krispy Kreme store near you. And remember, while an apple a day keeps the doctor away, a free glazed donut every day for a year is that much SWEETER!