I recently had the pleasure of reading Baptist de Pape's forthcoming book The Power of the Heart. From the very first page, I was captivated and pulled in to a spiritual awakening.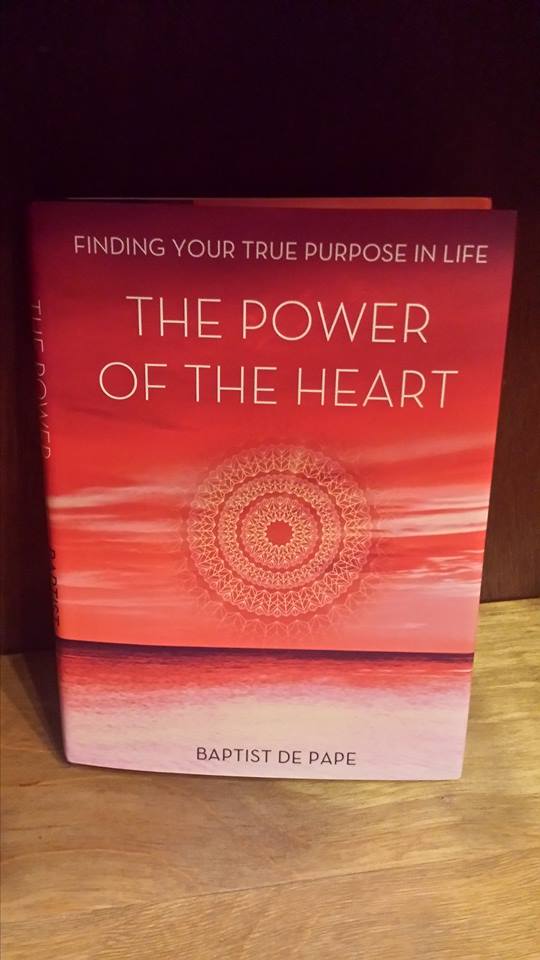 The Power of the Heart shows how you can overcome limitations in your daily life to find your true potential–and reveals the heart to be a source of love and wisdom that far surpasses that of the mind.
The book includes wisdom and advice from eighteen of the world's greatest spiritual thinkers including the late Maya Angelou, Paulo Coelho, Jane Goodall, Michael Beckwith, and Deepak Chopra. On a quest to find out the true power the heart holds, de Pape traveled around the world to interview these incredible thinkers.
They each shared personal stories and profound insights, co-creating a masterful book.
How Do You Connect With Your Individual Heart's Power?
There are many different ways to connect with your heart's power and intelligence. The book explains how to listen to your heart's voice and hear its wisdom.
It also explains ways in which you can develop your intuition, create synchronicity, clarify your intentions, and exercise the power of gratitude.
All of these–intuition, intention, gratitude, and synchronicity–are also powers of the heart.
The book itself is brilliantly formatted and presented in a visually calming way. For the reader, author Baptist de Pape quickly becomes a close friend, sage mentor, and curious fellow journeyer, walking alongside us as he observes the magnificent complexities of the human experience.
The notion that we can use our hearts to rise above and soar ahead gives us hope and encouragement—that even when we trip, struggle, grieve, or feel lost, we have an opportunity to expand, and that it's through this lived experience, with all its ups and downs, that we come closer to the heart of who we were born to be.
This is a life-affirming guide to the heart's awakening.
I most connected with Maya Angelou, someone who has had a great influence on my life and the way I view the world around me. My favorite quotes found inside:
"That is the heart knocking on your door saying, 'Open the door, here I am, you need me.' Because then you say, 'Oh, look at where I am, I'm in hell. I didn't know that.' But the heart tells you, 'Trust me, I will bring you out of that.'" ~ Maya Angelou
"You have to experiment. Try it for yourself. It's so important if you want to change your life." ~ Linda Francis
"No matter what you achieve outwardly in this world, you will always very quickly encounter frustration, disappointment, or some form of unhappiness or suffering, despite all your achievements, if you are not living in connectedness with that deepest level within yourself." ~ Eckhart Tolle
The Your Calling exercise found on page 141 was eye opening for me.
To better understand our mission in life, we are asked a series of questions including:
Who am I?
What is it I want?
What is my true element?
What does my heart guide me to want and to do?
What is my life's purpose?
Who are my heroes/heroines in history, in fiction and legend, or in religion? What is it that I admire most about them?
What are my unique skills and talents for a greater purpose?
I know that I am a mother and a survivor.
I have the courage to overcome obstacles. I want a life full of love and laughter, surrounded by my family. I'd like to feel at peace with the choices I've made in the forty years I've been on this earth. I hope as I apply more of what I learned in The Power of the Heart, I will discover the answers to the other questions.
One of the most powerful statements in the book for me was "Keeping your heart open keeps you connected to your essence." These are words I have genuinely taken to heart.
I now start each morning with an inspiration from the book.
I take the time I need to reflect on the words of wisdom and have found it to be a way of learning about the real person I am. I have been searching for inner peace for so long , this book has helped me to meditate on the important things to make my life and my inner self more complete and at peace.
I love this book and want to give everyone I know a copy.
To pre-order a copy of this amazing book, visit the official website. You can also follow the journey on Facebook and Twitter.
Disclosure: This is a sponsored post for SheSpeaks/The Power of The Heart; however, all opinions are my own.