This post contains Amazon affiliate links. If you click on a link, Filter Free Parents may receive a commission. See our full disclosure policy here.
Unless you've been living under a rock, you've likely heard the buzz around the groundbreaking book Maid: Hard Work, Low Pay, and a Mother's Will to Survive by Stephanie Land.
Her memoir has rocked the book charts and is now the number one rated Netflix show, bumping out Squid Games.
But if you haven't read the book, you might be wondering what all the hype is about?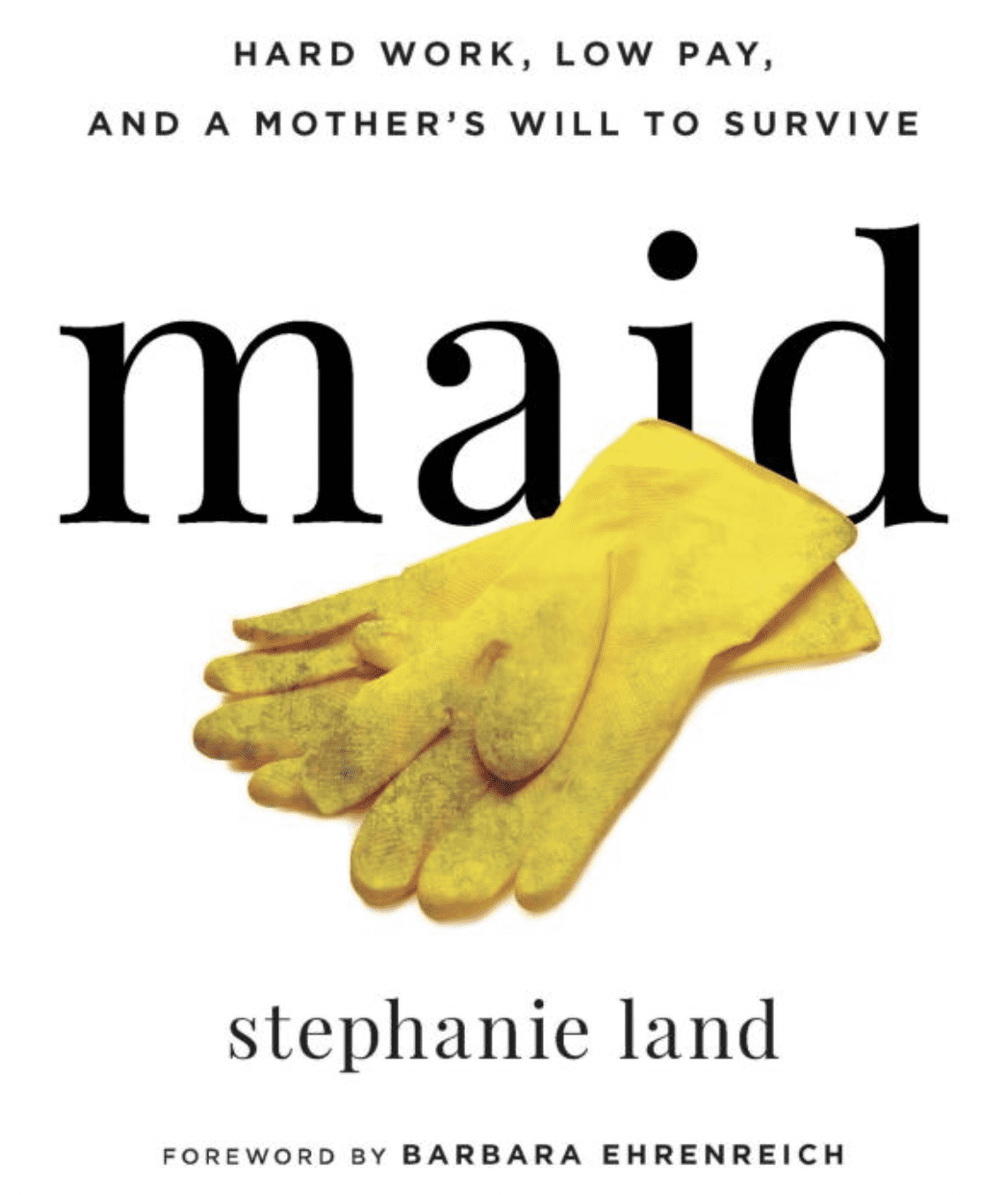 Maid is the personal account of author Stephanie Land's journey out of poverty. But before you think, "aww, I love a feel-good story!" brace yourself because this is an emotionally raw book that pulls back the curtain on just how stacked the system is against the poor working class.
The book follows the author as she struggles to leave an abusive relationship, faces homelessness, and raises her child as a single mother while simultaneously dealing with the screwy system of government assistance.
By day, the author is a "nameless ghost" who cleans houses for the upper-middle class. By night, she works hard to put herself through college and write her way out of this horribly sad story.
This heartbreaking book is taking the country by storm because of how Stephanie Land shares her story so that readers can clearly see themselves.
As much as it hurts to say it, being a single mom in an abusive relationship and relying on food stamps to survive is not a unique story.
If you haven't experienced poverty and abuse yourself, then you likely know someone who did.
But this book isn't all sorrow and terror. There is true grit and tenacity in Stephanie Land's spirit, and you can read that on every single page of her book.
When the book was published in 2020, it immediately blew up the book charts. It doesn't hurt that Barack Obama chose it as one of his summer book picks, which sent droves of readers to flood online retailers to snatch up this inspiring story.
And readers were not disappointed. Not only is Land's story inspiring and eerily personal to millions of Americans, but her writing is gorgeous and adds an element of masterful art to her account.
And now, Maid is a Netflix success story that has smashed Squid Games and bumped it out of the way as the number one show in the country.
Stephanie is called Alex in the show and is played by the talented Margaret Qualley alongside the incomparable Andie MacDowell.
If you haven't read Maid yet, then you are missing out. Grab a copy and read it for yourself; you'll see why everyone is freaking out about this fantastic book.