Costco is a godsend during the holiday season. Need to send in cookies for the class party? One ton of soft-baked chocolate chip cookies, coming up! Need 90 coffee K-cups to keep you running as you shop 'til you drop? Head to Costco!
Need a kayak, a flat-screen TV, or some last-minute stocking stuffers? Costco, baby!
Ah, yes, Costco, our old reliable wholesale supplier is always there when we need it for the holidays.
Only this year, Costco has gone above & beyond is making sure that our holiday season is about to get a helluva lot more festive… and by "festive", I mean LIT.
Costco is now selling a Kirkland (store brand) eggnog that contains 13.9% ABV, making it one hell of a boozy eggnog.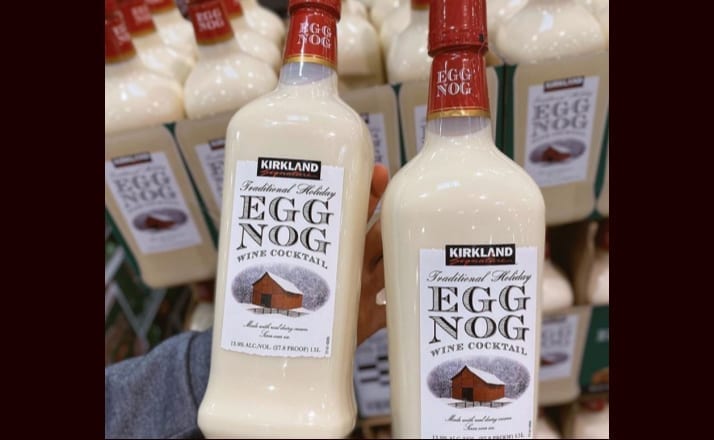 Ok, so let's talk eggnog. It's definitely a polarizing holiday tradition, along with the infamous fruitcake. While some people love sipping a frothy cup of warmed eggnog laced with cinnamon, others cringe at the very idea of it.
When given the choice, most people skip the nog & opt for hot cocoa.
While I don't pine for eggnog on Christmas, I find it mediocre. Meh. But like most carbs & sweets during the holidays, I'll probably eat or drink it simply because it's there.
But eggnog that has the same amount of alcohol as your average bottle of wine?
Take all my money, Costco. Give me all.the.eggnog.
Costco's newest gem is known as Kirkland's "Traditional Holiday Egg Nog Wine Cocktail".
Although the label boasts that the egg nog is made with:
real dairy cream
It's THIS tidbit of info that is drawing in the crowds:
contains 13.9% Alc/Vol, and is best served over ice.
Boozy eggnog that is best served over ice?? It truly is the most wonderful time of the year!!
It's important to note: despite being called a "wine cocktail", there's no actual wine in the product. There IS alcohol, but it's assumed that the name is merely to comply with local liquor laws.
Although Costco has experimented with a variety of boozy eggnog drinks in the past (they were previously known as "eggnog liqueurs"), this year's product packs a more powerful punch: each glass contains the same amount of alcohol per volume as your average glass of wine.
This new boozy eggnog is sold in 1.5 liter bottles for a mere $9, which is cheaper than most wines.
(And don't forget- it's made with real dairy cream!)
Drink a glass or two of Kirkland's eggnog at your next holiday party, and you might find yourself as lit as your host's Christmas tree.
A glass or two more, and you might find yourself falling INTO your host's Christmas tree, so drink responsibly.
Because while this IS the season to be jolly, too much spiked eggnog can lead to things holiday fashion disasters reindeer boob sweaters (yikes!) and your name on Santa's naughty list.