When I was pregnant with my kids, maternity photoshoots weren't really a thing. I think I have about 3 pictures of me with my swollen belly, wearing days-old sweats, and my hair in a messy bun. They're not pretty.
Nowadays, maternity photoshoots have become a popular way to announce and celebrate a pregnancy. And dang it, pregnancy has never looked so good.
If you don't take romantic snapshots of yourself cradling your belly and frolicking in the grass are you even pregnant?
OR maybe…NOT pregnant??
One couple from Indiana decided to flip the script on the popular pregnancy photo-op in the most hilariously epic way possible – with their very own NON-maternity photoshoot.
They then shared their happy news with their closest family, friends, and 2000 Facebook acquaintances.
And by "happy news" I mean the news that they are expecting…NEVER. That's right, the couple is never, ever, having children. AND they have the vasectomy to prove it.
(Although I would recommend getting his sperm tested every once in a while. I personally know three couples who thought they were done, and then, "Surprise!!" Just sayin')
Tyler Frederick and Chelsea Roy announced Tyler's vasectomy with the help of photographer Elijah VanDine and a few very well-placed props, proving pictures are truly worth a thousand words.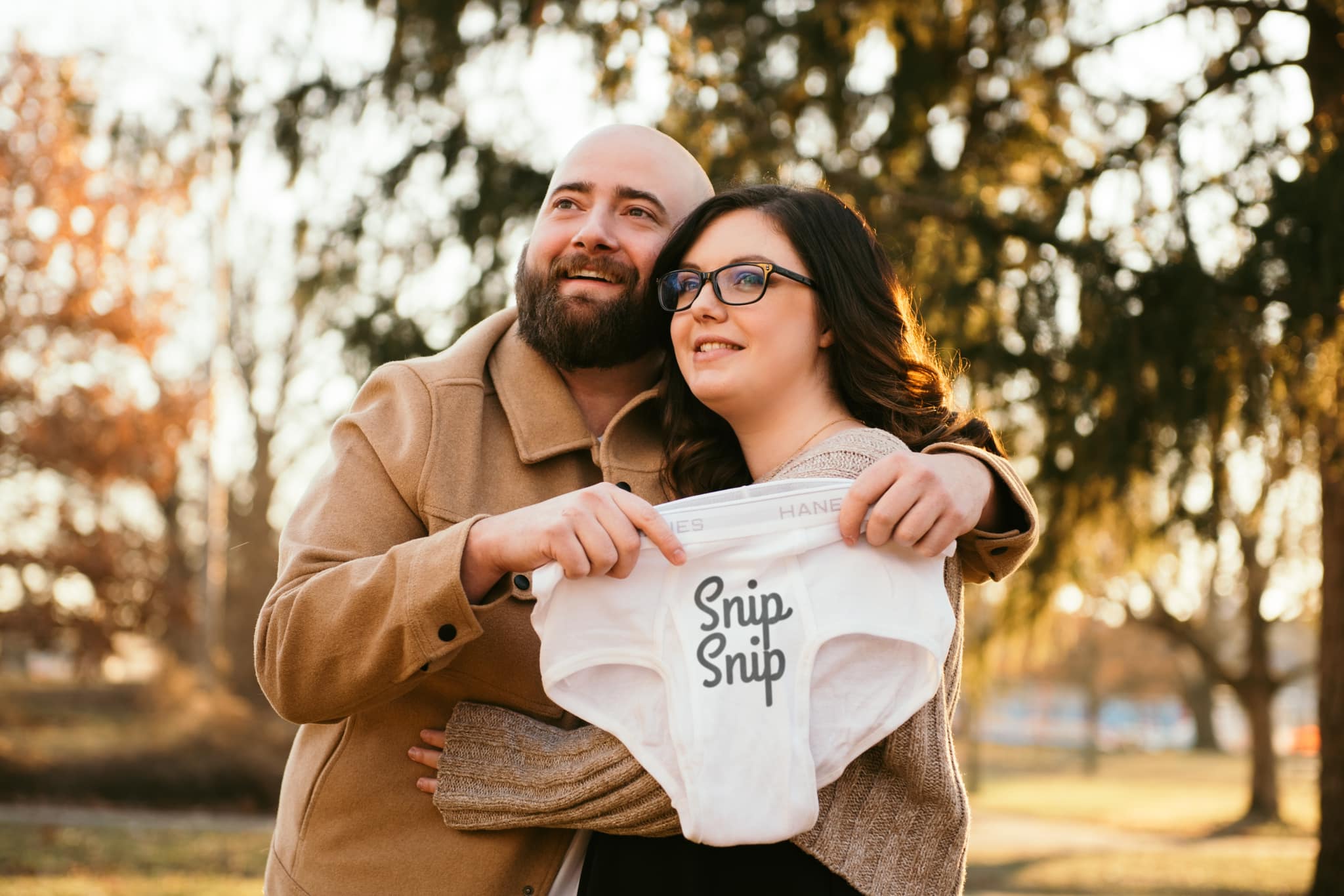 They cheekily captioned the post:
"We have a very exciting announcement to make! We are expecting… NEVER! Got snipped mid December and looking forward to the child free life."
To which we would just like to say, "Congratulations!"
Tyler shared a number of the pics on his Facebook page, each one even better than the last.
They used artfully placed underwear, a baby onesie, and even a pair of scissors to really drive the point home.
To start off the whole shebang the couple decided to go with the classic "looking into the future" pose.
Here they are, standing in front of a grove of trees, a lake shimmering in the background, gazing wistfully (and dare I say, gleefully) into the distance. Likely picturing their much-anticipated future sans kids.
(A future full of sleep and drinking coffee hot, freedom and money, probably).
Snip Snip.
This was quickly followed by the sequel, "Coming NEVER," a story of a couple and their…oh wait, never mind. It's just them. Living happily ever after. Alone. Forever and ever.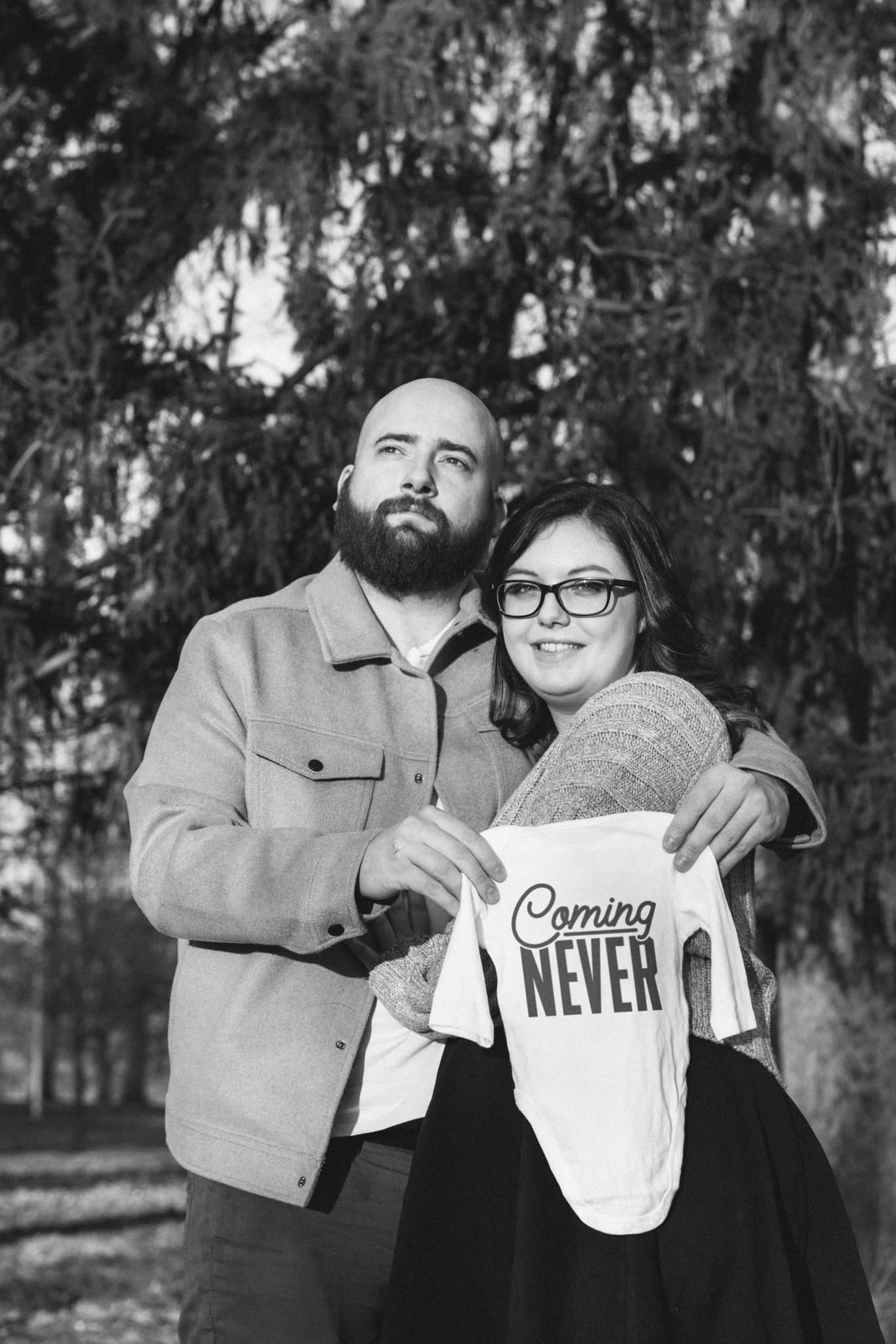 Who says you need to have kids to have fun? Not Tyler and Chelsea, that's who.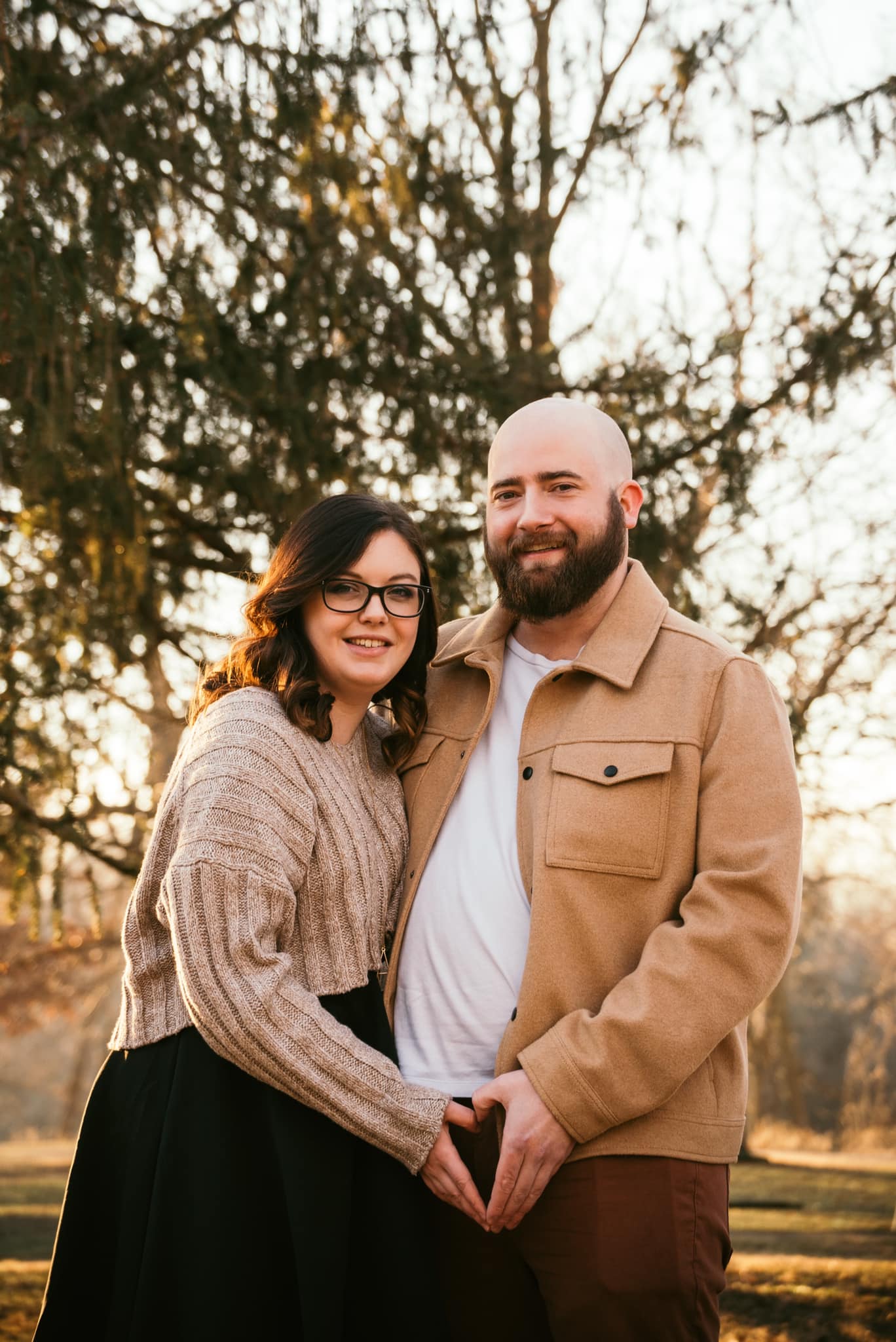 The pictures weren't all trees and playgrounds and pretty scenery. The couple also decided to go with a more vintage vibe with a little help from photoshop. Oh, and scissors. Which should be pointing down for accuracy purposes, but whatevs!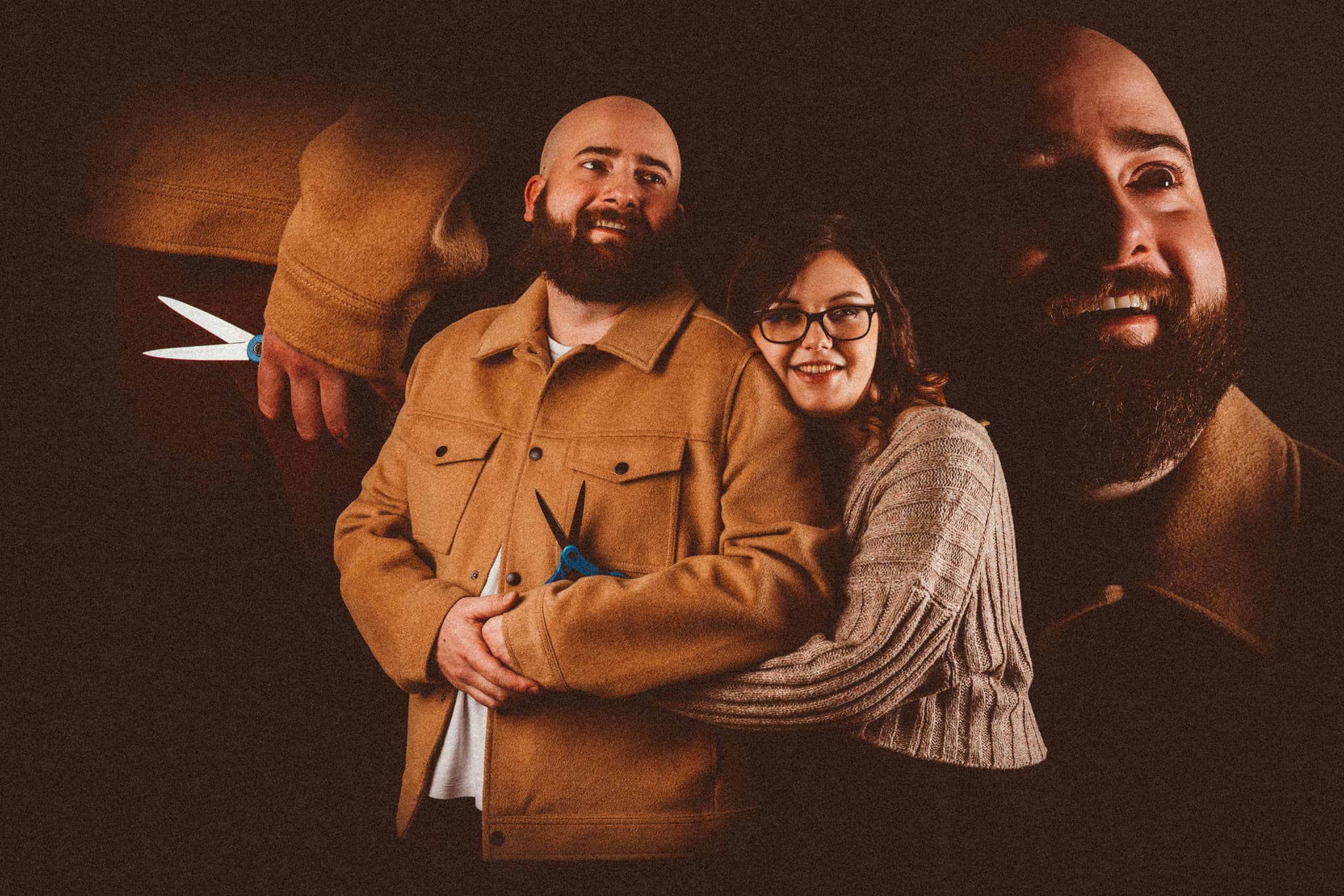 Haha, spoke too soon…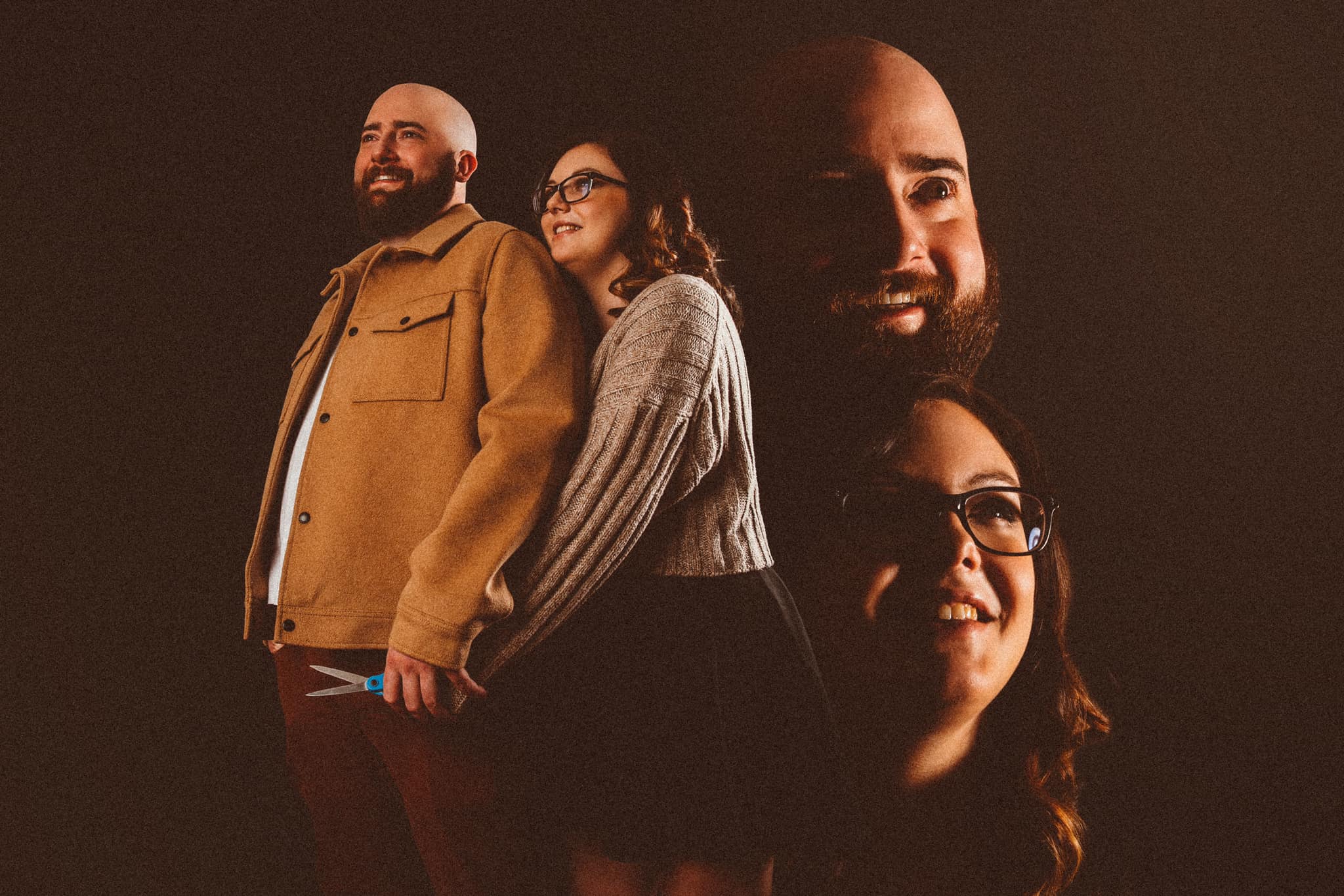 I just gotta say, this is genius. No more pesky people asking, "When are you having kids?"
In fact, they should probably have business cards made up. That way every time someone asks – oh you know they will – they can just whip one out of their wallets and hand it over with a smile.
All those awkward family gatherings don't have to be awkward anymore! No more unsolicited baby hints or side-eye glances to the kids' table. Nope. Those days are over!
The reality is that Tyler and Chelsea are part of a growing trend of people opting out of parenthood. According to a report from the Pew Research Center, 44% of childless adults don't want kids and don't plan on having them.
Additionally, in 2018, the number of babies born in the U.S. fell to the lowest level in 32 years.
Oh, and there are plenty of people in the comment section tagging their significant others, presumably to start planning their own NON-maternity photoshoot.
The pics have obviously struck a chord, not only with people without kids but also those with kids as well. The post has gone viral with over 9K likes, 8K comments, and 12K shares.
Look, clearly Tyler and Chelsea are living their best lives. Having kids isn't for everyone and it is beyond frustrating when everyone you know just won't stop asking. Now, at least, Tyler and Chelsea have a fun way to let people know, without ever having to say a word.
You can check out all the pics here: