One thing I regret from the times that I was pregnant was not taking pics of my growing belly. I see moms-to-be now staging all sorts of cool, beautiful maternity photo shoots, & I wish that I'd done it at least once.
You've seen the pics I'm talking about: pregnant women draped in gauzy, flowing dresses in a field of wildflowers, gazing serenely into the distance. Pregnancy never looked so good!
Nowadays, however, the closest I will ever come to a maternity shot would be a pic of my big old "food baby" belly after gorging on my most favorite takeout food ever: Taco Bell.
Yo quiero Taco Bell 4EVA! If I had a nickel for every Crunchwrap Supreme I've chowed down on in secret in my car, I could… buy more crunchwraps.
(Seriously- a hard & soft taco combined into one"? It's genius!)
Obviously I'm not the only one who loves Taco Bell, but little did I know the glorious heights that one could take this passion to- especially while pregnant.
One mom embraced her adoration of all things Taco Bell by staging her maternity photo session AT her local Taco Bell, & it's "nacho" average pics!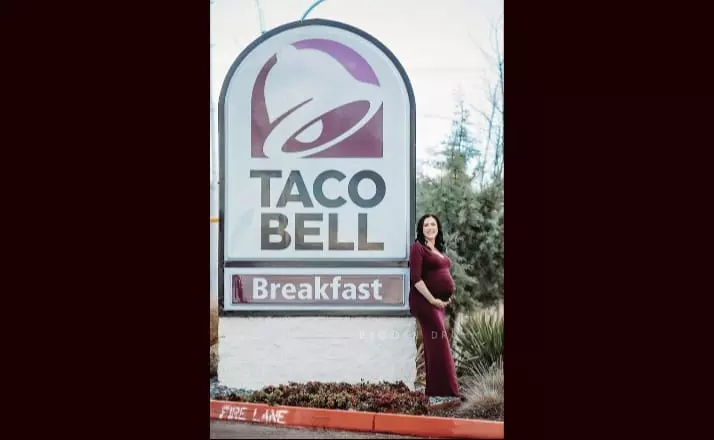 I think I found my new best friend, guys. Or my future life coach, because she is clearly living her best life!
To say that mom Courtney Vallala loves Taco Bell is an understatement; according to photographer Brooke of Brooke Drumm Photography:
If you were to ask Courtney her Top 5 favorite things, she'd say Taco Bell…twice.
So when it came time for Courtney to choose a locale that she found inspiring for her maternity photo shoot, there was no meadow for this lady. No field of flowers or peaceful wooded area.
So Brooke Drumm and Courtney Vallala discussed Courtney's vision for the shoot, and came up with a hilariously real & adorable venue.
Courtney hit her local Milton Taco Bell for her photo shoot, dressed to the nines and looking as smokin' as Taco Bell's Diablo sauce.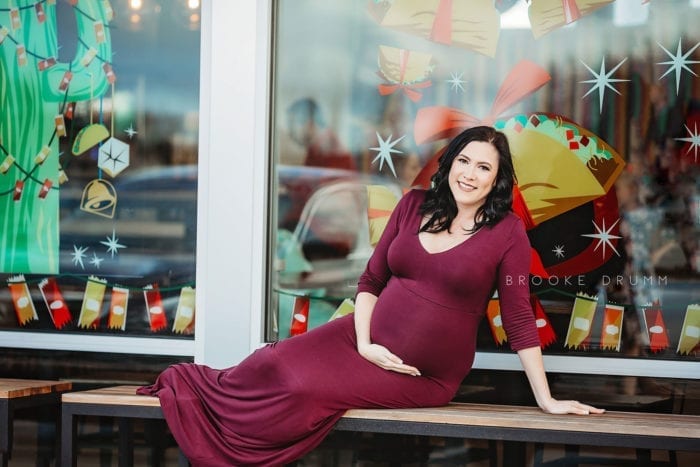 (I'm just going to say that I'm a little jealous, because my local Taco Bell didn't jazz up their windows for the holiday season like that. Just saying…)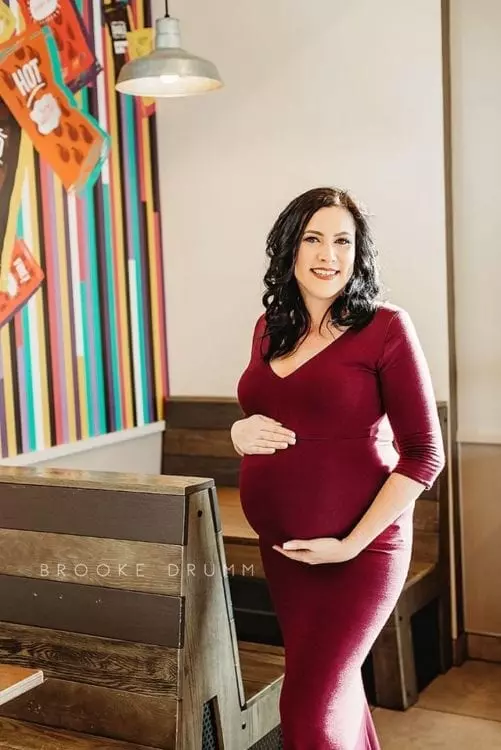 Look at how gorgeous she is! And that glowing smile- she's clearly in her happy place. (Literally).
But Courtney wasn't just there for show, folks. She chose the hallowed grounds of TB because she was ready to get her #foodbaby on!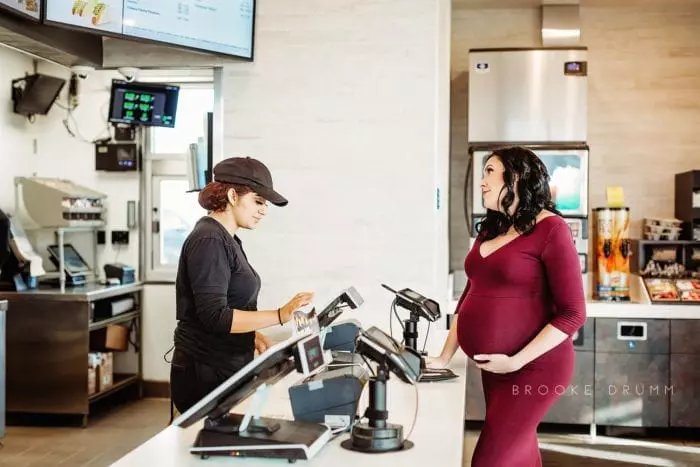 Cashier: "Which did you say you wanted; the chicken quesadillas, the 2 bean burritos, or the taco supreme with extra sour cream and guac?"
Courtney: "Yes."
But here's where Courtney elevates herself from whimsical maternity to sheer awesomeness: she includes photos of herself actually eating her beloved Taco Bell.
And is LOVING IT.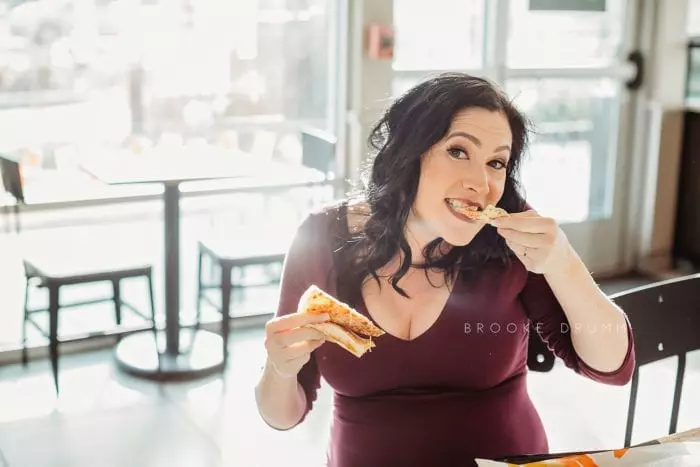 Yet another reason she is my hero: not only using her baby belly as a convenient nacho cheese holder, but managing to not spill a single glop of cheese on her gorgeous dress: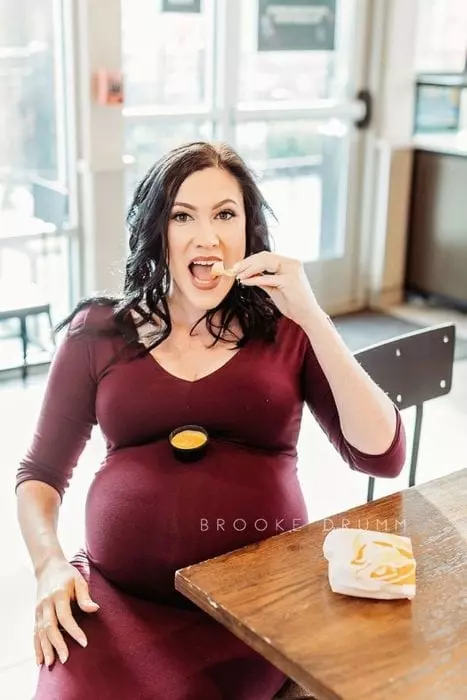 I mean, c'mon- look at this! A pregnant woman in her element, doing what pregnant women love to do: to actually indulge their cravings & eat what they enjoy!!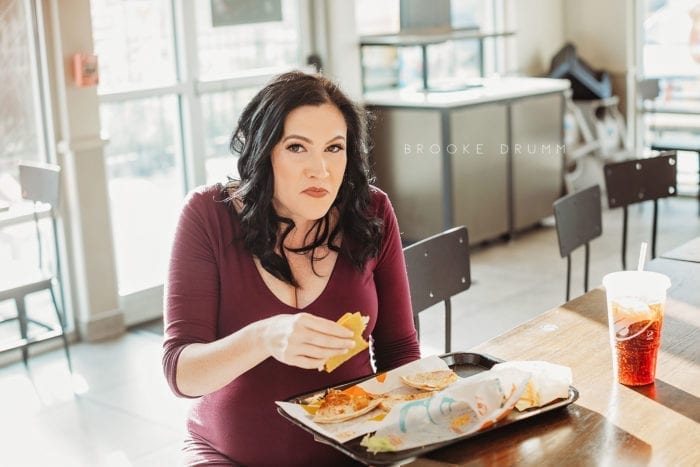 And the grand, fantastically perfect finale of a photo: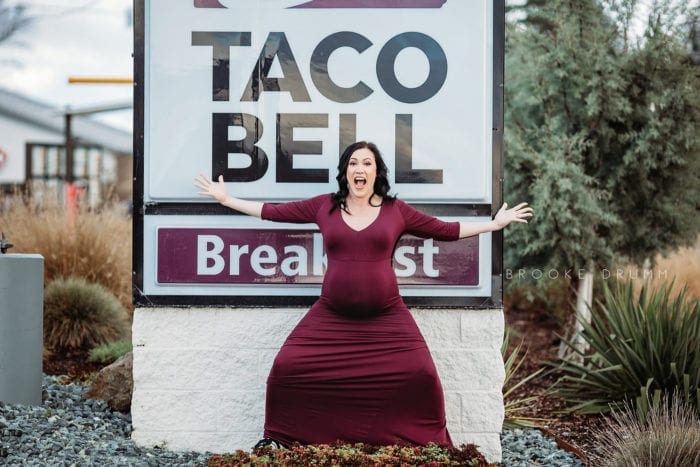 It's not just the mutual love of Taco Bell that makes this photo session so inspiring, though I'm craving a #burritobaby of my own right now…
The photo session embraces Courtney's own personality and vibe, putting her own authentic (and delicious!) spin on her pregnancy experience.
Don't get me wrong; the "goddess in a flowing robe in a field of wildflowers" makes for some stunning maternity shots, and I'm not knocking any woman who has done it.
But if given the choice, I'm thinking I'd last about 20 minutes in the wildflowers before snapping at the photographer that I have to pee (baby-bladder-pressure). I'd be squatting over the flowers, peeing on my gauzy dress, and ready to kill for a taco.
No one needs to see those kinds of pics. NO ONE.
So thanks, Courtney and Brooke Drumm Photography, for reminding us that we can be pregnant, beautiful, AND still living our best life without a drop of nacho cheese sauce spilled!