Pregnancy is such an exciting time! There are so many things to celebrate and anticipate. BUT . . . there's also a lot to do! Have you put choosing a day care center on your list?
If you're planning to go back to work after baby is born, finding a day care center is going to be one of the top items on your to-do list. In fact, after choosing a midwife or OB, choosing a day care center or home day care provider is probably the next most important decision!
Home-based day care or a day care center?
Both in-home day cares and day care centers have the potential to provide excellent care for your child. Still, they are very different.
Home-based day cares tend to have just a few children. This can be great for minimizing illness spread and allowing for individual attention. Home-based day cares also tend to be cheaper and offer more flexibility.
But home day cares can also feel a bit riskier to parents. While licensing rules and regulations exist, you're more or less forced to trust that all is well in the home. Also, when your provider is sick or out of town, you'll typically be out of luck.
Day care centers, on the other hand, often have more organized curricula. They tend to have specific and predictable procedures and schedules. Because they have multiple employees, you don't have to worry about the entire day care center being closed if one provider falls ill or takes a vacation.
But that all comes with a price, and day care centers tend to be more costly than home-based day cares. They also tend to have waiting lists and require additional deposits, registration fees, curriculum fees, etc.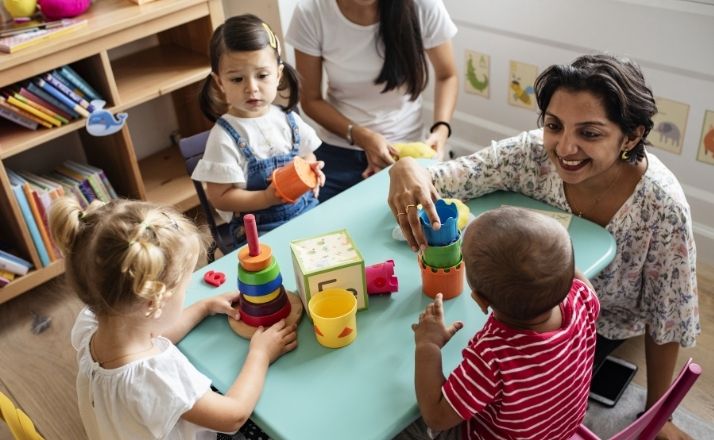 When to select a day care center
Assuming you've decided a day care center is the best option for you, now you need to find one! And that's easier said than done.
Many people don't realize that day care centers can fill up quickly. Many have rather lengthy waitlists, especially in underserved areas. While this isn't always the case, it's best to start exploring your options fairly early in your pregnancy. Then, start to really narrow down your choices during the second trimester.
At that point, you can find out how long the waitlists are (if they exist) and that will let you know when you need to make your final decision. As your third trimester winds down and labor approaches, you should make your selection and pay any necessary fees or deposits.
The postpartum period can be a real whirlwind. You don't want the added struggle of wrapping up child care loose ends!
How to choose the right day care center for you
Gather recommendations
If you know other parents, nothing beats word-of-mouth and firsthand experience. Nearly all day care centers will roll out the proverbial red carpet and put on their best show for prospective families.
But what is the center really like on a day-to-day basis? How well do they work with families? How caring and compassionate are the staff? Families who attend a specific day care center are the best sources for this kind of information.
Read reviews
Check your prospective day care centers' reviews and ratings on Yelp, Google, etc. Take the reviews with a grain of salt, of course. Often, the most satisfied and least satisfied customers are the ones most inclined to leave a review.
Still, you can gain a lot of valuable insights from reading families' comments.
Check with your state's licensing body
Every state has its own specific procedures and licensing regulations for childcare facilities. Go to the website for your state (and/or county) and find out what's required.
How often are day care centers visited and assessed by regulators? What were the results of previous inspections? Have any serious violations been found or complaints been filed?
Ask a lot of questions
Ask any and everything that crosses your mind. You'll be trusting this day care center with the most important thing in your life, so it's important you feel at ease.
If you don't feel comfortable asking questions now, before your child is even in their care, how will you feel leaving your child with them? A good day care center should be happy to respond to any of your potential questions or concerns.
Remember — it's not a lifetime commitment.
It can be nerve-racking, even downright terrifying, to send your child to a new day care center. Gather all the relevant information, trust your instincts, and make the best decision you can.
If the decision feels too big, remember that you're not committing to this childcare provider forever. As long as your child is safe and happy, you can always come back and reassess whether a particular day care center is best meeting your family's needs down the line.