Ask any parent of a kindergartner, and they will tell you that kids do not ever stop talking and asking questions. Like….EVER.
Just a trip to the grocery store is enough to make me reach for the ibuprofen some days because my kids ask 1,001 questions like, "are we there yet?" Or, "Mom, can I have a snack?" Or, oh, my favorite, "Mom, why can't we get a trampoline, like at Zoe's house?"
When you have kids, the questions just never freaking cease because kids are relentless AF.
One kidnapper in South Carolina is looking at more than two dozen charges, including 19 counts of kidnapping after he held up a school bus to get a ride to the next town over.
It all started when the school bus, packed with kids, was beginning its afternoon rounds. But then a man wielding a gun forcibly boarded the bus and demanded a ride to the next town, 20 miles away.
Luckily, the cool-headed and quick-thinking bus driver, Keneth Corbin, was at the wheel.
As it turns out, Corbin has special training in how to handle a hostage situation, and he put his training to good use by trying to keep the kidnapper focused on staying at the front of the bus.
The kidnapper, realizing that there were lots of kids on board, had all the kids move to the front of the bus to better keep an eye on them.
Unfortunately for him, this only brought more intrigue to the kids, and they had some questions.
So. Many. Damn. Questions.
"They asked him, 'Why are you doing this?' He never did have an answer for this one.
They asked, was he going to hurt them? He said 'No.'
They asked, 'Are you going to hurt our bus driver?' He said, 'No. I'm going to put you off the bus,'" Corbin told Good Morning America.
"He sensed more questions coming, and I guess something clicked in his mind, and he said, 'Enough is enough already,' and he told me to 'Stop the bus, and just get off.'"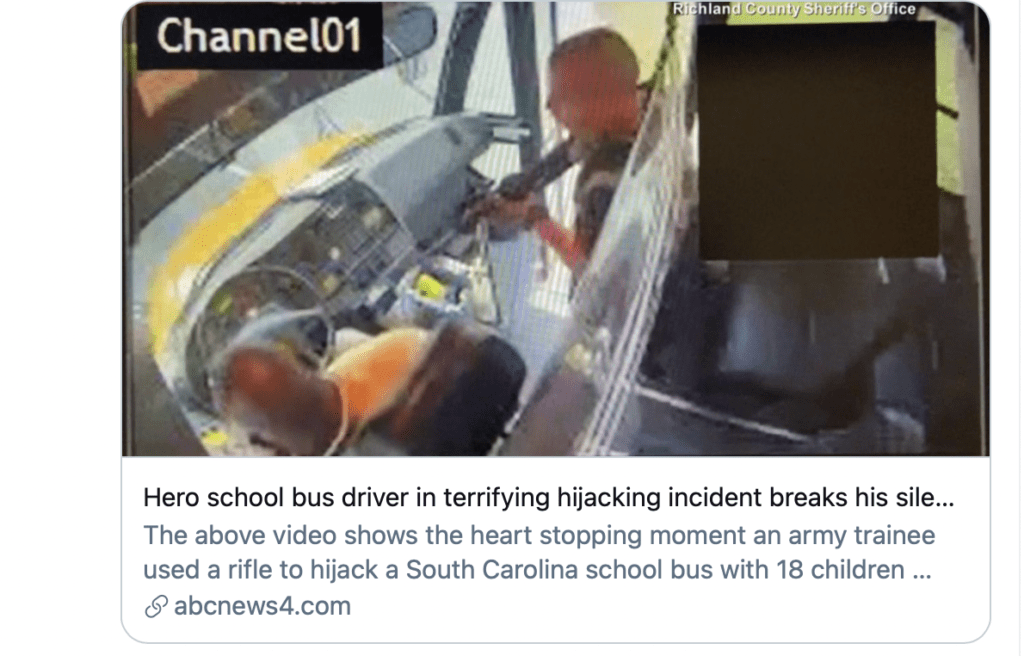 The ordeal might sound pretty funny, but let's be clear; a gunman was holding 18 children and one adult hostage at gunpoint.
There is nothing funny about that at all, someone could have been hurt or killed, and as a mother of three kids, I hope the law throws the book at this asshat.
The ordeal lasted approximately six minutes before the driver and children were ordered off the bus by the frustrated hijacker.
"The kids were the ones that actually got the gentleman off of the bus and they pretty much had my back as much as my concerns were with them," Corbin told GMA.

"At the end when they started questioning him, it seemed to have frustrated him because his main objective were to get to the next town, but I think we were only on the road about four miles, and he just got frustrated with the questions and just told me to stop the bus and get off.

All y'all get off now."
It is not clear what happened next, but the bus driver and children are safe and sound, and the kidnapper, 23-yer-old Army trainee Jovan Collazo from New Jersey, is in custody facing pretty serious charges.
Dramatic video captured driver Kenneth Corbin as he remained calm while a Ft. Jackson trainee used a rifle to hijack a South Carolina school bus with 18 children inside earlier this month:https://t.co/966BcHo31r#scnews

— ABC News 4 (@ABCNews4) May 19, 2021