Names are often cyclical. Baby names that are very popular for years fall out of favor as the population becomes a bit saturated. Then, slowly but surely, some of those previously popular names return — such as the case with old-fashioned boy names!
So, why are these old-fashioned boy names making the favorites list again?
For a while, trendier names like Aiden, Jayden, and Logan dominated the charts. In recent years, however, names we may have once considered "old man names" are coming back strong.
Part of it is probably sentimental. Old man names remind people of beloved grandparents or other important people from their past.
Part of it is also probably nostalgia. Recent years have been hard — and more than a little bit crazy! Some people undoubtedly yearn for easier times. Old-fashioned boy names may conjure up those feelings of a simpler era.
And part of it is likely a direct reaction to the dominance of "newer" names for so long. After seeing names like Tristan and Brayden everywhere, old-fashioned boy names can actually feel fresh and different.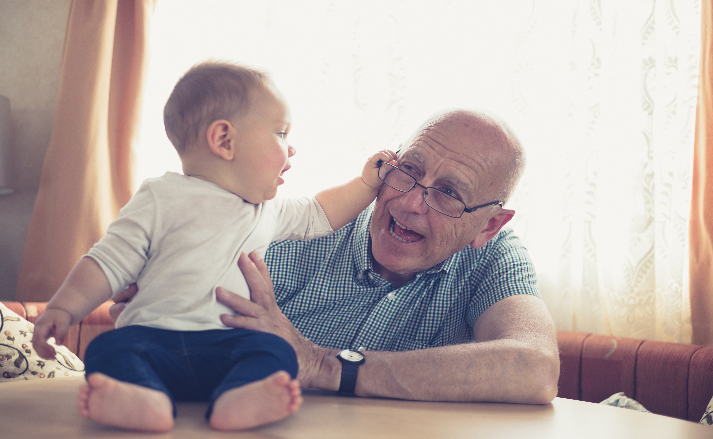 So if you're considering an old-fashioned name for your baby boy, here are some great ideas to get you started.
If you're looking for old fashioned boy names that have the classic feel, but are still fairly mainstream, you can't go wrong with any of these:
Benjamin*
Christopher
Elijah*
Emmett
George
Henry*
James*
Matthew
Noah*
Samuel
Theodore
Walter
William*
*These old-fashioned boy names are unique in that they're both traditional AND trendy. They've become so popular again they are in the Top 10, according to the Social Security Administration.
Of course, you may want an old-fashioned boy name that's a little less common.
If you want a more traditional boy name that's still fairly unique, these might be a good fit:
Amos
Arthur
Atticus
Baron
Blaine
Bruce
Byron
Clarence
Edison
Francis
Franklin
Frederick
Gregory
Harold
Harvey
Howard
Jasper
Jeremiah
Joel
Kenneth
Langston
Malcolm
Marshall
Otis
Pierce
Randall
Raymond
Saul
Spencer
Stanley
Winston
Of course, some people really want to double-down on the old man names. They don't just want old-fashioned as in traditional. They want names that make you immediately think back several centuries (or more!)
In that case, you may want to consider these very old-fashioned names for your baby boy:
Abraham
August or Augustus
Benedict
Cornelius
Ezra
Jebediah
Julius
Otto
Reginald
Roman
Solomon
Thaddeus
Windsor
Zachariah
Naming a baby is tough!
Once you eliminate all the people you've ever disliked, the people your partner dislikes, and the names all your best friends and family have already used, the list of potential names really narrows significantly.
Whatever name you ultimately choose, I hope this list of old-fashioned baby boy names helps you in your quest!
(Don't know the sex of the baby you're having? Be sure to check out these old-fashioned baby girl names too so you'll have your bases covered when baby arrives!)