The coronavirus pandemic has created so much pandemonium and upheaval from families scrambling for child care and food to stock markets crashing that nobody seems to know where to turn for a glimmer of hope.
Thankfully, the netizens of Twitter are stepping up with a delightfully heartwarming idea: put your Christmas lights back up.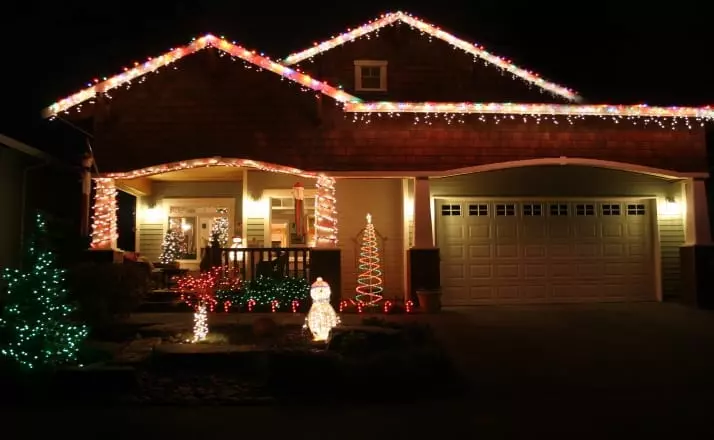 Lane Grindle (@lanegrindle on Twitter) wrote, "What if we all put our Christmas lights back up? Then we could get in the car and drive around and look at them. That seems like a fair social distancing activity."
What if we all put our Christmas lights back up? Then we could get in the car and drive around and look at them. That seems like a fair social distancing activity.

— Lane Grindle (@lanegrindle) March 15, 2020
His idea is awesome. In fact, I ran it by my three kids this afternoon and they thought it was so awesome that they asked us to pull our holiday decorations to put them back up. Guess what I'm doing right now?
Another Twitter user, Lisa St. Regis (@LisaStRegis) thought this was a brilliant idea, so after she posted a call to action asking others to get their lights up, she did the same.
Check out her awesome glowing lights:
Aren't they beautiful! pic.twitter.com/jgmF78mVhl

— Lisa St. Regis (@LisaStRegis) March 15, 2020
A Twitter dad who probably knows the cabin fever hell that is quarantine with kids posted this sweet image inspired by his kids. Thank you to this sweet 10-year-old kid who knew that shimmery colorful lights might help people feel good right about now:
My youngest son was bored today and said, "can we put Christmas lights on our tree outside to cheer us up?" Great idea buddy. Lights are on tonight as a sign of hope and the sweet mind of my 10 year old. #Rhodeisland #hope #lovemysons #Christmas #Cumberland pic.twitter.com/qhVjeuLc02

— Mike Griffin (@rhodyknowsbest) March 16, 2020
Even moms of adult children are getting in on the call for holiday cheer during this most challenging and scary time. One Twitter user named @uquickbear mentioned that his mother was thinking, "Hey, you know what would be nice to see right now? Christmas lights."
My mom thinks people should start putting up Christmas lights in their windows to remind each other that there is still life & light while we #StayTheFHome.

I think she's on to something.#DoingMyPartCO #CoronavirusUSA #LightsForLife pic.twitter.com/XHxDyORAcS

— Michael ? (@quickbear) March 16, 2020
THIS guy literally just got his holiday gear put away! And honestly, his yard lights are truly stellar and probably took a very long time to get set up. But, tough times call for tenacity and actions from the heart… so guess what Steve (@steve1330am) is doing right now?
#LightsForLife Great idea. But I just took down my entire display 2 weeks ago, LOL! Guess I'll put them all up now! pic.twitter.com/9u4ulqKskp

— Steve Neumann (@steve1330am) March 18, 2020
No matter where you live, the coronavirus is beginning to affect everyone.
With one in five Americans now effectively out of work, and more than 50 million school-aged kids on unofficial lockdowns at home, this is going to take some serious grit and American spirit to get through.
But you guys, we can totally do it.
Europe may have their beautiful balconies and their incredibly moving group sing-alongs, but we have our crazy yard ornaments and holiday lights to spread some smiles.
We can let everyone know that no matter what hits us, we will still stand up and find a reason – no matter how silly or odd – to see hope and light.
So we implore you to add some light to this awful situation; drag out those holiday lights and decorations and get your neighborhood lit.
Then pile up in your cars – keep the windows up and don't touch anyone – and go for a drive to see the amazing acts of kindness from perfect strangers living in your neck of the woods.
If you want to watch as more and more lights get posted to Twitter or to add your own images added to the conversation, head over to Twitter and look at the hashtag #LightsForLife.
Stay safe and healthy out there, friends.