If your child takes a bus to school, then you've experienced the uncertainty of putting your child on a bus for the very first time, & trusting the driver to deliver your child safely to and from school.
School bus cameras might be the answer to keeping your kids even more safe.
But sometimes it's the other drivers on the road that you need to be more concerned about.
It should be simple: when a school bus stops and its stop sign is up, other drivers are to STOP until the stop sign is retracted.
But too many drivers either don't get it, or don't care enough. Drivers blowing off school stop signs is a scarily common occurrence, & it's occasionally proven to be fatal.
One of the most recent heart-breaking examples was the deaths of a 9-year-old girl and her twin 6-year-old brothers. All three of them were hit as they started to cross the street after getting off their bus- and they were hit by a driver who ignored the stop sign.
It shouldn't even be a possibility. But it happens -too often- and one town in Virginia is taking definitive action in holding drivers accountable for these dumb decisions.
Virginia Beach City Public Schools has recently installed cameras on the sides of their school buses in order to protect its students, and other districts should absolutely be doing the same.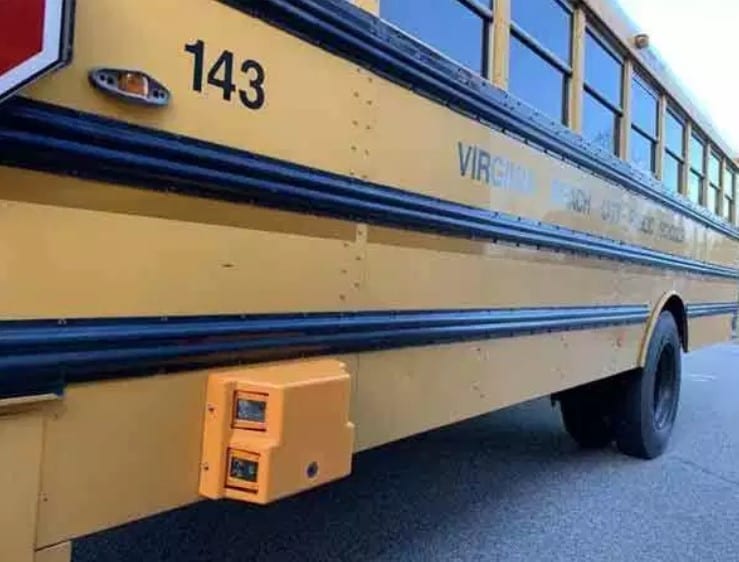 If a driver does not stop behind a school bus while it is unloading passengers, the car's passing is recorded on camera. The footage is passed on to the local police precinct, and the driver receives a ticket with a hefty fine.
All we can think is – It's about damn time!
I can tell you from personal experience that cameras are a very effective way to prevent drivers from passing stopped school buses.
In my town, there are several intersections that have cameras. If you blow through a red light, it's recorded on camera, and you are mailed a very expensive ticket. Just knowing that the cameras are there is a powerful deterrent.
And for the few who still take the risk, all it takes is one pricey mistake to remember to never do that again.
While it's pretty sad that a school district should even have to resort to drastic measures to get drivers to do what they're already supposed to do, it's still effective because it hits drivers where it hurts- their wallets.
The intense media focus on recent school bus accidents should have been a wake-up call for drivers, but apparently it hasn't been enough. These scary close calls have still been happening, which is exactly why the cameras are needed, as Director of Transportation David Pace pointed out when talking to Virginia news station WTKR:
We've had some close calls and we get calls every day from citizens saying cars are passing stopped buses loading and unloading students.
They were STILL GETTING CALLS EVERY DAY. How scary is that?! Cameras were necessary because even after school-bus passing became a topic of major headlines, there were still idiots blatantly ignoring the safety of kids by continuing to fly past stopped school buses.
Virginia Beach City Public schools has been concentrating on this issue for a few years now, and last year they had passed a bus stop safety initiative with the slogan, "Red Flashing, No Passing".
Although this was an important start, stricter measures were required because it was STILL an ongoing occurrence.
The cameras are a brilliant method of deterring drivers from passing stopped buses, and the best part is that they come at no cost to the taxpayer.
The worst part is that the money from ticket citation payments covers the cost of the technology, which means that enough people are paying tickets (ignoring the stop sign) to fund the cameras.
We shouldn't have to take measures to remind drivers to not pass a stopped school bus. A bus' open stop sign is the equivalent of a red light. It's a no-brainer concept, or it should be.
But too many kids have died as a result of a driver's ignorance or recklessness. Can you even believe that the deaths of multiple children aren't enough of a wake-up call??
It can't continue to happen, and we have to do something to eliminate this insane issue. Virginia City's camera initiative is definitely a damn good start.