September is National Preparedness Month which means it's the perfect time to start conversations with your families about what to do during emergencies.
It can be challenging to teach children about emergencies since it's such a scary topic, but it's essential.
Try to make learning about emergencies as fun as possible by having pop quizzes on the topics or taking field trips to learn more. And remember this is just a starting place for emergency preparedness. Make sure to have the conversations with your family that make sense for your situation.
Teach them about dangers in your home.
Although it's likely you've already shared most safety tips regarding your home with your family, be sure to go over them at least once a year. Each home is different, so take a look at yours to figure out where dangers lie and advise your family on how to avoid these hazards. Some obvious examples include fire hazards, electrical wiring, and sharp tools.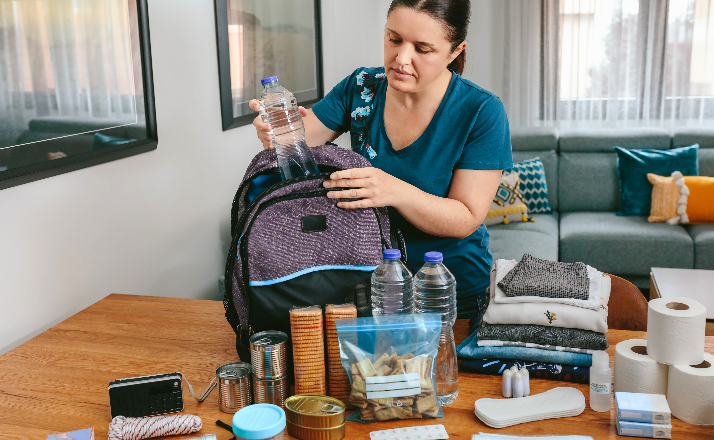 Create an emergency kit.
It's essential to have an emergency kit in your home and in each family vehicle. You never know when the items in these kits will become necessary, so keep them somewhere easily accessible to all family members.
Here are a few items to include to get your kit started:
Food and water
Flashlight
Batteries
Tool kit
First aid kit
Personal hygiene items
Whistle
Hand crank radio
Local maps
Make sure at least one person in your home is trained in first aid and CPR.
A major fear for many families is a sudden health emergency. It's understandable to feel a little helpless in these situations, but luckily you can take first aid and CPR classes to learn what you can do to help. Taking the time to make sure someone in your family is certified is well worth it since it could mean potentially saving a life.
Prepare your children before allowing them to stay home alone.
Allowing your children to stay home alone is a big step, so make sure they're well-prepared. It's important to make them feel safe when they're alone and for you to have peace of mind while you're out.
Display a list of emergency numbers for them to call in case of an emergency. Teach them how to lock (and unlock) doors and windows as well as how to operate your home security system if you have one. It's also a good idea to follow security companies like SimpliSafe on Twitter to receive safety tips on your feed and your kids' feeds.
Educate your family on natural disasters.
With the recent arrivals of hurricanes in the U.S., it's possible that you've already had a discussion about natural disasters with your family. If not, take the time to teach them about the different types of disasters and what to do if there's one in your area. Try to lighten this topic by playing a Simon Says-like game with your kids. For example, if you say "Simon Says hurricane," your children can pretend to drive a car as if they're evacuating.
These types of emergencies are never pleasant to think about, but you'll be doing your family a huge favor by educating them on the steps to take. What are your tips for emergency planning?