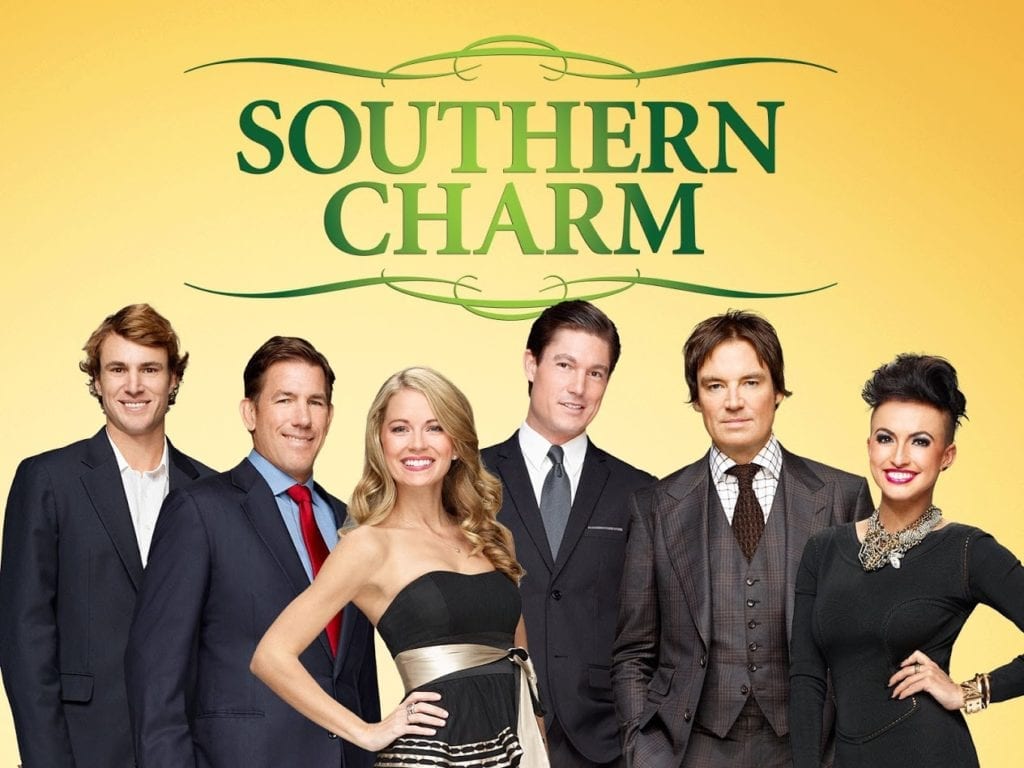 My new obsession in TV watching is Southern Charm on Bravo. I know. I know. It's a reality TV show and I denounce them at all costs. Except this one. Because it's different. And scandalous. And like royalty gone mad! Never heard of the show? Here's the rundown:
New series Southern Charm goes behind the walls of Charleston, South Carolina's most aristocratic families to reveal a world of exclusivity, money and scandal that goes back generations. The fast-paced, drama-filled docu-series follows six Charleston singles, Craig Conover, Cameran Eubanks, Jenna King, Thomas Ravenel, Shepard "Shep" Rose, andWhitney Sudler-Smith, struggling with the constraints of this tight-knit, posh society. The cast, some descendants of Vice Presidents and four-term Senators, and others from "new money," is comprised of Southern bachelors who suffer from "Peter Pan Syndrome" by refusing to settle down; and the women in their lives who challenge them to grow up. Viewers will see them launch political careers, build businesses, break hearts, and chase true love — all while struggling to preserve their family names. Because in Charleston, you're only as good as your last garden party and one social screw-up can taint generations to come…
So why am I so attracted (addicted) to Southern Charm? Definitely the cast! These are some eccentric people!
Let's start with Thomas Ravenel, the 50-year-old former state treasurer and devoted playboy. In office just six months, he was prosecuted on drug charges and served 10 months in a federal prison. Highly educated, he is currently toying with the notion of running for office again, while dating a 21-year-old redhead named Kathryn. They recently had a pregnancy scare and are currently on the rocks due to her "I get around" ways.

Like Thomas, Shep Rose is a playboy and one seeing a lot of action. My gut tells me this younger Thomas really does want to find true love. And that just might be with his ex-girlfriend he was seen kissing at a recent event (not his date!).
My show favorite is definitely Whitney Sudler-Smith and his mom, Patricia, who really does have it going on! If there were ever a MILF, she's the poster child! Although Whitney is chasing women left and right, I think once the right one comes along, he's apt to settle down and give his mom that grandchild she's been craving. Whitney is a filmmaker, classically trained guitarist, and bon vivant.
Craig Conover is working on new money, a third-year law student and law clerk to a prominent personal injury firm. I'm still on the fence about him. Is he good? Is he a gold digger? He is a philanthropist, which is a plus–helping underprivileged children and their families through Guardian Ad Litem.
Let's talk about the ladies. Up first is Jenna King, a 28-year-old aspiring fashion designer (gloves) who also has an interest in a designer sunglass company. She raises a lot of questions on the show. Mainly, "Who pays your rent?" The hubbub says she is dating a much older and very rich man who basically takes care of her every whim and fancy.
Finally, there's the ever-charming and beautiful Cameran Eubanks, who just entered the world of real estate after ten years working in the cosmetic industry. She is a woman who wants to stand on her own and build an empire. She is loved by all and the least scandalous of the bunch–at least so far.
I was supposed to participate in the #SverveChat live tweeting during #SouthernCharm last night. But alas, I came down with the flu. No joke. It seems I missed a fast-paced, scandalous filled event! Here's hoping I can make the next one.
You can catch Southern Charm on BRAVO Mondays at 10/9c PM. If you like to follow shows on Twitter, you can follow the hashtag #SouthernCharm or follow on Facebook!
Now off to catch up on the latest episode via Amazon Instant!
Disclosure: I was not compensated for this post. I was a part of #SverveChat (a volunteer program) for this campaign.