Years from now, when our descendants look back on the "time of corona" in history, it'll be remembered for face masks, hand sanitizer, and questionable fashion choices.
And while Crocs being named the "It" shoes of 2021 was appalling, it's Target's "Pandemic Prairie" Dress Collection circa 1820 2020 that really screams of our suffering.
Feast your eyes: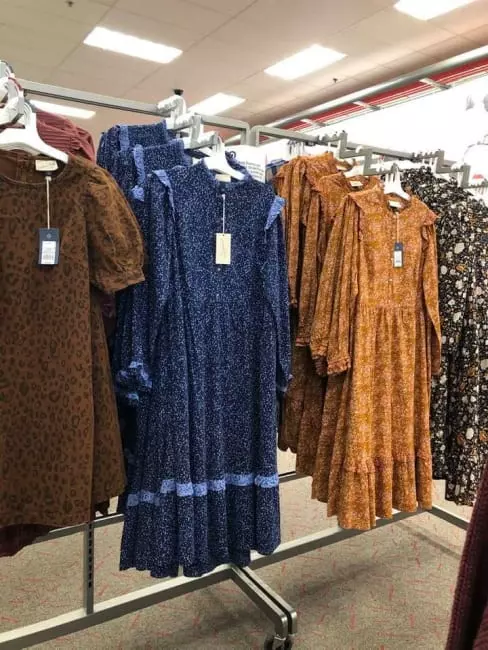 Target launched the dress line back in the not-so-good ol' days of 2020 as part of its new Spring 2021 lineup, begging the question, "What on God's green earth, Tar-jay?"
Thanks to the flowy silhouettes, ruffled shoulders, and Oregon Trail fabric choices, you could literally live out your fantasy of looking like you just stepped off of the wagon.
The Laura Ingalls throwback fashion even launched its very own viral #targetdresschallenge and needless to say, people had a "field day."
And while many of us bore witness to the hilarity that ensued, it seems some of us missed the boat. But fear not! Because thanks to the beauty of social media, we've got you covered.
In a "blast from the past" Facebook post that is quickly going viral, Mimi Osterdahl-Eggers has just discovered that the #TargetDressChallenge is a thing, and we are so happy she did.
As are the more than 50K people who have shared the post to date.
She captions her post:
"Just discovered #TargetDressChallenge is a thing, and I'm dying!!! These are GOLD!"
Gold indeed.
Mimi rounded up a few of her favorites, starting with this one that really showcases the "range" of options in the "Home on the Range" attire.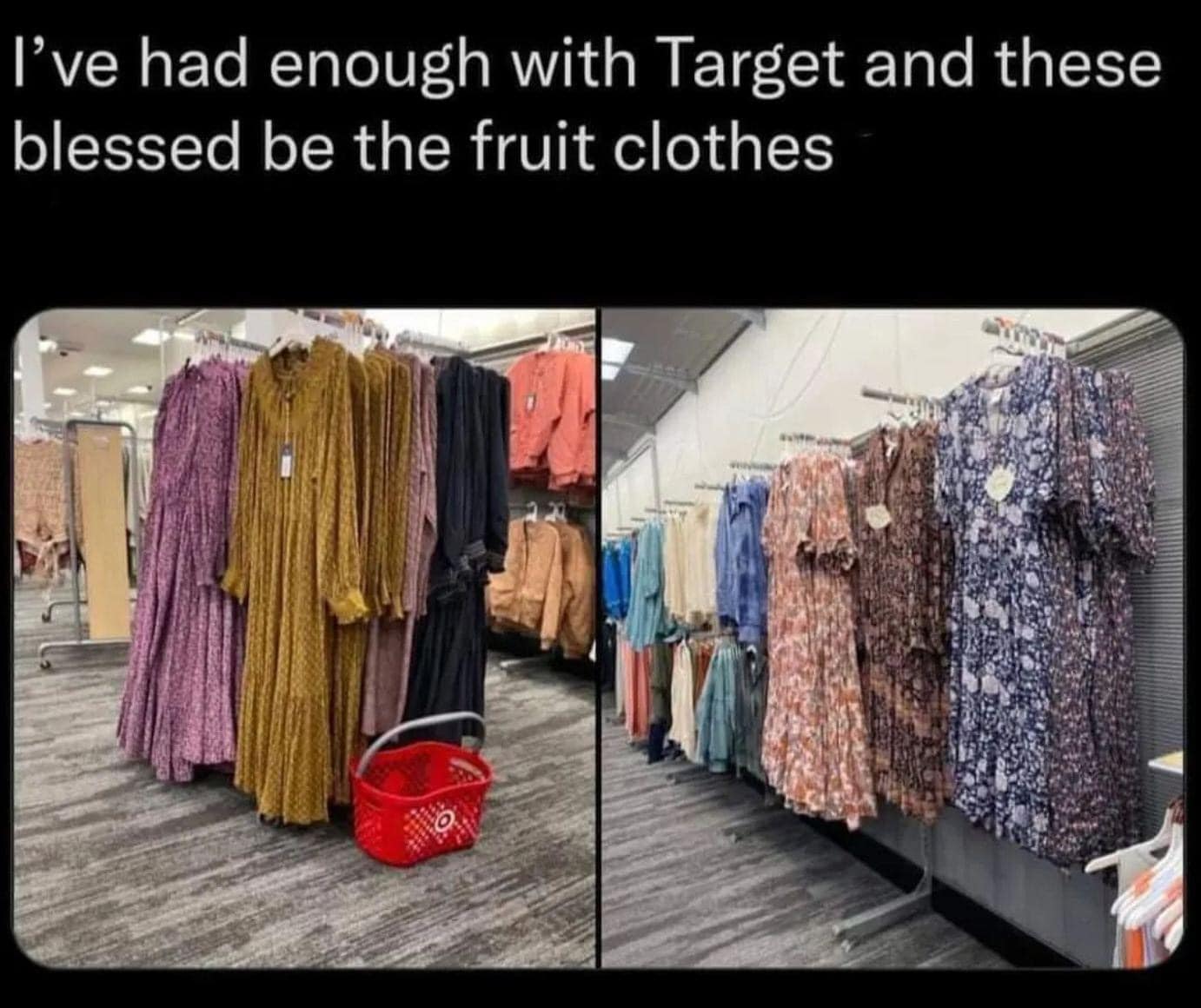 That's right friends, the Pandemic Prairie Dresses are STILL available, and yup, they're definitely giving off some serious Handmaid's Tale vibes.
May we ALL be worthy of these dresses. Or not.
Wanna know who definitely IS worthy? These ladies, that's who.
Nothing screams, "We're in the mood for a good ol' fashioned hoe-down" or "We're fixin' to bury our dead," (you know, that too) quite like this shot does: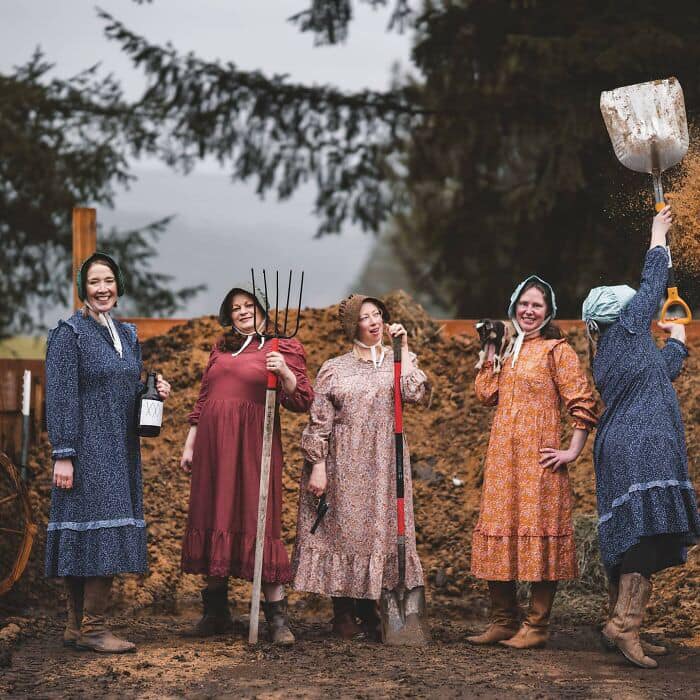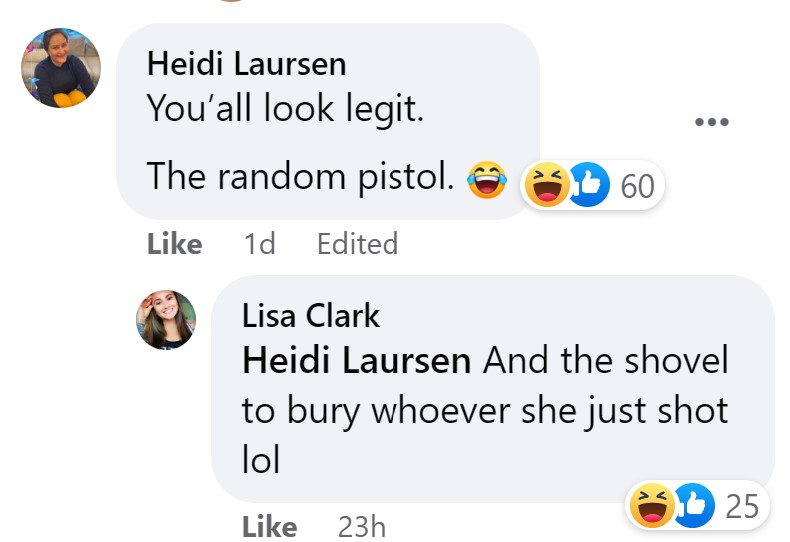 Speaking of shooting…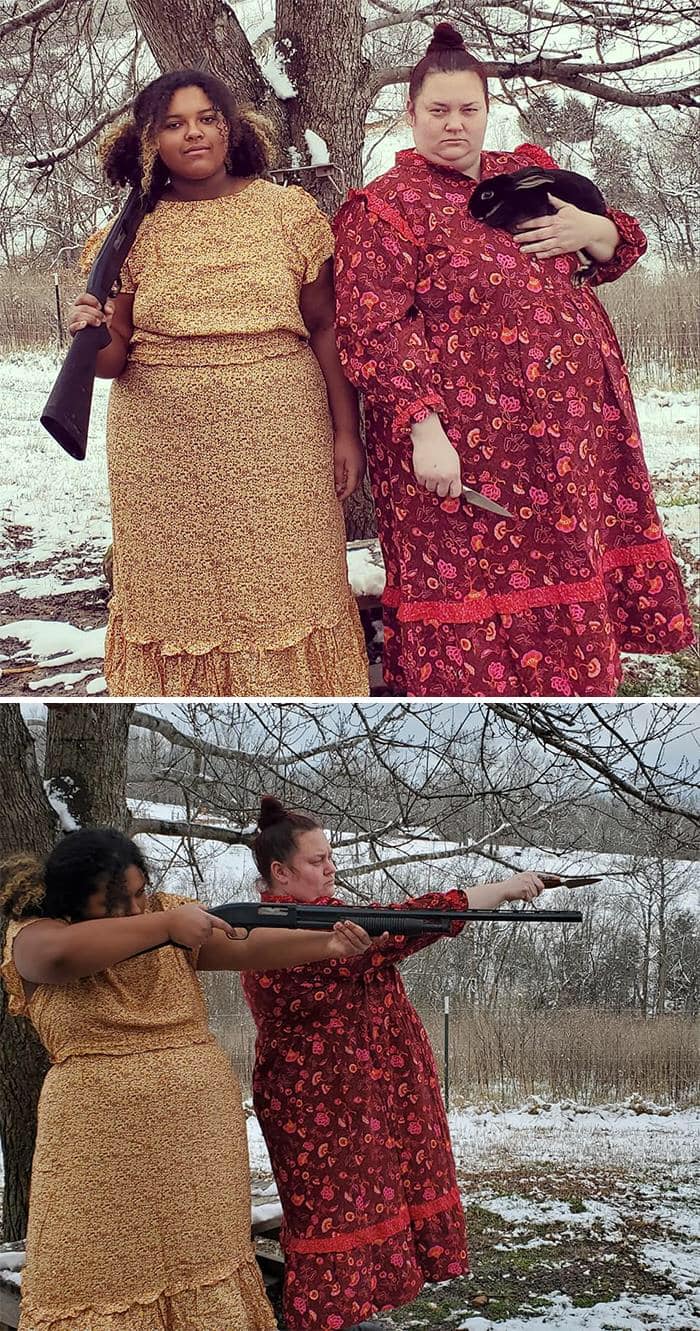 That poor bunny better watch itself, these ladies ain't playing.

Hello Deliverance. Goodbye bunny (and everyone else).
Clearly, these dresses are ALL about fun 'n games (the whole Deliverance vibe notwithstanding) and not just for the womenfolk either.
The menfolk are getting in on it too. (Thanks be to the hilariously funny Chicken Daddies group.)
And who's about to have more fun than this guy?
I'm willing to bet no one.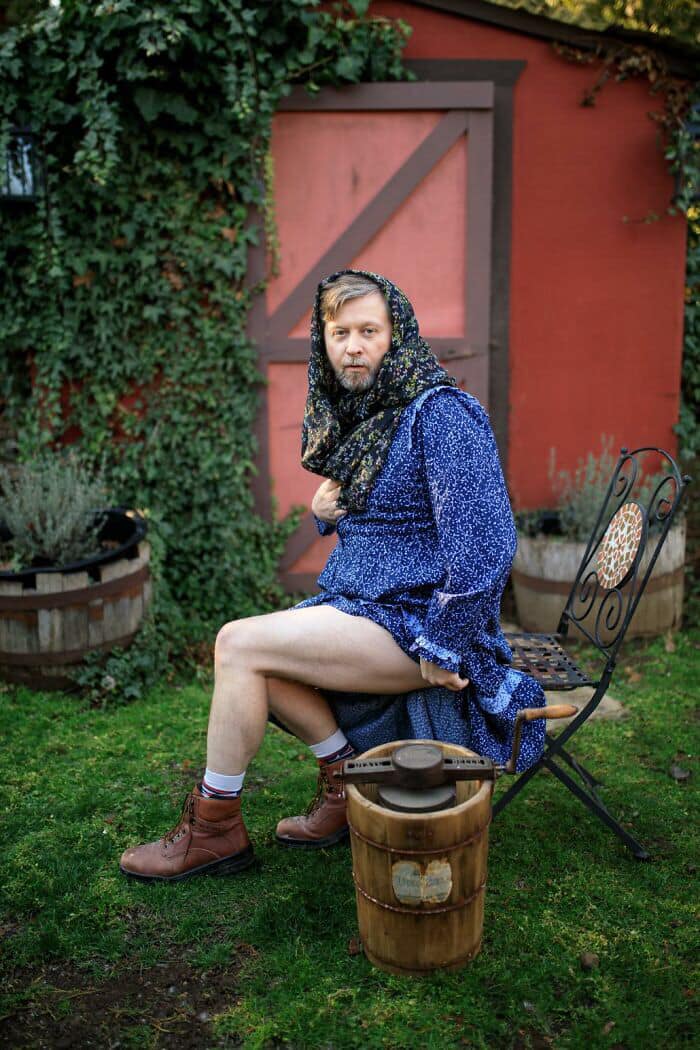 That's right. Work it!! Churning butter, you dirty birds.

Just like the cream can't churn itself, sweet brown-eyed Bessie can't milk herself: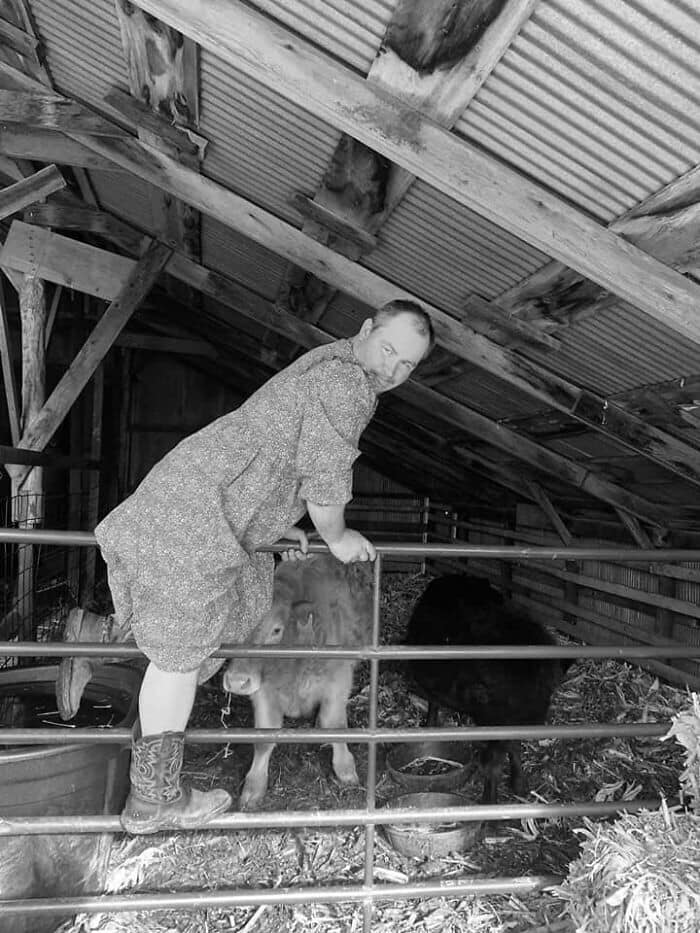 As for the chickens? They can't collect their own eggs. That's a job for the farmhand: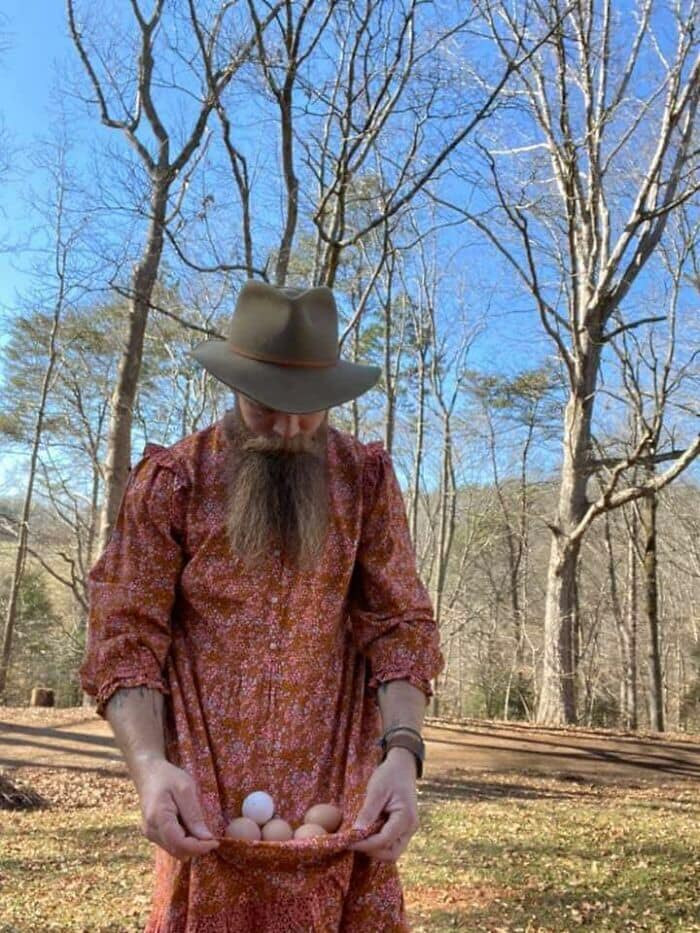 And can we just pause for a moment and admire this Prairie Dress for a sec? Not only is it comfortable and roomy, but it's also functional too. Seriously, who even needs pockets?
Except for maybe this guy. For hauling around all his chickens.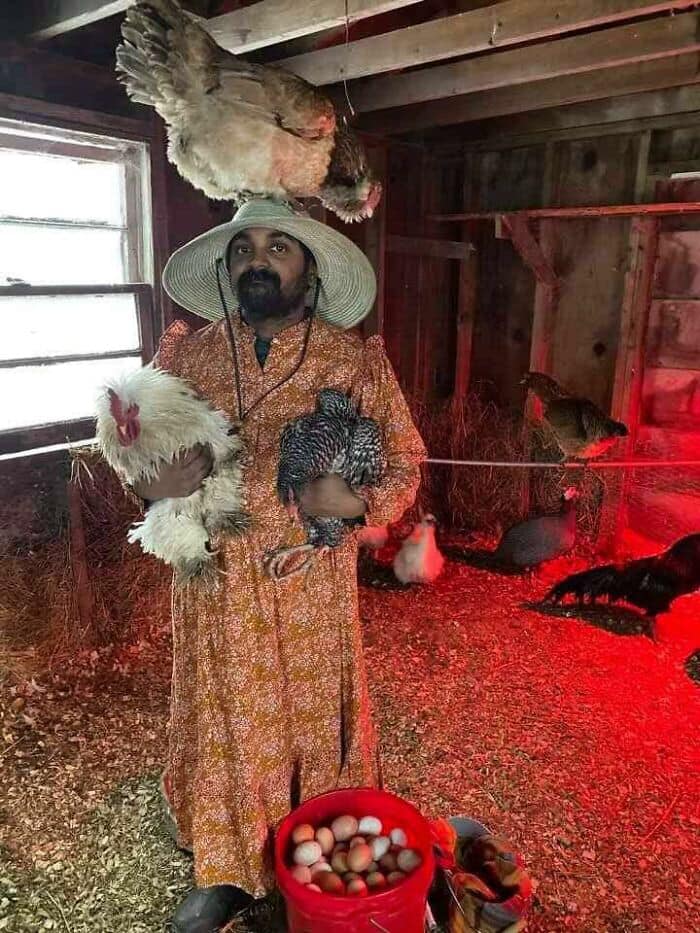 Huevos rancheros anyone?
If I had to choose, this one's definitely prize-winning material. And I'm not just talking about the photo – which is, admittedly, pretty fantastic.
But no, I'm talking about the chicken perched on his head. Look at the size of it! That alone deserves first place at the county fair.
And I'm not the only one who thinks so. This commenter does too:

All joking aside, all this hard, physical labor sure does make for thirsty work: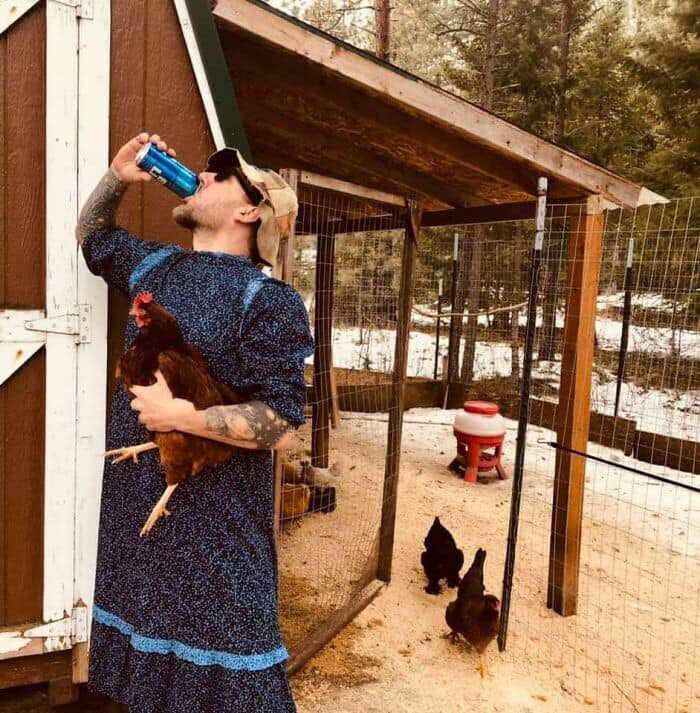 However, when it comes to pioneer life, there really is no rest for the weary. It's "just another day in Maple Falls" for these two.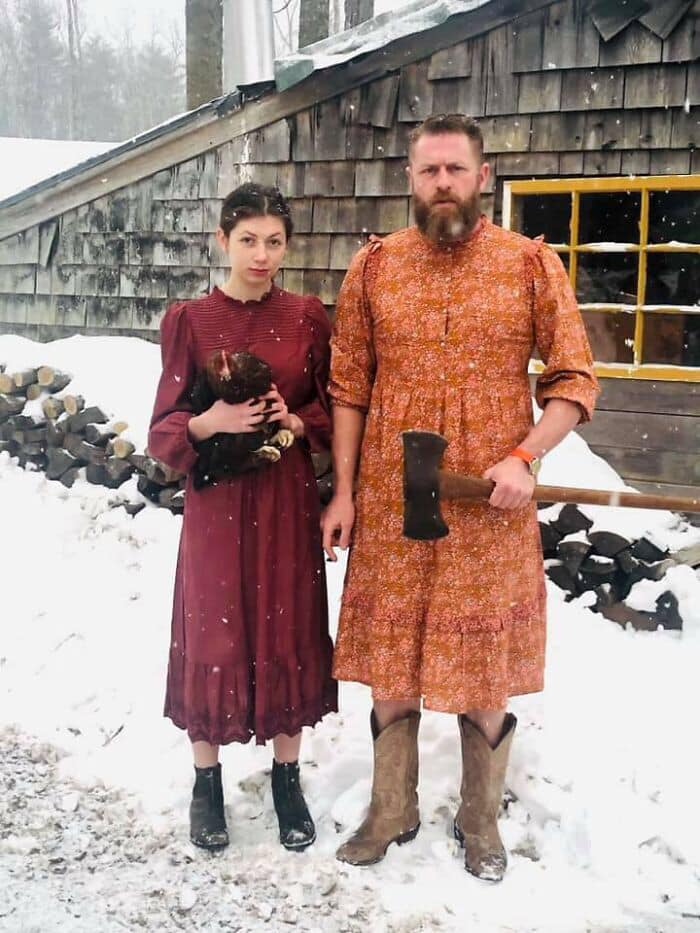 Oh, wait…seems like they may actually be the winners of the chicken dinner. Whelp.
Now, maybe you're looking at all these photos of Ma and Pa and suddenly you have a secret hankering for your very own Pandemic Prairie Dress.
You're thinking to yourself, "Hey, those dresses look comfy, actually." Or maybe you just want one as a keepsake for surviving the pandemic hell of the last two years.
Whatever your reason, I've got great news for you, Pollyanna. If you can't find them at Target, Walmart is also hitting the trails and kickin' it back to the 1800s, apparently.

You're welcome.
To see more you can check out Mimi's original post here.