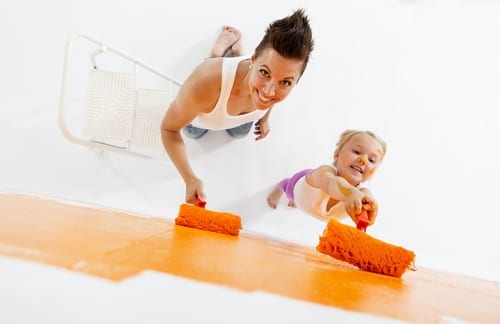 Spring is in the air and suddenly you crave sunshine, bright colors on your clothes and freshness in your home. According to the 2017 U.S. Houzz & Home Renovation Trends study, home renovations and decorating projects are booming, with over half of homeowners on Houzz planning to dive into new projects. However, you can join the trend without diving head first into some serious renovations. Instead, look at what you can accomplish in a single weekend with a DIY mindset. From improving your home's security to giving your bathroom a refresh, here's how to make a big impact in your home in just a single spring weekend.
Install home security cameras
If your home isn't already protected with a home security system, you can do it yourself in a weekend without relying on an expensive service. To make it easy, opt for home security cameras and systems that you can set up yourself and monitor over Wi-Fi. Choose from a wired, wireless, or even wire-free security camera system, then select which type of cameras (outdoor, HD, PTZ, etc.) suit your needs to cover every entry point in your home. Best of all, your homeowner's insurance policy could actually decrease with the installation of a home security system, freeing up more money for your DIY projects.
Maximize natural light
Springtime just beckons the need to bathe in natural light and bring the great outdoors inside. You may not be able to install a new skylight or window on a DIY home improvement weekend, but you can maximize the natural light you already have, suggests HouseBeautiful. Start with a good deep clean of your windows and swap out heavy drapes and uninspired blinds for light and airy window treatments. Installing mirrors across from your windows, especially in small rooms, can reflect the light and create the illusion you actually have more windows than you really do.
Upgrade your bathroom hardware
Your bathroom is full of potential DIY projects, from new shower heads to a spring-colored shower curtain and bath mat. To make a big impact on your bathroom and create a luxurious feel, upgrade your hardware to something decidedly more sophisticated. New faucet handles, a towel rack and doorknob can bring character to every bathroom in your house. And if you want to get dramatic, a chandelier in your bathroom transforms it into elegant luxury.
Add a splash of color
Look around your house. Are the colors you're surrounded by looking drab and outdated? From the walls to the furniture, there are plenty of opportunities to breath life into the rooms of your home with a fresh coat of paint. If you're not up for painting walls, start with an old chair or side table. Stay on trend with pastels or powder blue hues, which are popular in the interior design world. or choose vibrant springtime colors like aqua blue or sunshine yellow.
Create a home office
If you've already tackled all of the little DIY things you can possibly do around your house, make a big impact with little effort by creating a home office from an underutilized closet. After it's been emptied and cleaned, install shelves across the expanse of your closet and add a desk that fits neatly inside. Add colorful vases, photo frames and stationery boxes to give your new office a sophisticated flair. The best part is, you can just tuck away the chair and shut the doors to hide clutter and unsightly computer cords when company comes over.
DIY home improvements don't have to be time-consuming or expensive with the right strategy in place. Start with the areas of your home that you dislike the most or goes neglected to give it a refresh and breathe new life. That otherwise ignored room may just become your new favorite spot in your house.